VOCM Charity Hunt 2004 report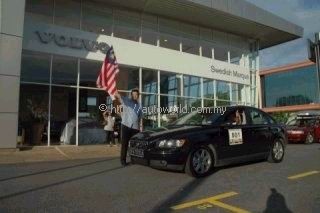 The Volvo Owners Club of Malaysia (VOCM) embarked on their first ever treasure hunt on 2nd October 2004. The treasure hunt was held as a charity event for the Ma' Daerah Turtle Sanctuary in Terengganu. There were 30 cars and close to 100 participants for the event.
Participants started thronging Swedish Marque, the new Volvo dealer in town, as early as 7am to register themselves and their Volvo! After a quick speech and briefing, the group are set to flag off at 8am sharp. VOCM has the pleasure of Mr. Pang Cheong Yan, General Manager of Swedish Marque to flag off all the cars.
The hunt took them through the suburbs of Kuala Lumpur, through Rawang, Bidor, Kampar and finally to the finish line at Kellie's Castle in Batu Gajah. The pace was relaxed, but not too slow as seven and a half hours was allocated for the hunt, giving ample time for breakfast and lunch breaks in between. After submitting the answers at Kellie's Castle, participants carry on a further 45 minutes drive up to Cameron Highlands via the new-not-so-windy road.
At 7.30pm, the participants gathered for the prize presentation dinner at the hotel ballroom. The group enjoyed a sumptuous dinner while watching a slideshow of photographs taken during the hunt. After the meal, a very educational talk was given by En. Khalil from Ma' Daerah on turtles and turtle conservation. After that, the answers for the treasure hunt were announced by the clerk-of-course, drawing sounds of laughter as the mystery was solved for the questions the participants could not answer. The 1st prize of 4-pieces of Continental Tyres sponsored by Sime Tyres Marketing and other vouchers goes to a team driving a S70 bearing the hunt sticker 012.
The next day was free and easy. While some had left earlier after breakfast, others took the opportunity to convoy back to KL shortly before 3pm. Well done to everyone for a successful event albeit the short time given to organize!
VOCM effort is specifically to raise fund to built a shelter for the turtles at Ma' Daerah in Terengganu. The shelter measures approximately 20 x 40 feet and cost about RM10,000. It is scheduled to be ready by first quarter of 2005. Watch out for future VOCM events to witness the shelter being put to use!