MG and Rover Now Available in Malaysia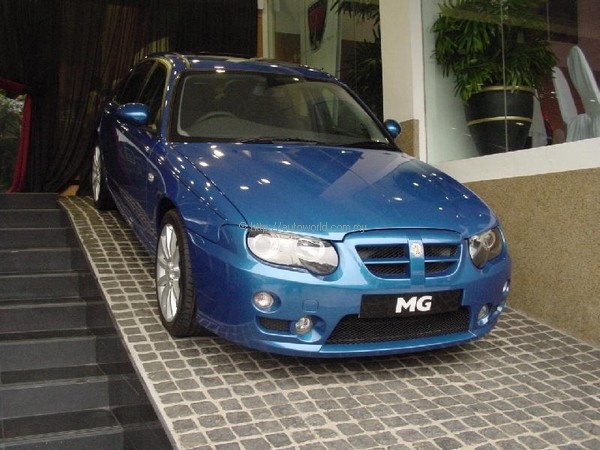 The British are Back!
It was back in1960, when I was just a little kid in Port Dickson, that I got my first close-up look at an MG. We lived about 500 metres away from the main trunk road from Port Dickson to Melaka, and visitors had to traverse a stretch of grassy dirt track to get to my house. From the elevated bund on which the railway track was built, I could see everything that approached, and on that particular day, I saw a little open-top sports car gingerly picking its way over the potholes towards me. My curiosity aroused, I 'galloped' down to get a closer look, and there it was, the first MG Midget. It belonged to my brother's friend, then a technician in the PWD in my hometown. He had just bought it in Seremban and brought it over to show off his new toy. It was the most beautiful sight to me at that time, and an indelible impression has been imprinted on my mind. Like many kids, I was fascinated by sports cars, (and I still am), and I have a special place in my heart for the MG. My brother, however, was not impressed, saying that the ground clearance was too low, and that it would scrape bottom on rough roads.
The first Rover that I ever saw was a very grand-looking 3.2 litre (I forget the model name) around the early 1960's. Later models that left an impression on me were the 2000TC that belonged to my tin mining friend, a Mr. H C Chue, and the 2.5 litre that was raced in the British Saloon Championships in the mid-70's. The Rovers were good cars, but were quite exclusive, and it seemed to me that only the very rich towkays and the Mat Sallehs could afford them.
Now is the time to rejoice, because both MG and Rover are back, imported and distributed this time by Brooklands Motors Sdn Bhd. This organization is closely associated with Competitive Supreme Sdn Bhd, the importers and distributors of the successful SsangYong brand. In a grand ceremony, Brooklands Motors unveiled both the MG and the Rover brands to the motoring media in conjunction with the launch of its premier MG Rover showroom at Bangsaria, Bangsar. The company expects to sell about 200 units by the end of this year.
The key factors that will determine the success or failure of these two brands hinge on the level of support in terms of parts and service; many motorists have been bitten, and they will want to know just what Brooklands Motors can do that is better than the previous distributors. Being fully aware of this, Brooklands Motors have already initiated moves to address its potential customers concerns.
Brooklands Motors Sdn Bhd CEO and Director, Muhammad Fadhil Ahmad said, "We are extremely proud that Brooklands Motors has been entrusted by the MG Rover Group to manage these two British icons in Malaysia. We have been entrusted to import and distribute two brands that share over 180 years of heritage between them. As the sole distributor for MG Rover in Malaysia, Brooklands Motors will focus heavily on developing its 3S (Sales, Service & Spare Parts) network. We are targeting to open four regional 3S centres in the near future. Our northern region centre in Penang and East Malaysia Region 3S centre in Miri will be operational by the first week of October 2004, followed by Johore Bahru."
"Construction of our headquarters in Petaling Jaya is scheduled to start next month. We are confident that we will be able to fast track the construction of the building and are targeting to move in by the second quarter of 2005. In the interim, we will handle servicing and distribution at a dedicated service area located at Competitive Supreme headquarters in Petaling Jaya," he added. To a question asked by a press member if Brooklands would extend their service to owners of existing MG and Rover cars, En. Muhammad Fadhil stated that all MG and Rover owners are welcome to bring in their cars for service and repairs.
At the current moment, Brooklands Motors are offering one MG model, the 2.5 litre MG ZT, and three Rover 75 variants, namely the 1.8 Turbo, the 2.0 litre V6, and the 2.0 litre diesel for sale. However, there are hints that a sports car model will be launched before the end of the year.
The 2.5 litre V6 MG ZT is a sporty 4-door saloon built on the same platform as the Rover 75, but with a different looking front grille, different colour scheme, and beefed up suspension. This car is likely to appeal to the sportier types who demand spirited performance from their cars. With quad-cams (two banks of DOHC), and 24 valves, the V6 engine has an output of 180ps at 6500 rpm, and 240Nm of torque at 4000 rpm. Mated to a 5-speed automatic gearbox, this configuration is a promise of performance to satisfy that 'need for speed'. Front and rear suspension is independent, with MacPherson struts in front and a multi-link system at the rear. The suspension is tuned to provide a sporty performance. Large 18-inch alloy wheels with 225/45 ultra-low profile tyres add to the overall allure of the MG ZT. Available in ten colour choices, the MG ZT looks good, and is competitively priced at RM206, 034.00 (price on-the-road, without insurance).
The Rover 75 model is a 4-door sedan and comes in 3 variants, namely, the 1.8 litre Turbo, the 2.0 litre V6, and the 2.0 litre diesel.
The 1.8 litre Turbo is a 4-cylinder, gasoline powered DOHC K-series engine with an intercooler, similar to that found in the Lotus Elise Turbo, delivers 150 ps of power at 5500 rpm, and has a maximum torque of 215 Nm at 2100 rpm. Acceleration from zero to 100 kph is claimed at 9.7 seconds. Top speed is also claimed at 204 kph. The retail price of the 1.8 turbo is RM154, 897.20 (price on-the-road without insurance)
The 2.0 litre V6 is a 24-valve, quad-cam unit that also delivers 150ps at 6500 rpm, and has a maximum torque of 185Nm at 4000 rpm. Zero to 100 kph is claimed to be 10.8 seconds, and top speed is also acclaimed to be 204 kph. The 2.0 V6 is priced at RM176, 038.00 (price on-the-road without insurance)
The diesel engine of the 2.0 CDTi model is going to make some waves in the market. It is a DOHC common rail diesel with a turbocharger and intercooler that belongs to the latest generation of advanced diesel engines, and delivers 131ps of power at 3500 rpm. Torque is an enormous 300Nm at 1900 rpm, which gives it a whole lot of 'grunt' at low to mid-range speeds. Zero to 100 kph is a highly respectable 11.0 seconds, and top speed is claimed at 190 kph. The 2.0 CDTi retails for 155,761.40 (price on-the-road without insurance). A high grade SE version is also available at RM176, 761.40 (price on-the-road without insurance). Being a 'diesel' fan, I can hardly wait to get my hands on one.
All the three variants are fitted with 4-wheel independent suspension, similar to that of the MG ZT, but with softer settings, tuned for executive-type comfort. All are fitted with ventilated discs at the front, and solid discs at the rear. ABS with EBD (electronic brakeforce distribution) is standard on all models. Other safety features include 4 front airbags, front seatbelt pre-tensioners, laminated windscreen, and door side intrusion bars.
We shall be going with Brooklands Motors for a 'media drive' soon; we will keep you posted. In the meantime, go take a look for yourself.