Bridgestone New Product Launch: Potenza GIII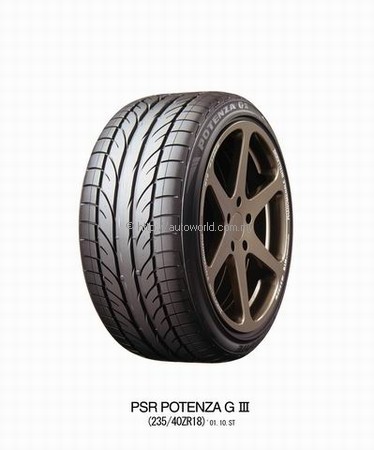 Bridgestone Tyre Sales (M) Sdn Bhd is an affiliate of Bridgestone Corporation, Japan the world largest producer of rubber-based products.
Bridgestone Tyre Sales (M) Sdn Bhd was set up in April 2000 with the responsibility providing better customer service and to introduce better quality products for the benefit of Malaysian consumers.
They carry a wide range of tyres, tubes and flaps for passenger cars, 4X4s, light trucks, tucks & buses as well as industrial & agriculture vehicles and machinery.
Their active participation in the motor sports arena has led to the transfer of technology from racetrack to road for the benefit of the general public using Bridgestone tyres, specifically the POTENZA brand.
Bridgestone Tyre Sales (M) Sdn Bhd has released its latest star, the POTENZA GIII. Designed to equal and surpass the expectation of even the most demanding drivers, the POTENZA GIII is all set to be the flagship model for Bridgestone which also carries the TURANZA and DUELER 4X4 lines.
The Bridgestone POTENZA GIII is a high-performance sports tyre that offers class-leading maneuverability in both wet and dry conditions. With its unidirectional thread pattern and Formula 1 inspired sidewall design, the POTENZA GIII has the looks to match its performance, while providing a comfortable and silent driving experience.
The POTENZA GIII features Bridgestone's famous AQ Donuts II technology, now further improved with features like;
– consistent surface contact and flat force block for superior handling performance, ride comfort and minimizes irregular tread wear for better tyre life.
– Super LL Carbon and Particle Z that make rubber even more resistant to wear and provide better grip than the ordinary silica giving you that added confidence when taking a bend.
– Hydro Evacuation Surface (H.E.S.) prevents hydroplaning, making driving in wet conditions safer.
– Grand Unified Tyre Technology II (GUTT II) an innovative tyre design to produce an even smoother and quieter ride.
– Rim Guard that protects wheels and minimizes damage caused by curbs and other objects.