THE 2003 JAPAN GT CHAMPIONSHIP MALAYSIA HAS BEEN CANCELLED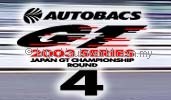 MEDIA RELEASE
May 7, 2003
The 2003 Japan GT Championship Malaysia, which is scheduled on 20 and 21 June at Sepang Circuit, has been cancelled.
Cancellation of the race – sanctioned as Round 4 of the All Japan GT Car Championship – was decided by its governing body, the Japan GT Association (JGTA).
In its letter to Sepang International Circuit dated May 4, the association said the decision was made in view of the current outbreak of the Severe Acute Respiratory Syndrome (SARS) in the region.
"It is unfortunate that we are unable to hold the Japan GT race this year. Like thousands of racing fans in Malaysia as well as in the neighbouring countries, we are looking forward to the event," says Ahmad Mustafa, General Manager of Sepang International Circuit.
While the GT race was being cancelled, Ahmad said that the third round of the 2003 Malaysian Super Series, which provides support races for the event, would proceed as scheduled.
"We will issue a new time schedule for the Malaysian Super Series race," said Ahmad, adding that those who had purchased tickets for the 2003 Japan GT Championship Malaysia can ask for a refund.
"They can contact our Ticketing Office to get back the refund," the SIC General Manager said.
Encik Ahmad also said that SIC would be inscribing the Japan GT Championship Malaysia in its 2004 event calendar. "The Japan GT has always been an annual event for Sepang International Circuit and Malaysia. We look forward to organise the event next year," he said.
First organized in 2000 as an experimental project and as efforts to enhance bilateral relationship between Malaysia and Japan, the Japan GT Festival in Malaysia 2000 received tremendous response with more than 22, 000 spectators attending the race.
Last year, it was promoted by the JGTA as a championship round; making Sepang Circuit as the first ever circuit to organise the Japan GT Car Championship race outside Japan.
For details, contact the Press Officer Azhar Ghazali at 019-3837865.