Take a Coffee Break at Petronas Stations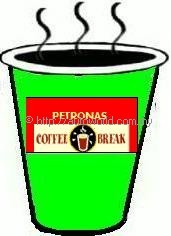 Good corporate citizens always try to give something back to the community that makes their businesses a success. As the national petroleum company, Petronas of course focuses a lot of motor-related activities and one of the annual events it has been running for the past three years is its 'Coffee Break' for the balik kampong motorists during the major festivals.
Last Hari Raya, the company provided coffee and soya bean drinks at selected Petronas stations along major highways in Peninsula Malaysia. The campaign, with the tagline "Be Smart, Take A Break", encouraged drivers (and their passengers) to take a break; this would also help road safety as long journeys can be tiring and a brief stop is always recommended.
With Chinese New Year coming this weekend, Petronas is again having its Coffee Break. The dates are January 29 to 31/February 3 – 5 and between 5 pm and 11 pm on each of the days (subject to availability of drinks).
The Coffee Break stops are as follow (just look for the big Coffee Break signs):
Jalan Genuang, Segamat
Machap (northbound/southbound)
Ayer Keroh (northbound/southbound)
Teknology Park Malaysia
Rawang
Ulu Bernam
Samudera, Manjung
Sg. Perak (northbound/southbound)
Lebuhraya Kulim-Butterworth
KLIA
Pekan Semenyih
Paya Jaras, Sg Buloh
Kuala Selangor
Genting Sempah
Jalan Tras, Bentong
Gua Musang
Mukim Bangau, Maran
Muadzam Shah (Km 78)
Lebuhraya Tun Razak
Teluk Kalong, Kemaman
And while you are stopping for the coffee, why not pop into the Petronas Mesra store too? As always, they have special offers during festive seasons and if coffee doesn't agree with you, you can get a packet of packet of groundnuts + a bottle of mineral water for just RM2.00, or to boost your energy, there's canned Livita Honey at a special price of RM2.10.
There's no special offer on fuels but as you will already know, the new Petronas Primax has a Friction Modifier which is said to reduce internal friction significantly enough to improve fuel economy and performance. On long journeys, it could mean some savings as you go a bit further on each tankful!