10 Million Seatbelts Produced by Autoliv-Hirotako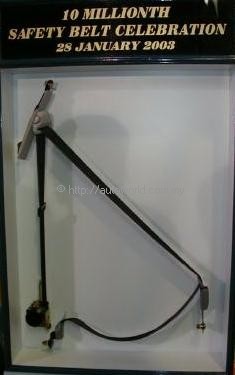 Autoliv Hirotako Sdn Bhd today produced its 10 millionth seatbelt at its factory in Seri Kembangan, outside Kuala Lumpur. The company, a subsidiary of Hirotako Holdings Bhd which has a joint-venture with the Autoliv Group of Sweden (a global leader of automotive safety systems), is the sole supplier of seatbelts in Malaysia and originally began operations in 1985 when its products were sold under the 'TAKO' brand'.
The milestone was witnessed by Transport Minister Dato' Seri Dr Ling Liong Sik, the senior management of Hirotako Holdings and business associates of the company.
Though it is the sole supplier of seatbelts in Malaysia, Autoliv Hirotako has not forgotten that it also needs to be a good corporate citizen and in this respect, the company has been active in raising awareness of seatbelt usage among Malaysian motorists and passengers.
Recently, it has been working with the Malaysian Road Safety Council to educate the public on the function of airbags, safety devices which are being installed in more and more cars today. The company sponsored production of a documentary on airbags which is being televised on some TV channels.
According to the company's Managing Director, Tony Leow, Autoliv Hirotako is also taking the initiative to get passengers in the rear seats to use their seatbelts and parents to use proper childseats for smaller children.
"Most cars and MPVs assembled in Malaysia and all the imported ones come with rear seatbelts already installed. Therefore people should make use of them because they are proven to reduce the possibility of death or injury during a collision. Statistics show that in accidents in Malaysia, 5% of those who had used seatbelts in the rear died or suffered serious injuries but about 55% of those who did not use their seatbelts died or got injured seriously," he explained.
In his speech, Mr Leow expressed the hope that the government would make it a law for rear passengers to also use their seatbelts, just as what has been done in Singapore. However, the Transport Minister said that there are no immediate plans to introduce such a law in Malaysia although a study would be made and the views of motorists considered. He also felt that it would not be a good idea to force parents to buy childseats due to the cost of such items.
Besides various types of seatbelts for use in all kinds of vehicles, Autoliv Hirotako also makes airbags and steering wheels for the domestic and export markets. Its alliance with the Autoliv Group gives it access to the latest technology.