2002 New Vehicle Sales in Malaysia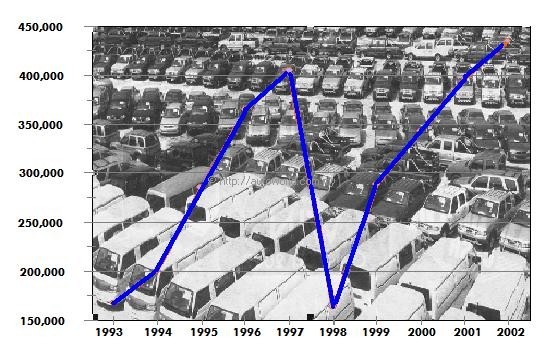 New vehicle sales in Malaysia in 2002 hit 434,954 units, a new record for the industry which beat the previous record of 404,837 units that was achieved in 1997. Besides the 7.4% increase over the 1997 volume, the 2002 total industry volume (TIV) was also 9.7% higher than the TIV for 2001 which was 396,831 units. It was quite close to the 430,000 units the Malaysian Automotive Associate (MAA) had forecast for the year when it made a mid-year upward revision in July 2002.
The 2002 TIV compiled by the MAA covers both Peninsula and West Malaysia sales by its members. The majority of sales were locally assembled models (CKD) although some MAA members who are franchise holders for various makes also sold imported Complete Built-Up (CBU) vehicles. However, Oriental-Hyundai, which is also a member of the MAA, declined to submit its sales and production figures for Hyundai CKD models for 2002.
According to MAA president Aishah Ahmad, together with the missing Hyundai numbers and unrecorded new vehicles sold by non-MAA members (eg Milan Auto which sells Alfa Romeo models and Competitive Supreme which sells SsangYong cars), the TIV could be about 10,000 units higher.
Looking first at the big picture, national makes (Proton, Perodua, Hicom MTB, Inokom) accounted for 346,345 units or 79.6% of the TIV. This was about 10% lower than the share achieved in 2001 although the total volume for national makes rose by 7.2% during 2002.
Among non-national makes, passenger cars (PC) were not the most significant in volumes (31,296 units, 29.2% higher than 2001) but it was in the commercial vehicle (CV) and 4WD segments that non-national makes were more dominant. In the CV segment, non-national CVs, led by Toyota which had a 33% share, accounted for 35,921 units (84%) of the total CVs sold in 2002.
An interesting CV figure here is the 612 units of Proton CVs – which the Juara is classified as – compared to 768 units sold in 2001. Pending examination of more detailed data, some of the 612 units in 2002 could also include the new Arena pick-up which is also classified in the CV category.
The sole national representative in the 4WD segment was the Perodua Kembara which registered 10,901 units sold in 2002, 20.% down from 2001. Non-national makes which had a variety of new models registered 21,392 units or 66% of the 32,293 units sold in this segment.
By segment, CVs showed the greatest growth in 2002 with an increase of 13.6% in volumes over 2001. This reflected the increased purchases of commercial vehicles as projects commenced or were re-started in the light of the improving economy. However, it also needs to be noted that the Toyota Unser, which was selling at a rate of more than 1,000 units monthly, is classified in this category although it is clear that this model is typically used for non-commercial purposes.
Overall rankings have Proton and Perodua at the top with 49.4% and 29.3% shares, respectively. Perodua's share was just marginally short of its target of 30% although in both the PC and 4WD segments, it had more than 30% share. Toyota was No. 3, thanks to its substantial (14,121 units) CV volume which accounted for 51% of its sales. Nissan was No. 4 overall, also having significant CV sales.
As in 2001, Mitsubishi sales reported by USF-HICOM (the new name for United Straits Fuso Sdn Bhd or USF) moved up another notch, thanks to strong 4WD sales (and no PC sales at all) which accounted for 86% of the 8,368 units sold in 2002. The biggest seller was the Mitsubishi Storm pick-up. In the process of moving into No. 5 overall, the make overtook its arch-rival Ford which had fallen from 2001's overall 5th position to 8th position in 2002.
Kia was in No. 6 position, thanks to representation in all three segments. Out of the 6,557 units sold, the largest contribution came from the PC models which accounted for 65%.
Honda, at No. 7 overall, with a total of 6,089 units was represented in two segments, PC and 4WD. The CR-V alone recorded 2,949 units or almost half of total Honda sales.
In No. 8 place, Ford continued to rely on its Ranger pick-up to achieve high volumes while its PC sales were low. The combined Ranger and Escape sales in the Ford volume of 6,043 units accounted for 73%.
Daihatsu was at No. 9 though you may not expect it to be, given its seemingly small presence in the public eye. However, many light commercial vehicles are Daihatsus and in this segment, the make was actually No.3 behind Toyota and Nissan. Its CV sales accounted for 98% of total sales of 4,362 units.
Last in the top 10 of 2002 was HICOM-MTB which sold only CVs and with a total of 3,753 units, its share was just below 1% of the whole market for 2002.
In terms of rankings, the most dramatic would be Kia which came from way down the bottom of the list (actually, in 2001, no sales figures were reported although there were units sold) to move into 6th place overall. Clearly, this is the make to watch out for and in 2003, with the locally-assembled Carnival joining the line-up (under the Naza badge), it should remain a strong seller.
Kia's ascent to the top rankings basically pushed the other makes a position down although Suzuki slipped many places to 18th position as sales of its 4WD models slowed down substantially. From selling over 1,000 units in 2001, the make's sales dropped to 714 units in 2002 and the decline could be seen from the 4WD sales which dropped to 54 units – a tenth of the 2001 figure.
Mazda sales improved a bit from 878 units to 952 units, with the main contribution from its Fighter pick-up which accounted for 76% of total sales. It finally began selling its 'new' 323 sedan and hatchback in 2002 which added a few more tens of PC sales.
Quasar Carriage had a good year with Renault, jumping from No 25 in 2001 to No. 22 in 2002. Three positions up but four times more sales at 326 units. The Scenic and Kangoo models accounted for the bulk of sales.
Peugeot, another French make, slipped 6 positions due to the change-over of distributors. Although C&C Automobiles took over at the beginning of 2002, retail operations did not commence for many months and the sales network was also undergoing development. As a result, sales totaled only 46 units, a big difference from the 229 units sold in 2001.
The battle between Mercedes-Benz and BMW again saw the former coming out ahead with 3,433 units against BMW's 2,401 units. In 2002, however, Mercedes-Benz had a wider gap of over a 1,000 units as compared to 2001 when the gap was 682 units.
Looking at the segments by region, there were the same shares for European and Japanese makes which were around 2% and 16%, respectively. However, Malaysian makes (comprising Proton, Perodua, Hicom MTB and Inokom) dropped from 81.5% in 2001 to 79.5% in 2002. With no changes in European and Japanese makes and only a marginal increase in Indian makes (TATA), the only conclusion one can draw is that the Kia has been the one taking away the share of the national makes.
The impact of the Korean makes was already evident a few years ago when the Kia Sephia was introduced and with a price so close to the Wira, it actually stole Proton sales for a couple of months. In 2002 sales, Kia alone captured 1.5% share of the total market, an indication of the competitiveness and aggressiveness of the Koreans. Not included in the 2002 figures was Hyundai, which sold the locally-assembled Elantra and Sonata. Assuming that Hyundai sales were around 3,000 units, then the Korean share would be closer to 2%.
2003 Forecast
2002 was a boom year for the industry and hopefully, history will not repeat itself in 2003; the last time the industry had a fantastic year was 1997… and then the market imploded in 1998. For 2003, the MAA does not expect another boom year and forecasts a modest 3.5% increase in TIV based on a healthy GDP growth.
At this time, concerns about the possible outbreak of war in Iraq and effects on the global economy are expected to inhibit consumer spending. More significantly, Malaysians are still of the view that prices will fall a lot in coming years and want to wait till then.
"In spite of statements by even the PM himself that prices will not fall because the reduction in import duties under AFTA will be balanced by increases in excise duties so that the government does not lose out on revenues. However, it seems that consumers have given attention to the 'reduction in import duties' but somehow do not consider the 'increase in excise duties'!" said Cik Aishah when asked about the present consumer belief that prices will come down.
"Our association hopes that the government will quickly provide more details of how excise duties will be structured so that the effect on prices can be understood properly and there will be no more speculation," she added.
Also keeping new vehicle sales down is the fact that the financing present packages have low downpayments and interest rates, making monthly instalments affordable for many. This has had a serious effect on used vehicle values since the monthly instalments are not so different. Furthermore, with used vehicles, the financing packages are not as attractive. This makes it harder for owners to dispose of their present vehicles to get new ones, and trade-in values are also not so attractive. So people may opt to hold on a bit longer before making a new purchase.
The 3.5% increase in TIV will take the volume to 450,000 units in 2003 and on the assumption that businesses will continue to thrive and construction projects will proceed, the segment which is expected to have the highest growth is the CV segment – 6.5% more than 2002 volumes. PC volumes are expected to grow 3.4%, mainly driven by Proton and Perodua again, while 4WD volumes are not expected to increase by a mere 0.6%.
In ASEAN, Malaysia was again tops – the 6th year in a row. In overall TIV, preliminary data from the ASEAN Automotive Federation shows that Thailand reported 409,382 units (+38% over 2001), Indonesia did 317,721 units (+6%) and the Philippines did 86,417 units (+13%). Production-wise, though, Thailand would have been No. 1 because it produced over 500,000 units whereas Malaysia's production was 456,822 units and virtually all that sold only domestically. Thailand, on the other hand, has geared itself to exports with models like the Ford Ranger, Opel Zafira and Honda City.
2003 will, of course, see some big changes around ASEAN markets since AFTA is now active, except for Malaysia and IndoChina (which was originally given till 2007 due to their vastly different economies). Reductions in prices have not been occurring overnight in the other countries but are expected to happen before long as production costs fall due to rationalization of production. For instance, making the Escapes and Lynx cars in one factory in ASEAN and supplying to other countries (except Malaysia) will mean a bigger volume which gives better economies of scale.