Where Wild Ideas Are Accepted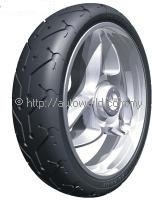 When someone is "on edge," that generally means they are nervous, angry or a bit impatient. When design engineers at Goodyear become "edgy," it means something else: an innovative tyre design is on the way.
These "tread artists" are constantly challenged to devise appealing – but functional – adaptations to the traditional circular rubber ring that carries millions of vehicles from Point A to B each day around the world.
Goodyear tyre designers work their magic to develop products that achieve the near-impossible. Their handiwork results in tyres that last longer, withstand potentially damaging obstacles and provide high-speed performance better than ever before. They have made possible everything from the unique centre-groove Aquatred design to tyres that can still be used when all air has been lost from inside.
The unconventional idea is not a closed door at Goodyear and sometimes, 'wild' designs and ideas do become realities that motorists can buy and use. But to succeed in developing exciting new products, they have to work on the edge – the technological edge.

"We still use ink on paper for some idea-sketching, but our design work is completed on computer," said Bill Egan, Goodyear's chief engineer for passenger tyres. "And while we experiment with many breakthrough – even crazy – designs, the very specific detail work is always documented in intensive drawings via specialized design systems.
"As a company, we must work on the edge to attain great things. As designers, we must develop concepts that may or may not work at any given time. But sometimes, yesterday's impossible idea becomes possible today through technology – by working on the edge."
That's how the Aquatred and Goodyear's EMT (run-flat) tyres were developed. The wildly different tyres evolved from Goodyear's involvement in racing and its concept tyres on tomorrow's vehicles at autoshows.
In the early 1980s, Goodyear produced a prototype tyre similar to what would eventually be known as the Aquatred for GM's Aero 2000 concept car at Disney's Epcot Centre in Florida, USA. It was the first tyre with a broad and deep 'aquachannel' centre groove to pump more water from beneath the tyre for optimum wet-weather traction.
The question of whether consumers would buy a tyre that offers superior wet traction on their family sedan seems irrelevant now, since millions of Aquatreds and its generations of successors have been sold. But at that time, it was a question in the minds of those who would market it.
Product differentiation and creativity in design, as evidenced by the Aquatred, sells in the marketplace. Innovation in product design is a competitive advantage that translates into greater sales in the fiercely competitive tyre industry and Goodyear makes sure it constantly offers such innovation.
Working on the edge has benefits. In recent years, Goodyear has been able to break down design barriers to open a new world of potential performance advantages. Previously, curvature of tyre's design was impossible on the computer. Now, the tyre's inflated profile can be created on the screen, even allowing early-stage "testing" to occur on the computer.
Without Goodyear's customized 3D software to design potential new tyres, the designers, engineers and mold manufacturers would have had to draw and carve all new models by hand. The "future-world" computer tools Goodyear designers have at their disposal allows them to create tyre designs that rival some of the best of the automotive realm. While vehicle "artists" are devising the coolest new concept cars, their counterparts in tyre design are stretching the envelope, too.
Goodyear personnel have devised actual tread patterns displaying snakeskin, the Porsche brand shield, rocks and lightning bolts. It's interesting to note that one of the company's earliest and most successful designs was the diamond-shaped tread of tyres like the Goodyear All-Weather Balloon.
"Anybody can decide to sketch an image onto a tyre's tread," said Egan. "It's our job to try some of those images, but make certain the tread design would be viable in terms of performance and wear, along with being realistic in terms of manufacturing. In other words, is the design worth making and using in the real world? Is it more than just a pretty face?"
"Once we sketch a tread pattern on the computer screen, the software analyzes its performance attributes, such as traction, footprint on the roadway and tread element stiffness as the tyre rolls. The Goodyear-developed software actually tests a prospective tyre's feasibility before one is built," Egan explained.
Despite the obvious challenges and pitfalls in using a new process, the more powerful computer network and software has helped Goodyear shorten its concept-to-market cycle considerably. The process also allows Goodyear's designers to test several candidates on the computer, saving the time and money involved in physically building test tyres.