Keeping Childseats Properly Strapped Down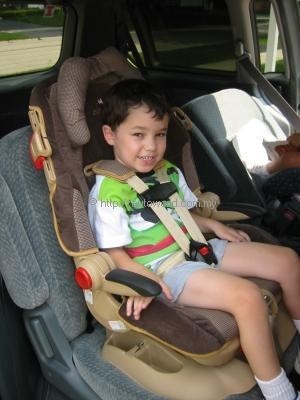 Many of today's cars come with ISOFIX or LATCH mounting points for childeats but most people may not know what they are all about. This article helps you understand them and why they will help protect your child better.
Children have traveled in cars with their parents almost from the time the first cars were available. Even when Henry Ford went around in the Quadricycle he invented, his son Edsel would be snuggled between him and his wife, Clara. Back then, of course, there were no restraints for any of them and it was not unusual for occupants to be flung forward if the vehicle collided with something.
While seatbelts for grown-ups were introduced to provide a good degree of restraint in a collision, the issue of providing proper restraints for children was never addressed seriously till the 1990s.
Generally, the advice given was that if the child was too small, then a separate and smaller seat – usually known as a 'childseat' – should be used. Older children could use the seatbelts but would need 'booster seats' – small seat pads to raise their body to the correct position in relation to the seatbelts running over their chest.
Volvo, the leader in automotive safety, was more conscientious in efforts to protect small children by developing various integrated designs with their seats, making things more convenient. But most manufacturers left the issue of child restraint to third parties who made childseats and other related accessories.
Childseats are useful in keeping small bodies restrained during a violent movement, such as during an accident and increases the chance of survival for a child who would otherwise be flung about the cabin and in extreme cases, out of it. There are even horrifying cases of children being propelled forward so fast as to go through the windscreen.
However, studies over the years have found that while well-meaning and concerned parents have provided childseats for their little ones, there have been many cases where improperly strapped seats have resulted in injuries still being caused to the child.
In a study by a US safety agency (the NHTSA), improper childseat installation was as high as 80% of cases studied and common faults were that the childseat was not secured properly, in the wrong position or a very dangerous situation – installed in the front seat of a car which has a passenger airbag.
In some countries, there were regulations and standards concerning childseats but these were mainly concerning their construction, rather than how they were installed in vehicles or the provisions in vehicles to fit them. One 'global' standard has been the United Nations "Uniform Provisions Concerning the Approval of Restraining Devices for Child Occupants of Power-Driven Vehicles ('Child Restraint Systems')" R44.03.
By the mid-1990s, initiatives were taken to formulate a common standard which would be adopted by vehicle manufacturers and childseat makers to ensure that the seats would be installed properly and safely. Predictably, Volvo took a leading role in the working group within the International Standards Organisation (ISO) to produce standardised attachments for childseats so that all cars will have the same type of built-in attachments to fit all types of seats, a better approach than specifying a certain design for a childseat as the cabin seats vary in size and contours and so seatbelt lengths and mounting points.
The outcome of the initiative was ISOFIX, which provided specific methods of location and positions for restraints, particularly with the aim of making it easier to install seats and keeping them tightly in place. Both the vehicle manufacturers as well as childseat manufacturers have agreed to adopt the ISOFIX standard but it has not actually been formally issued by the UN. This process may take some time and will see the updating of the present R44.03 regulation.
At the same time that the industry went about to formulate ISOFIX, the same development took place in the USA and through exchange of ideas, the US authorities also came up with a standard that was similar in concept to ISOFIX called LATCH, which stands for Lower Anchors and Tethers for CHildren.
While ISOFIX remains a 'recommended' standard for new vehicles produced and sold in Europe, LATCH became mandatory for all new vehicles sold from September 1 2002 in the USA. Perhaps the fact that the USA is one country has made it easier to introduce such a law whereas Europe is still made up of many countries and agreement is needed to adopt any new regulations, the European Community unity notwithstanding.
The NHTSA estimates that the new LATCH system will eliminate as much as half of the misuse associated with the improper installation of child safety seats by eliminating the need to secure car seats with adult seat belts. The new seat anchor system could save between 36 and 50 lives a year and prevent another 1,200 to 3,000 injuries in the USA.
LATCH is not necessarily safer than using a seatbelt to install a carseat. A carseat installed properly with seatbelts should be just as safe as one using LATCH. The advantage of the LATCH system is that it should make it much easier to get a proper installation.
In a vehicle that does not have LATCH anchors, a carseat with LATCH capability can also be used with the vehicle's seatbelt system instead of LATCH. If your carseat and vehicle are LATCH-equipped, it is recommended that you use the LATCH system if it results in a good fit for the carseat. It is still possible that some combinations of LATCH carseats and vehicles will not work well together, and in that case, it is preferable to use the seatbelts for installation if it is more secure. It is not necessary to use both the seatbelts and the LATCH system; only one or the other is needed.
Basically, LATCH and ISOFIX have one mounting point positioned at the back of the childseat – either on the floor or on the ceiling – to provide a stable and tighter installation of the seat. These points will enable to seat to be pulled tightly against the seat, something which is not always the case.
However, parents need to remain vigilant about the other issues involved with installing a child seat to keep children safe when they travel.
"While LATCH simplifies one issue, there are three parts to fitting a childseat," says Paul Butler, principal research engineer for occupant safety at Ford's Automotive Safety Office. "The child must fit snugly in the seat; the seat must fit snugly in the vehicle; and the seat must be used correctly every single time."
Parents must still press their weight into the childseat when securing it to the anchors in the vehicle seat, and tighten the straps to maintain a close fit. Parents must also select the proper size seat for their child, and use the internal harness correctly. Infants should be kept rear-facing as long as possible, at least until they are one year old and weigh at least 10 kgs. Ford also advises parents to graduate children into booster seats when they weigh about 18 kgs and until they reach 145 cm (4ft 9ins) in height.
So if you are going to buy a childseat and you know your vehicle has ISOFIX or LATCH fittings, look for a childseat that also has this compatibility in its design.