Proton Satria Gti Championships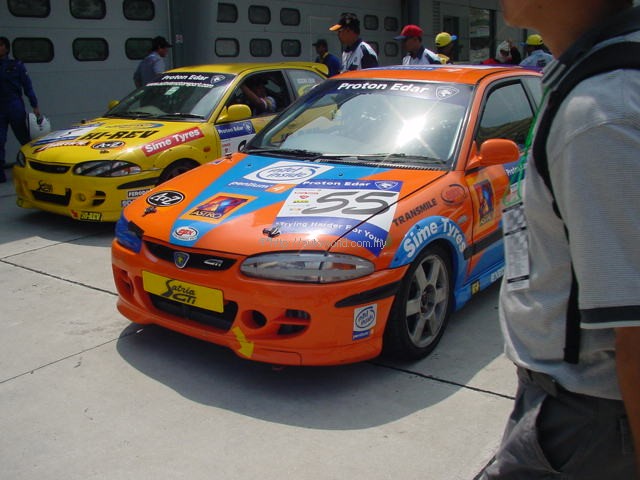 Round 3 – Saturday 22 June 2002
Eddie Lew drove a flawless race to clinch a clean victory in Round three of the Proton Satria Gti Championships on Saturday 22 June in the supporting races leading up to Sunday's main JGTC event. Lew made a clean break from the 12 car grid from pole position in the first lap, and drew gradually away to win by a 2 second gap, a gap that is small in other types of racing, but in a near-production specification car, an eternity. "My car was running well, although I'm a little disappointed with the lap times," said the 28 year old from Johore. Lew clocked a best time of 2:50.691.
Second was Fadzil Alang who clocked a best time of 2:50.451, two tenths of a second faster. Fadzil started from 5th on the grid and worked his way up through the field. Fadzil overtook veteran driver Jimmy Low to take second place in lap 3, and in the same corner, Jimmy's race came to an abrupt end when his front had an argument with Tommy Lee's driver door and lost.
Despite his car being shaped like a banana, Tommy valiantly maintained his speed to finish in third, a good five seconds ahead of fourth place man Eric Yeo. According to Tommy, his footrest broke and lodged under his brake pedal. "I even tried to pull the handbrake, but the car just wouldn't stop. It was unfortunate that Jimmy was there," said an apologetic Tommy.
Round 4 – Sunday 23 June 2002.
Eddie Lew improved on his previous day's fastest time to win again in Sunday's Round 4 0f the Proton Satria Gti Championships. This time around, his win margin was much slimmer at 1.102 seconds. Second place went to Tommy Lee of Team Breakaway in a hastily straightened out banana-shaped Gti as a result of being the test wall for Jimmy Low's collision test.
Veteran Jimmy Low started the race, but residual damage from the previous day's collision put paid to his brave effort. Third overall was Lew Kar Ken, almost nine seconds adrift of the leader, followed by Fadzil Alang in fourth.