Japan GT Championship Round 4 – Sepang Malaysia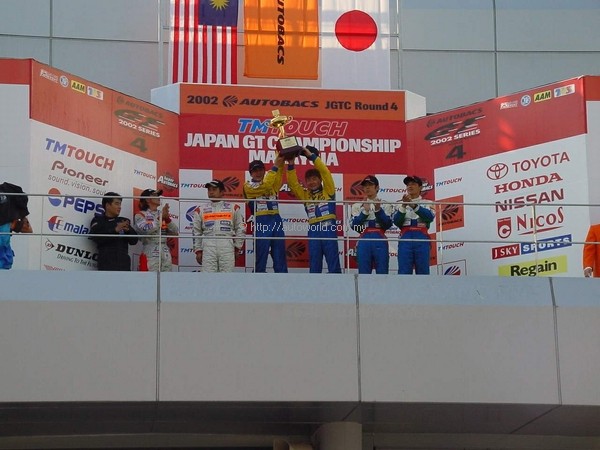 T. Matsuda and Ralph Firman took an early lead from a number 2 position on the grid in the GT500 race in the JGTC Round 4 race held at Sepang International circuit, and won it hands down from a field of 19 cars. The Mobil 1 sponsored Honda NSX was clearly the best prepared, most powerful and best handling of the total of 39 cars circulating around the SIC on race day.
The duo dropped briefly down to 7th position overall after they pitted on lap 21 for their routine tyre, driver change and refueling. They climbed steadily back to first as the rest of the field did their pit stops and maintained the lead to win by a sizeable margin over the Tom's Toyota of T Tsuchiya and Wayne Gardner.
The Toyota Supra of T. Tsuchiya/Wayne Gardner clocked the fastest time of 1:59.328 to take pole on Saturday's practice seconds before the end of the session. "We got a clear lap towards the end, so we were able to get a good time".
However, on raceday, the NSX of Matsuda and Firman was lapping a second a lap faster than any other car on the track, and after half distance it was clear that they were just driving to maintain the margin and preserve the car to the finish.
Third place was taken by T Kurosawa and P Montin, also in a Tom's Toyota.
In the hotly contested GT300 class, early favourites, S Shibara and S Mitsuyama in their No. 62 R&D Sport Vemac took an early lead but blew their engine on lap 5. The lead was promptly inherited by No. 19, a Toyota MRS racing under the colours of Racing Project Bandoh. However, after a disastrously long pit stop, they dropped back down the order. Thereafter the lead changed hands several times and the eventual winner was Car 7, RE Amemiya Racing RX7 driven by N. Taniguchi.