Super Pick-Up from Toyota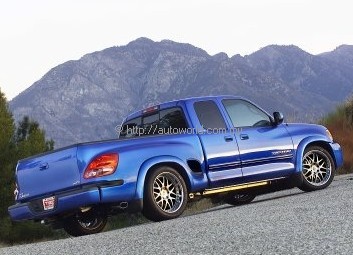 Pick-ups are the best-selling vehicles in the world but you may not realise that because the world's largest single market for pick-ups is in the USA. Thus it is not surprising that automakers who sell in that market give a lot of attention to pick-ups, and even develop concept models to show off their ideas.
The Tundra Stepside by Toyota's US subsidiary is one such concept and is doing the rounds of autoshows in that country. It will be the basis of a variant of the Toyota Tundra, a production model sold only in North America.
A collaborative effort between Toyota Motor Sales USA, Toyota Japan, and Toyota Racing Development (TRD), the Tundra Stepside concept explores the possibilities of broadening the Tundra product line and shows consumers that ruggedness and utility can go hand-in-hand with style and image.
The Stepside show truck was designed to reach out to full-size pickup buyers who want to add a little flair to their trucks. It houses the 4.7-litre i-Force V8 engine that delivers 176.5 kW/240 bhp and 427 Nm of torque.
Dressed in a brilliant blue exterior paint, what sets this Tundra apart from the rest is the addition of a stepside bed with distinctive tail lamps. The tail lamps pull back over the rear wheel arches for a sleek appearance. The stepside interior bed width between wheelwells and the bed length remain the same as a regular Tundra bed, while bed depth has been increased from 43.7 cm to 48.3 cm.
The show truck also features a redesigned front fascia with a grille that extends down into the front bumper and round fog lamps for a bolder, more aggressive look. Color-keyed overfenders give the vehicle an eye-pleasing, monotone look from any angle.
The Stepside owes its powerful stance to a sport suspension package that lowers the vehicle from the stock Tundra by about 100 mm and includes unique shock absorbers, sport-tuned suspension and rear stabilizer bar. BFGoodrich g-Force T/A KDW tyres are wrapped around brawny three-piece chromed alloy 20-inch HRE Performance wheels. The finishing touch is a TRD Tundra dual cat-back exhaust, which adds a distinctive tone upon acceleration as well as approximately 4.5 kW of power.