The Massive Maybach from Mercedes-Benz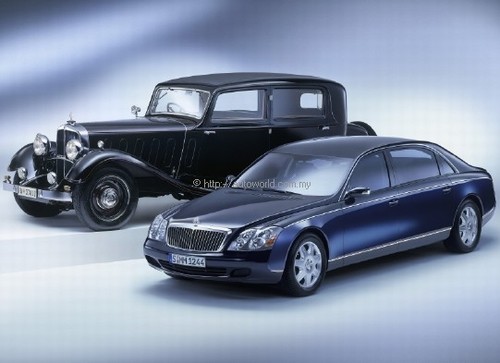 Remember the dinosaurs? Some sort of big disaster that affected the planet wiped them out a few million years ago. In the 20th century, a certain 'breed' of cars also ended up like the dinosaurs when the energy crisis hit in the 1970s. People began to realise that big cars with big engines used up a lot of fuel and as fuel reserves do have a limit, such cars were killed off quickly. Big was bad and even the 'aircraft carriers' of the Detroit automakers were not spared.
Over the past three decades, however, technological advances have made even big engines more efficient while significant reductions in vehicle weight have also contributed to lowering fuel consumption. And with such technology, cars have slowly grown in size again.
This year and the next will see the return of some gigantic limousines by two of the world's renowned luxury carmakers – BMW and Mercedes-Benz.
From BMW will come a new Rolls-Royce model which is said to be 'very big' but we won't hear much about it till January 1st 2003 when BMW officially takes ownership of the famous British brand. Mercedes-Benz will start selling its huge model under a revived brand name from October 2002 and this all-new model is to have an overall length of 5400 mm in standard wheelbase spec… and 6400 mm in a long-wheelbase version. The latter would be almost twice the length of a Perodua Kancil!
The M-B model will be sold under the Maybach brand which was in existence some 60 years ago. Back then, Maybach cars epitomised the superior engineering of the German auto industry. With their technical prowess, supreme quality and exclusive style, these imposing luxury cars quickly made a name for themselves all over the world. Each car was hand-built around the engine and chassis on the basis of individual customer specifications. The flagship model was the Maybach "Zeppelin", with its gigantic V12 engine: with a length of approximately 5.5 metres, this was the largest German passenger car of its era.
The Mercedes-Maybach connection goes back to the beginning of the last century when the Mercedes 35 PS of 1901 was a brainchild of Wilhelm Maybach, long-time friend and colleague of Gottlieb Daimler and Director of the Daimler-Motoren-Gesellschaft. This model provided the blueprint for all subsequent passenger cars. In 1909, Maybach (who also invented the radiator) went on to build high-performance, highly reliable engines for Zeppelin airships; then, in 1919, his son Karl began developing exclusive luxury automobiles.
In 2002, a new Maybach returns not only as a model but also as a brand within the DaimlerChrysler stable. With its unique roominess, its superlative engineering and its exclusive style, this luxury vehicle follows in the tradition of the legendary Maybach cars of old, as well as superlative safety, comfort, reliability and long life that is synonymous with Mercedes-Benz products.
Full details of the new Maybach are not available yet but as with the predecessor, engine technology will be a strong highlight. The Maybach will have a newly-developed V12 engine with a displacement of 5.5 litres and twin turbochargers. The output is awesome: 405 kW/550 bhp and 900 Nm of torque (from as low as 2300 rpm).
The "Type 12″ engine will have three valves per cylinder and AC
twin-spark ignition with ionic current measurement for identifying any misfiring. This not only optimises the combustion process but also reduces the pressure increase in the cylinders, which has a favourable effect on noise. The ignition voltage of 32,000 volts sets a new record.
To cut weight as much as possible, the engine has a die-cast aluminium crankcase, die-cast magnesium cylinder head and the cylinder liners are made of a lightweight, low-friction aluminium-silicon alloy.
Whereas in decades earlier, Maybach's exclusive clientele went to specialist coachbuilders to have their cars "bodied", the new luxury saloon is entirely factory-built at the M-B Sindelfingen plant in Germany, right next door to where the S-Class is built. Highly trained employees, and coachbuilding and assembly processes based on a very high level of hand-craftsmanship, will ensure that even the most unconventional wishes can be catered for. Maybach customers can keep track of their car in production and even witness it being built as well as contribute their own input as necessary.
The new luxury brand is aiming to establish itself at the very forefront of a small but select market segment where expert opinion believes there is further potential for growth in the coming years. DaimlerChrysler is better placed than any other manufacturer to translate this potential into fascinating products. Customers too have repeatedly approached the company with a request for a highly exclusive automobiles in the high-end luxury class.
"We are meeting that request with all the resources of 100-plus years of experience and engineering ability in the development and production of luxury saloons", said Professor Jüürgen Hubbert, DaimlerChrysler Board of Management Member for the Passenger Cars Mercedes-Benz/smart Division.
Production of the new Maybach is already underway (Dr Mahathir was the first prime minister to see the limousine when he visited the factory recently) and only 1,500 units are to be offered annually. To go on sale in the fourth quarter of 2002, the rumoured price of the Maybach is £200,000 in UK – that's around RM1.2 million before import tax (300% at today's rates) – which will probably limit its ownership to a very select few in Malaysia – perhaps royalty or leaders of the richest companies.