Exhaust Mods Can Be Lethal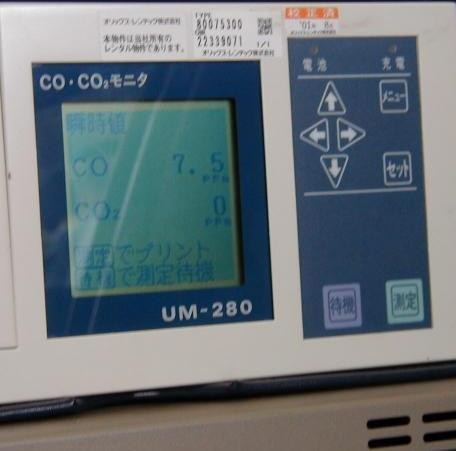 In an effort to draw attention to the dangers of modifications to cars, especially in exhaust systems, Perodua today organised a special session at SIRIM to test for carbon monoxide (CO) accumulation inside the cabin. The independent test, observed by the media and representatives from the JPJ, Puspakom, FOMCA and AAM, was also related to the tragic incident in September in which four occupants of a Perodua Kancil 660 had died while they remaining in the car with the engine and air-conditioner running for some 3 hours.
In having the test conducted, Perodua did not intend to point fingers at any party for the tragedy and reiterated that the matter was a matter for courts to decide if there was any liability involved. Perodua MD Datuk Abdul Rahman Omar said that the company had immediately set up a task force to conduct tests and investigations when it was informed of the incident in Johor Bahru.
"We conducted tests not only on the Kancil but also on other Perodua models and even models of some other makes to see what sort of levels were reached inside the cabin," he revealed. "At the same time, we also tested cars which had been used for some time as well as some with modifications so as to have an idea of how carbon monoxide could enter the cabin."
However, he pointed out that a cabin is not 100% sealed from gases due to the nature of welding which still leaves minute gaps that gas, but not fluids, can pass through. Nevertheless, Datuk Abdul Rahman added, all their findings showed that unmodified cars did not accumulated carbon monoxide inside the cabin.
"Our testing is very thorough and when we design a car, all aspects are very carefully examined and we put in a lot of effort to ensure that components meet strict standards. Additionally, we conduct endurance testing to ensure that these components remain intact for some time," he said.
The Perodua MD urged the public to be very careful when carrying out any modifications on their cars because if such modifications were not done properly, damage or worse consequences could result. He said that even seemingly straightforward changes like rim sizes needed to be considered seriously as they could affect handling and stability. In the case of exhaust systems, a popular modification among motorists who want a 'sportier noise' or performance, there may be cases when the system is not welded properly and leaks occur. Manufacturers' liabilities typically become void when modifications are made to a vehicle, a typical clause mentioned in warranty conditions.
On the dangers of CO inside the car, he pointed out that there are warnings inside Perodua's manuals (which are in both Malay and English) that highlight the dangers of sitting in a motionless car with its engine running. AUTOWORLD.COM.MY understands that such a warning is typically included in Owner's Manuals of most vehicles and is, in fact, a notice that is legally required in some countries. The danger is greater if the vehicle is running inside an enclosed space.
As for the test, three units of Kancil 660 were used. Two were supplied by Perodua and of these, one was a brand new unit taken from the factory and the other was a 1-year old unit which had 40,000 kms on the clock. The third unit tested was the Kancil which was involved in the incident. Perodua had obtained the cooperation of the owner to borrow the car, which was registered in September 1999 and had clocked about 60,000 kms, for the purpose. From what AUTOWORLD.COM.MY observed, the car had a modified exhaust system and a non-standard strut bar had been installed in the engine bay.
The testing attempted to duplicate the conditions in which the incident occurred but was not run up to three hours per car. Instead, a 40-minute cycle was applied (air-conditioner on, windows shut and ventilation on recirculate mode) and CO content was checked every 10 minutes by a gas analyzer which could detect down to 0.1 parts per million (ppm) of CO in the air. According to Perodua's R&D staff, the company stipulates 10 ppm as being the maximum 'safe' level.
The first car tested was the brand new Kancil and although initial readings showed 0.5 ppm and officially, there was a 5.1 ppm recorded, the high figure was because a thoughtless newspaper photographer opened the car door and allowed fumes from outside the enter (the exhaust gas was vented into the building).
For the second car, the 1-year old unmodified Kancil supplied by Perodua, CO levels after 40 minutes remained at 0 ppm. It should be noted that the Kancil 660 does not have a catalytic converter fitted as current regulations do not require it to have one. Only models introduced as brand new have been required to be fitted with catalytic converters. In any case, there are many motorists who choose to remove this device in the hope of getting better performance, an action that is illegal in some countries.
As for the third car, the CO content in the first 10 minutes was 1.8 ppm and rose to 5.1 ppm after 20 minutes and 6.3 ppm after half an hour. At the 40-minute mark, it had reached 7.8 ppm and before it was shut off after about an hour from starting, AUTOWORLD.COM.MY saw the meter reading almost 10 ppm. However, the readings after 40 minutes were not officially recorded since the test procedure did not stipulate that duration. Nevertheless, from the way the CO level inside the cabin rose, it would be reasonable to conclude that the level could reach a lethal level after a few hours.
As mentioned earlier, a car's cabin is not air-tight and gases can seep in. While the car is moving, this is not an issue since the gases are blown away. However, it can become dangerous when the car is idling. Why the Kancil in question generated so much CO is a matter for the police to ascertain and Perodua has indicated that it will fully cooperate with them. Apparently, the Chemistry Department has already issued a finding but this remains confidential in view of any possible legal action occurring.