DRB-Oriental-Honda Now in Business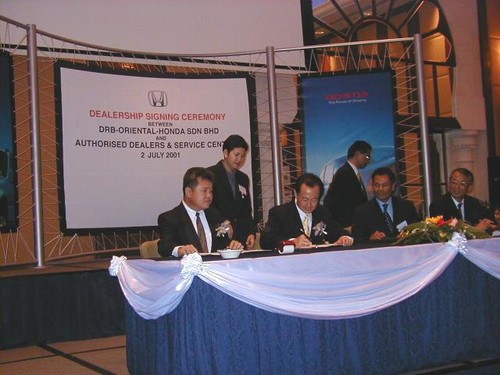 The new joint-venture company handling Honda manufacturing, distribution, marketing and sales in Malaysia – DRB-Oriental-Honda Sdn Bhd (DOH) – officially began operations on July 1st 2001, taking over from its previous franchise holder of 33 years, Oriental Holdings Bhd (the parent company of Kah Motors). As yesterday was a Sunday, the new company, in which Honda is the largest single shareholder with a 49% equity, began its activities today with the signing of dealership agreements in Kuala Lumpur.
At a simple ceremony, DOH formalised dealership agreements with 51 parties, including 12 Kah Motors branches. Virtually every state, including in East Malaysia, has at least one Honda dealer and there are also 12 authorised Honda service dealers.
"It is our wish to cause no disruption or inconvenience to our customers with the beginning of our operations and we believe that the change-over will occur smoothly," said Mitsuru Ozaki, DOH Managing Director/CEO. Mr Ozaki said that while there would be no dramatic changes in store for customers at Honda showrooms right away, there would be intensive training for all the dealers to heighten as aspects of customer service and after-sales support.
"We want to achieve the Highest Customer Satisfaction in Malaysia in the shortest possible time," he declared.
Aware that there has been a degree of customer dissatisfaction with the way Hondas have been marketed in the past, DOH is giving a lot of attention to improving all aspects of its interaction with its customers. One area that has often upset customers has been the accessories they have been forced to accept when buying a new Honda.
On this issue, Abdul Rashid Rahim, President/Chief Operating Officer of DOH, said that the company will respect customers' wishes if they do not want any optional accessories. At the same time, the optional accessories offered are all approved by Honda and meet the high quality standards of the company.
"All accessories – standard and optional – are of a very high quality and they also come with a 2-year warranty, the same as the cars we sell," he said.
Another good piece of news is that prices will be reviewed to benefit customers although the nature of the changes are unknown at this time. According to M. Takano, General Manager of Sales & Distribution at DOH, the review has already been done with the aim of making Honda cars more competitive and 'less isolated' in the market.
"We have already submitted the revised prices to the government and when we receive approval of them, an announcement will be made," Mr Takano said. However, the prices may not necessarily come down significantly as it was also mentioned that DOH plans to include safety items such as airbags and ABS. If this is the case, customers may get better value for their money with a minimal price change. The prices of genuine Honda spare parts will also be revised and some items may be reduced by as much as 30% from previous prices.
Speedy after-sales support is also a priority for DOH and reducing delays getting parts to customers will be achieved by the new parts warehouse set up in Port Klang. The distribution system will also be improved and according to Mr Ozaki, there will be increased quality checks on all new cars as well as dedicated transportation of the new units from the assembly plant in Johor.
For those who own Hondas that were imported by parties other than official dealers, there's good news: DOH will not have a policy of discrimination like that of Kah Motors where owners of reconditioned models or privately-imported units were not accepted for service. DOH dealers will provide after-sales support although the owners will have to understand that there are limitations.
"DOH won't be able to honour any warranty on vehicles we do not sell but we will certainly offer after-sales support to any Honda owner," explained Encik Rashid. "Of course, due to the great variety of models Honda offers worldwide, it is possible that we may not have the required parts but we can still help owners to get them."
"Supporting owners of the 'gray imports' is not something we will emphasise since it should be appreciated that those companies which sell them do not invest much in after-sale services and just sell the cars. Nevertheless, DOH will not turn away these owners as they are still Honda customers," he added.
Communication with its customers is going to be given a lot of attention, Mr Takano promised, and apart from printed materials, there is also a new website at www.honda.net.my . Mr Takano, who spent some 6 years in Honda's American subsidiary, said that DOH would also be noting feedback from customers and also working hard to upgrade the standards of the dealers.
"Give us till the end of this year and you should see many changes," he said.
DOH also announced today the introduction of an additional variant of the City Type Z with a more luxurious interior. The new variant is the City Type Z VTi and features a 84.5 kW/115 ps VTEC LEV SOHC engine with a 1.5-litre displacement. This has a 4-speed electronic automatic transmission only. The price, excluding optional accessories, is RM87,308 (with insurance). With the accessories (alloy rims, carpet mats, numberplate, etc), the price would be RM89,388.00. In line with DOH policy, customers will be given the option of not taking the accessories.
Up till 2003, DOH will use Oriental Assemblers to assemble its vehicles as its new plant in Melaka will only being construction work this September. The new plant, near Pagoh, will have a capacity of 20,000 units a year and its output will be intended for domestic as well as export markets. For this year, DOH expects total Honda sales in Malaysia to be around 8,000 units.