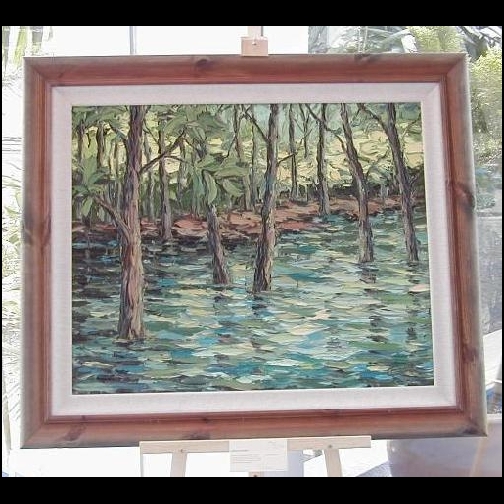 Life is a canvas. Art, like music, is intrinsically part of one's celebration of life. Across diverse cultures and continents, the experiences of these four talented artists now culminate in the inaugural exhibition assembled by Volvo called 'Art for Life'.
Dorothy Thomas exhibits eight paintings of different water scenes for this exhibition. For her, water forms the basis of all life. "Without water, there would be no life!" She exhibits the theme splendidly through diverse scenes showing water as a life-force that shapes and feeds the earth, tranquillity that sets the stage for many delightful locations allowing us to celebrate in its beauty and as a backdrop to many riveting landscapes.
Helene Lamoureux, a native of France, offers eight paintings showing different impressions and figures of the Buddha. "Buddhism is a way of life, a way of being, of behavior. It takes a very important place in the people's everyday life."
Yap Kim Boon, a Malaysian, has nature as his primary subject matter and inspiration, particularly the lush forest of the tropics. He believes that the forest is where life begins, takes root and flourishes. It is an oasis nourished by Mother Nature, a kaleidoscope of life. Birth…death…rebirth – in a never-ending cycle that is truly a celebration of life. Through the use of emotive colours, Yap transfuses his paintings with a poetic and ethereal feeling.
The late Van Den, the fourth artist to be featured, was the foremost artist of 20th century Vietnam. He was very unassuming and an extremely modest man who best articulated himself and his deeply-held thoughts and views through painting. The parallels of his tempestuous career and the corresponding turbulent history of his beloved homeland are clearly evident in the work. His paintings really are a biography of his life.