Facelifted Unser now in Toyota showrooms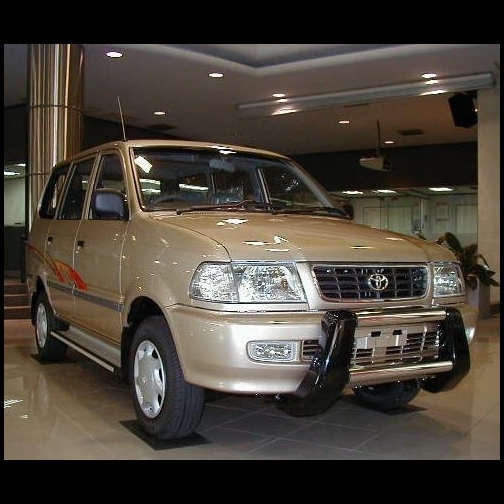 UMW Toyota Motor has begun to display facelifted versions of the Toyota Unser in its showrooms. The new 2001 versions have notable cosmetic changes on the bodywork, with the front end resembling one of the bigger Toyota 4WDs. The headlamps are also new with a multi-reflector design while the body-coloured resin bumpers have integrated spotlights at the front. Following the latest trends, the rear lighting units now have clear lenses with coloured bulbs.
The rear end also looks different and a comparison with the previous version will show that the rear glass panel appears 'bigger' in the new Unser. This is a bit of visual trickery by using black paint around the glass pane, especially below it. The effect makes the rear end of the Unser look less like a van and even more like an MPV.
A peek inside revealed that the dashboard has been restyled with a 'softer' appearance in its lines. The steering wheel is now a 3-spoke type instead of the boring 2-spoke design and a new design is used on the fabric upholstery.
Seating accommodation is unchanged, which means there's comfortable space for eight adults. The middle row can be folded while the last row can be removed altogether if desired. The removal is done very easily and no tools are necessary.
From what we could ascertain, there are no mechanical changes under the bonnet but the rear suspension has had a small improvement to give better ride comfort while the inclusion of a sub-muffler reduces noise levels further.
As before, there are two engine choices – a 1.8-litre petrol engine with EFI with either a 5-speed manual transmission or an electronically-controlled 4-speed automatic transmission, or the 2.4-litre diesel engine only with 5-speed manual transmission. As the diesel engine is considered a 'Green Engine' by Malaysian authorities, owners can enjoy a 50% rebate on roadtax.
According to a sales representative we spoke to, there are three new metallic colour choices – Passion Red, Cosmic Beige (shown in the pictures) and Blue Violet – in addition to the current Inca Silver. The optional alloy wheels also have a new design.
To date, over 13,000 Unsers have been sold and it was the most popular MPV in Malaysia last year. The facelifts and improvements for 2001 should sustain the popularity of this versatile vehicle.