RPM 7000 – A Practical Sportscar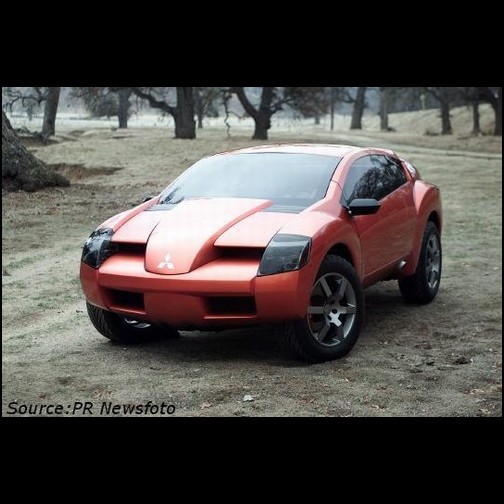 Each type of vehicle design has good points as well as bad ones; the sedan is fine for use on good roads but lacks space if you have a lot of things to carry and also has limited ground clearance, while the 4WD SUV is spacious but its height affects its handling. As for the sportscar, the designs are usually compact and low-slung which is great for handling but you may have problems over speedbumps and bad roads.
Mitsubishi Motor's latest concept car, the RPM 7000, aims to show that a sportscar can be practical enough for daily use. It achieves this through innovative packaging and a high-performance powertrain, and Mitsubishi Motors believes that such a concept can satisfy consumers who want unparalleled on-road performance combined with uncompromising passenger and cargo versatility as well as superior off-road prowess.
"The RPM 7000 challenges all convention though its incredible performance and real-world usability. While redefining the term 'sportscar' and contemplating how we can take such a concept to the retail market one day in the future, the RPM 7000 creates a segment all its own," said Pierre Gagnon, Executive V-P and CEO of Mitsubishi Motor Sales of America, Inc. "Our racing heritage in Paris-Dakar as well as our success in World Rally Championships have made us a leader in this kind of motorsports competition, and the RPM 7000 is our most recent reflection of this racing expertise."
The overall design takes on an aggressive look, with a F1 car-inspired nose-cone and large air ducts for effective engine cooling. Lens-covered, multiple projection-beam headlights blend into the voluptuous fenders while a wedged beltline and a 'Geo-Mechanical' break at the hip point accents the overall style. The traditional high-back wagon-look is replaced by a gracefully sloping roofline that features a rear window that retracts into the body and a rear deck-lid that disappears like the cover on a roll-top desk. The rear passenger seats can then be folded to make a pickup-like rear cargo area, generously-sized to fit two mountain bikes.
The driver's side features the familiar coupe design, with a long, single door. But the passenger's side is rather different: two "suicide style" center-opening doors are provided for easy kerbside access into the 4-passenger cabin.
The metallic dayglo, anodized orange paint scheme was inspired by the red-hot exhaust manifolds on racing engines and the aggressive style is further accented through high ground clearance and large-diameter, 19-inch, six-spoke aluminium alloy wheels shod with 245/60VR19 Goodyears with F1 rain tyre patterns.
"Style and design are nothing if a car can't live up to the expected power and performance," said Mike Desmond, designer of the RPM 7000 at the Mitsubishi Research and Design America studio in California. "We made sure the RPM 7000 had the raw power that could cash the race car 'cheques' its body design was signing." In other words, it could deliver the sort of performance the looks suggested.
Rally-inspired performance goals called for rally-proven power and technology in the RPM 7000. The renowned engine from the Mitsubishi Lancer Evo-4 car was re-engineered specifically for this vehicle. In its modified form, it develops a claimed 232kW/315 bhp at 6500 rpm. The 2.0-litre, DOHC 4-cylinder engine gains its strength through a large-diameter, twin-intercooled, twin-scroll turbocharger and transfers its power to all four wheels through a variable-torque Active Control Transfer system which has a viscous coupling centre differential.
A close ratio, 5-speed manual transmission utilizes an all-carbon, three-plate competition clutch, allowing for high-rpm, rally style acceleration launches. To stop quickly, the RPM 7000 incorporates large-diameter, ventilated brake rotors featuring eight-piston brake calipers up front with a four-piston design used in the rear.
Just as serious as the exterior design and powertrain engineering is the RPM 7000's interior architecture. The "down-to-business" rallycar-inspired cockpit has a built-in roll-cage that is integrated into the internal support structure. Purposeful and functional, the layout features extensive use of carbon-fibre while exposed interior door frames integrate with the metal structure as part of the interior design theme.
Mimicking a rallycar, the RPM 7000's shifter, ignition and switches have all been purposefully designed to be utilized by the driver while wearing thick racing gloves, demonstrating the true racing philosophy behind this unique vehicle. The centre console represents a marriage of function with convenience, featuring a touch-screen monitor incorporating the vehicle's climate control system, on-board navigation, audio system with CD, satellite feed and MP3 capability, as well as competition gear like a SS timer and engine management control display.