New Ford Spectron Auto Coming Soon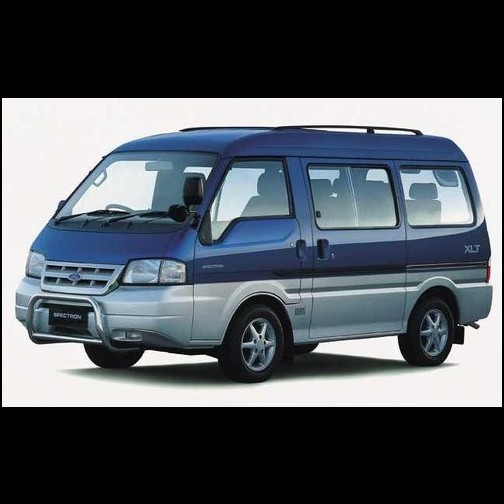 With urban driving conditions becoming increasingly congested, more and more buyers want automatic transmissions. All that manual gear-changing can be tiring if you have to do it for half an hour on the daily commute to work and with today's automatics being fairly efficient, the trade-off in terms of performance and fuel economy is not as big an issue.
Most popular passenger cars – even the small Perodua Kancil – now have automatic transmission but other than the expensive imported luxury models, window vans have not been available with autoboxes. But not any longer because Ford Malaysia will offer its new-generation Spectron with the option of automatic transmission.
10 VARIANTS
The new Spectron is part of the all-new Ford Econovan range which will be unveiled at the KL International Motorshow on November 25th. The new range of Ford's popular vans will have no less than 10 different variants, making it the widest range of family and commercial vans in the Malaysian market.
"The new generation Econovan range comes in various shapes, sizes and equipment levels to cater for a wider variety of needs," said Econovan Brand Executive Wong Wai Shin.
The range covers short and long wheelbase variants, three types of engines, two different transmissions and three body styles – window van, panel van and a semi-panel van. Seating combinations cater for 8, 11 and 14 passenger configurations.
"The Ford Econovans have been moving Malaysian families and commercial goods for more than 20 years. Their popularity has largely been due to proven reliability, durability and the low cost of ownership," she said. "The same attributes will be apparent in the new range, with enhanced safety features."
THREE ENGINE CHOICES
Ms Wong said the entry-level Econovan will have 1.8-litre SOHC petrol engine with EFI. This engine pumps out 68.4 kW/93 ps of power and is claimed to offer outstanding fuel economy. Another petrol engine option, also with EFI, is a 2.0-litre unit while the diesel powerplant is the proven WL unit which also powers the Ford Ranger.
"The WL diesel engine has proven its performance in the Ford Ranger 4×4 pickup, now Malaysia's most popular truck," she said.
MORE SAFETY
With a longer front nose than prior models and extended energy absorbing front subframe, the new Econovan has significantly improved frontal crash safety performance. For better resistance against side impacts, there are anti-intrusion beams in the front and sliding side doors. Other safety enhancements include better overall visibility and an upgraded brake system.
The family flagship is the new Spectron XLT. This multi-purpose, well equipped family vehicle will have the 1.8-litre EFI engine with 4-speed electronic automatic transmission, dual sliding doors, standard dual blower air-conditioner and luxury seating for eight. It is also equipped with a 4-speaker single CD-radio player as standard, remote keyless entry, power windows and power steering.
Ms Wong said that even though some Econovan models feature high equipment levels, every one is "Built Ford Tough", possessing the attributes of durability, reliability and dependability. With payloads of up to 1.3 tonnes, Econovans can haul 500 kgs more than any local competitor.
Prices for the new Econovan range will only be announced during the debut at the KL International Motorshow.