Chevrolet Orlando 1.8LT Test Drive Review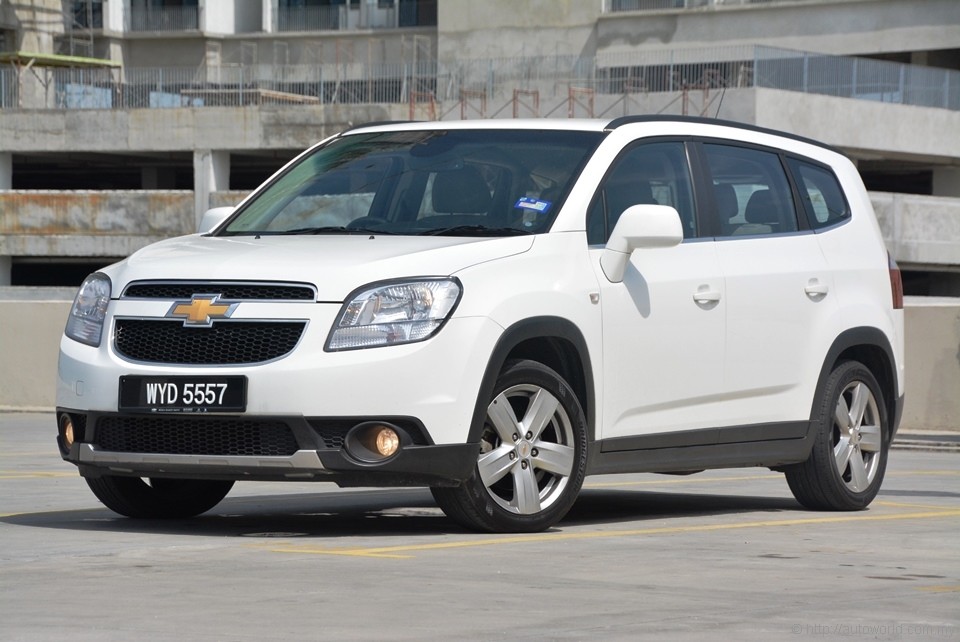 Those in the market shopping for a seven-seater MPV will notice a curious vacuum at the RM120k price ball park. There is a clutch of budget MPVs south of RM100k and more options upwards of RM140k, but you're shopping for seven seats with Honda Civic money, your pool of choices suddenly narrow to the Chevrolet Orlando.
Underpinning the Orlando is the Delta II platform that is shared across GM's range of transverse engine FWD C-segment vehicles, such as the Cruze, a car with which the Orlando also shares its sole 1.8-litre petrol powertrain and 6-speed automatic transmission. Suspension (MacPherson front, torsion beam rear) and brakes (all-round discs) are similarly shared.


The engine's outputs are rated at 141hp and 176Nm; against 1,539kg kerb weight, that translates to a power-to-weight ratio that is inferior to other low-slung seven-seater MPVs such as the Honda Stream and Mazda5 SkyActiv. The 138hp VW Cross Touran 1.4 TSI has, on paper, a lower power-to-weight, but that deficit is negated by the superior torque of its twincharged engine. For the record, the Orlando's vital stats – top speed (185kph), century sprint (11.8 seconds), and fuel consumption (7.9 l/100km) – are all comfortably eclipsed by the VW.
Equipment-wise, the Orlando is a relatively complete offering as far as safety is concerned – ABS, EBD, traction control, stability control, dual airbags, and ISOFIX are standard – but there isn't much to shout about with regards to amenities; there is cruise control, reach & rake steering, USB, and Bluetooth connectivity. Simply put, there isn't much in the way of class-leading features on board.


Exterior
Relative to other MPVs, the Orlando sits wide and low, giving the impression that this is a vehicle with dynamic ambitions. Lower body cladding with metallic inserts help project a pseudo-crossover image similar to Nissan's X-Gear. But whilst its stance is promising, the details are relatively ordinary.
The 17-inch rims fitted into Malaysia-spec cars are one size up from its base factory wheels; they fill the wheel arches well, but there is little else, however, that reinforce any dynamic or premium messages. Some buyers will appreciate the minimalism, others may find it underwhelming, we are ambivalent.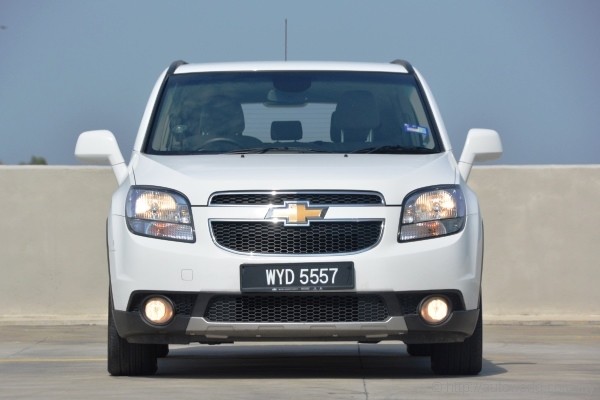 Conventional halogen reflector headlights provide forward illumination.

Interior
Remembering that the Orlando is based on the C-segment Cruze's platform, the amount of space on offer inside is very commendable indeed. The third row seats, as you would expect, are best used for either children or for short journeys only. The seat folding mechanisms, however, operate with satisfying slickness – both second and third rows feature easy-to-use one-touch folding mechanisms.
For smaller items, there is a good distribution of cubby holes, both lidded and exposed, to stow away your phones, keys, Smart Tags, and the lot. Party piece is the hidden compartment revealed by folding the integrated audio head unit panel upwards. The vehicle's built-in USB slot hides in there from which you can charge your mobile device. Do note, however, there are no gaps for cables to pass through once the lid is closed – that means the panel has to be left open if you need to use and charge your phone at the same time.
At risk of putting the local distributors in a less than flattering light, we need to highlight that our 40,000km-old test car was loaned to us in, shall we say, less than pristine condition. Signs of considerable wear and tear were obvious, but it was just as notable that despite the significant abuse which the test car must have been subject to, there were no rattling panels at any speeds and moving parts were operating with satisfactory smoothness. As much as this indicates sloppy maintenance, it is also demonstrative of the vehicle's robust build quality.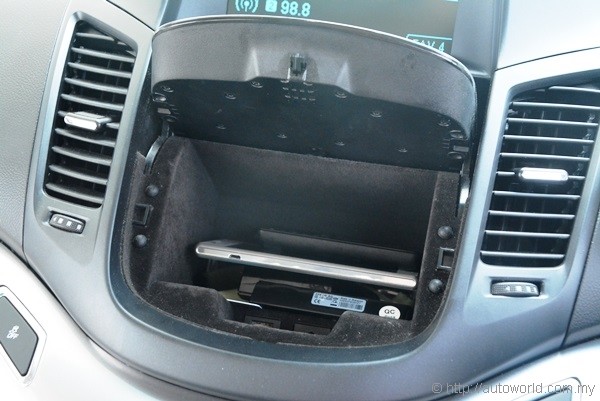 Hidden compartment behind audio controls is simply genius.

Driving Experience
The Orlando's driving characteristics is best described as having a competent chassis under-utilized by an engine that is no better than being distinctly average. The 1.8-litre Ecotec engine, whilst adequate in the Cruze, struggles to deliver anything beyond pedestrian progress.
When coaxed, the 141hp four pot is noisy and lacks refinement; not helping matters is a transmission that lacks decisiveness when selecting which gear to use in many given situations. Smoothness of shifting is also not in line with our expectations of a good torque converter automatic transmission.


If our evaluations of its straight line performance has not painted an encouraging picture of the Orlando thus far, the good news then is that it goes uphill from here. If you're content to live with moderate progress, you will, for starters, enjoy a journey that is as hushed as an MPV should be, thanks to excellent suppressing of wind and road noise.
Driving dynamics strike a balance between ride and handling that can be described as good, and not merely in the context of an MPV. There is a firmness to its ride, but one that never comes close to being brittle or crashy – doubly impressive considering that it runs on upsized rims. It settles quickly, however, giving the chassis assuring composure over most surfaces. Allied with a steering that is decently quick and accurate, the Orlando is quite capable of stringing a few fast corners along our favourite back roads.


Verdict
Other than a relatively weak powertrain, there is actually little wrong with the Orlando, and by extension, that gives us little reason to discourage you from buying one. Asking for less than RM120k with insurance, it is difficult to fault for value either. But whilst it has done little wrong, it has also done little at all to shout 'buy me' to a prospective customer – it does not have a defining USP.
At best or at worst, the Orlando is an average product, one that neither offends nor stands out. If this was a Toyota, we are sure it would sell by the bucket loads, but Chevrolet, we must remember, is a brand seeking to climb up the food chain – merely not doing anything wrong is not quite enough, cars like the Orlando need to go for the jugular and set themselves apart from the competition. We won't tell you to avoid it, but it's difficult to come up with a reason to say you should definitely buy it either.