All-new Mercedes-Benz GLA launched in Malaysia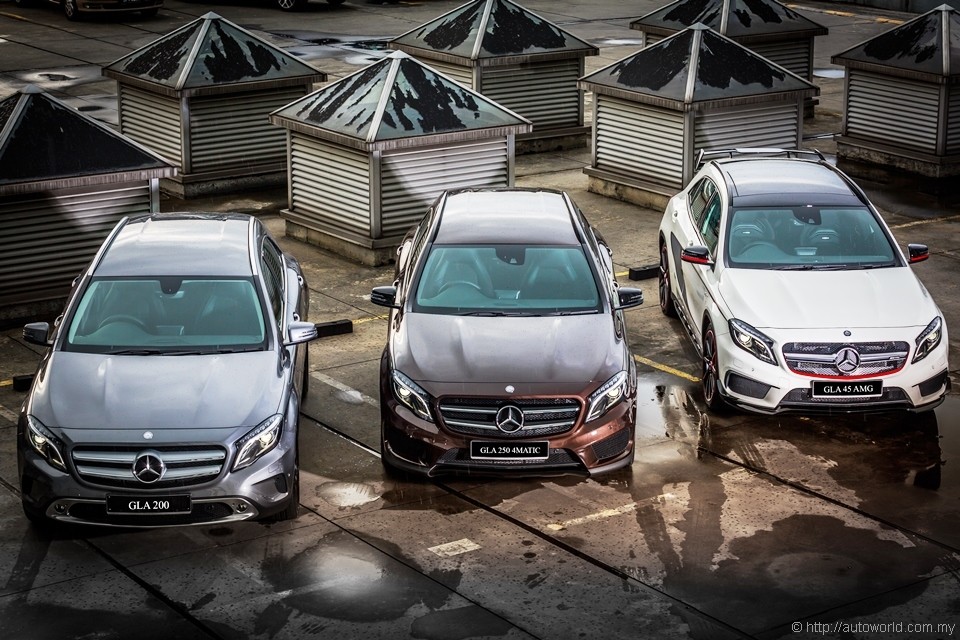 Mercedes-Benz's New Generation Compact Car (NGCC) family is now complete, with the GLA mini crossover SUV officially launched in Malaysia to join the A-Class five-door hatchback, and CLA-Class four-door coupe. Available in three variants, the GLA also adds a new entry level model to Mercedes-Benz's portfolio of premium SUVs that to date includes the GLK, ML, GL, and G models, not all of which are offered in Malaysia, however.
Sharing the A-Class and CLA's new generation transverse engine platform, the GLA is offered with an identical line-up of turbocharged petrol engines from the M270 engine family, starting with the GLA 200's 1.6-litre mill offering 156hp and 250Nm for the front wheels. All versions are fitted with 7-speed dual clutch transmissions as standard.
The GLA 250, on the other hand, has a 2.0-litre version of the engine pushing out 211hp and 350Nm in conjunction with a new generation variable all-wheel drive system. In most conditions, the 4Matic system drives only the front wheels for the benefit of fuel economy, but it is able to route as much as 50% of torque astern through a hydraulically-actuated multi-disc clutch if the need to do so arises.
In the range-topping GLA 45 AMG is an AMG-specific derivative of the 2.0-litre M270. Like all AMG engines, it is handbuilt using the 'one man, one engine' philosophy. So much of the engine's internals are altered from the base M270 that it carries its own M133 identification code. Boosted by a twin-scroll turbocharger, the engine has impressively high specific outputs, pumping out 360hp and 450Nm, making it the world's most powerful series production four-cylinder engine… at least until Volvo's 450hp triple-charged Drive-E monster hits the market.
With three widely disparate variants, Mercedes-Benz offers the GLA with a line-up that caters for a wide range of tastes. Besides having unique powertrains, the three variants are further differentiated by unique trim and suspension set up.
Curiously, the FWD-only GLA 200 is fitted with a 30mm taller off-road comfort suspension whereas AWD GLA 250 4Matic gets sports suspension as part of its AMG Line trim package which lowers the car by 15mm at the front axle and 10mm at the rear. The GLA 45 AMG predictably gets the most aggressive AMG sports suspension together with enhanced braking and speed-sensitive sports steering.
As an added bonus for our market, the GLA 45 AMG will be sold in Malaysia with the exclusive 'Edition 1′ package as standard. Limited for production only in the first year of the vehicle's model life cycle, the 'Edition 1′ package adds a number of exclusive trim and decor elements such as a high-gloss black aerodynamics package with enlarged front splitter, additional flics in the front apron, and rear aerofoil. Its enlarged 235/40 R20 tyres with light AMG alloy wheels are further complemented by red-painted brake calipers. Inside, 'Edition 1′ vehicles are finished in Artico man-made leather and Dinamica microfibre in black with contrasting red stitching.
All variants of the Mercedes-Benz GLA are, for the moment, fully imported with prices starting at RM238,888 on-the-road without insurance for the GLA 200 moving on to RM268,888 for the GLA 250 4Matic, and finally RM378,888 for the GLA 45 AMG.
Pictures: Official Mercedes-Benz release.