2nd Gen Hyundai i30 Test Drive Review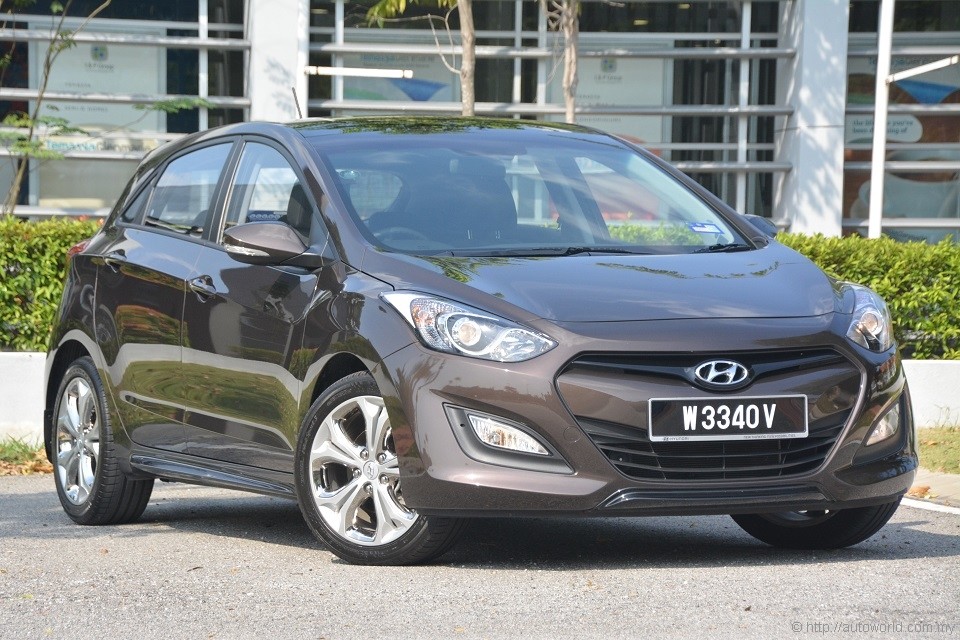 At the 2011 Frankfurt Motor Show, Volkswagen CEO Dr Martin Winterkorn made considerable headlines across the automotive press worldwide when a video of him inspecting the Hyundai i30 up close went viral around the net. The sight of the Volkswagen CEO himself putting i30 through his own tape measure was indeed substantial testament of how far Hyundai has come – the maker of cheap econoboxes has grown to become a threat that even the great Volkswagen empire could not ignore.
The original i30 entered the market in 2007, and it was quickly hailed as a revolutionary product from Hyundai. Designed by Hyundai's European R&D centre in Germany, the i30 was unsurprisingly a Euro-centric product, and its continental influence was obvious in many ways; its styling was neat and dynamics accordingly tidy, boasting a level of ride and handling competence that in the context of the Hyundai brand, was never before associated and rarely repeated since.
The abovementioned i30 that caught Dr Winterkorn's attention was the second generation model, and despite being unveiled globally over three years ago, it was launched in Malaysia only this year. Hyundai took a group of Malaysian motoring media to test the i30 at South Africa in 2012, and somewhat amusingly, a number of journalists in the said group had already changed jobs by the time the car finally arrived in Malaysia.


Prices & Variants
Unlike its predecessor which offered a choice of 1.6- and 2.0-litre engines, the current i30 occupies middle ground with a 1.8-litre powerplant as its sole engine option. A sum of RM127,888 gets one on your driveway inclusive of insurance. Topping in an additional RM5,000 brings you the Sport trim as per our test car, but you won't be missing much by omitting this option – it's just a fitment of locally-sourced body kits.
Equipment levels are respectable, but not exactly headline news by today's standards; having keyless entry is always a plus point in our pages, and items such as panoramic sunroof, tilt & telescopic steering adjustment, steering-mounted controls, Bluetooth handsfree connectivity, six airbags, and electronic stability control help in raising the overall value preposition, but these are features which we consider to be pre-requisites rather than class-leading in the context of its price range.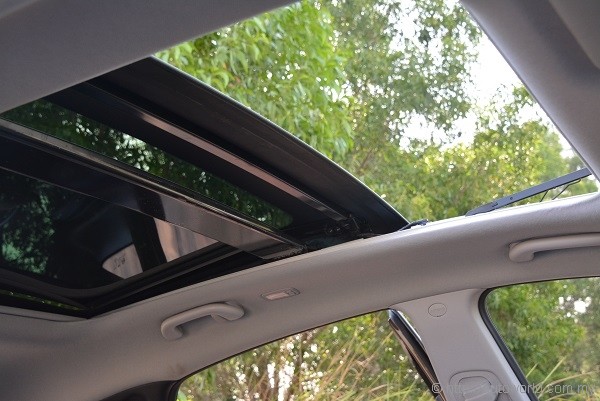 Panoramic sunroof.

Specifications
As much as Hyundai tries to play up the i30's European connections, there is no escaping the fact that under its skin, the i30's underpinnings are shared with the Elantra. No shame in that; in today's age where economies of scale take priority in mass volume manufacturers, commonization of parts is an entirely sensible approach.
It is unsurprising, therefore, we learn that the i30's 1,797cc Nu MPI engine is, in fact shared with the Elantra 1.8 along with Hyundai's in-house 6-speed automatic transmission. Outputs are identical, quoted at 148hp and 178Nm.
Ingredients of the chassis are similarly common between the i30 and Elantra, although the i30's electric power steering features three adjustable assist levels, dubbed Flex Steer in Hyundai speak. Suspension layout adopts a rear torsion beam, not uncommon in the segment, but makes for less than pleasant reading when European examples feature multi-link rear axles. Adding salt to the wound is that the previous i30 had an independently-sprung rear as well, making this a double downgrade.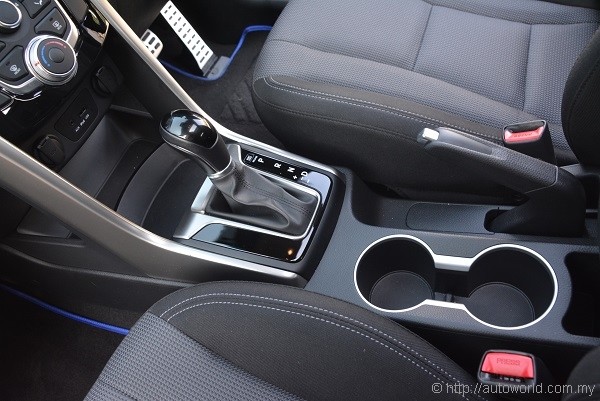 Cubby holes forward of the gear lever have the capacity to accommodate a lot of small items.

Exterior
Like all Hyundai models of recent vintage, the i30 follows the company's 'fluidic sculpture' design language. Like the other European-inspired Hyundai, the i40, the i30's interpretation of the language is a tad more understated than, say, the Sonata or Tucson.
The lighting package is surprisingly basic, with old fashioned bulbs providing all illumination. Main beam of the headlights are provided by halogen projectors; daytime running lights are notably absent and so are rear fog lamps, both omissions surprising considering the vehicle's Euro-led development and that a number of recent Hyundai models, namely the i10, Elantra, i40, and Santa Fe, have been offering the latter feature.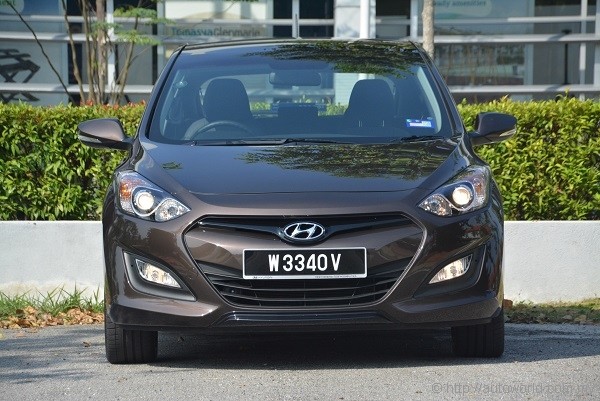 Headlights use halogen projectors; no daytime running lights.

Interior
In many aspects, the i30's simple yet effective cabin scores highly. Although the absence of a touch screen betrays a lack of sophistication by today's standards, we like the logical layout of its controls and the overall ease of use that is the result. Keen attention was evidently paid on various cabin touch points as switches exude positive tactile sensations and exposed surfaces feel generally pleasing to the touch. Build quality is on par with segment standards, if there were mis-aligned panels in our test car, we didn't find them.
More impressive is the amount of space that Hyundai's designers were able to extract from the i30's compact foot print. Rear passengers are beneficiaries of generous head and leg room – 170cm adults will have a fistful of clearance above their heads and provided the front passengers are sensible with their space demands, there is enough room at the back to sit with one's legs crossed.
Further aft, the rear hatch opens to 378 litres of cargo space, which can be further extended to 1,316 litres with the 60:40 split-folding seats tumbled down. Smaller items, meanwhile, can be chucked into the usefully deep door pockets or the generous distribution of cubby holes along the centre tunnel. Lidded compartments, namely the glove box and centre armrest console box, offer acceptable, if average, storage volume.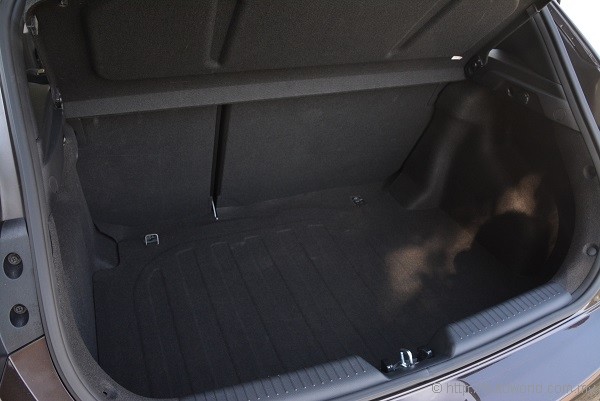 Rear hatch is usefully deep and has 378 litres of volume; 1,316 litres with seats down.

Driving Experience
A journey to Genting Highlands typically tells us much of what we need to know in a car's driving assessment – the uphill stretch is a test of engine power and response; whilst the downhill run helps us evaluate chassis balance. When a car turns out to be more satisfying going downhill than it was going up, as it was in the i30's case, it points to less than adequate grunt and a chassis that is by and large over-engineered for the amount of power available.
Despite boasting competitive numbers amongst 1.8-litre NA engines, progress in the i30 is no more than pedestrian at best. Although the engine is willing to work, and it's a decently smooth-revving unit by the way, much of its good work is undone by the hesitant and slow-shifting nature of Hyundai's in-house 6-speed gearbox; which required the usage of its manual overriding feature way too often for our liking.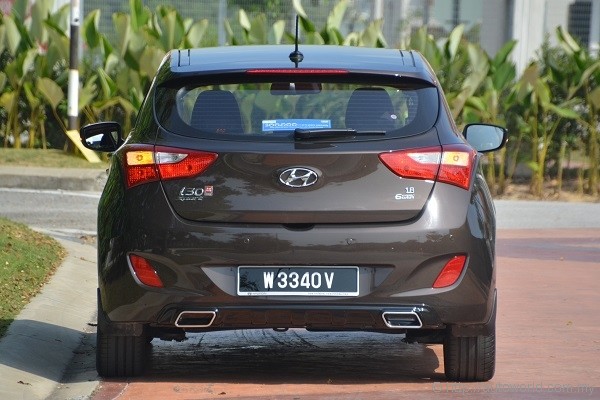 No rear fog lights, surprisingly.

Far more satisfaction is found in the handling department, where the i30 carries itself with dignified poise and impressive fluidity. Suspension copes admirably with poor surfaces and compared to rivals, its steering is relatively quick and precise, if ultimately lacking in feedback – none of the three Flex Steer modes provided a truly satisfying setting; 'Comfort' compounds the already wooden feel, whilst 'Sport' feels unnaturally heavy, so it's best to just leave it at the default 'Normal' mode.
A note to readers with regards to our findings is that our test car wore 225/45 R17 Michelin Pilot Sport 3 tyres as opposed to identically-sized Hankook Ventus Prime rubber as delivered from the factory. There is no way to tell how far our drive experience deviates from cars that Hyundai actually sells to the customer, but it's a safe bet that grip levels might be lower. If you've bought one, we'd be happy to compare notes.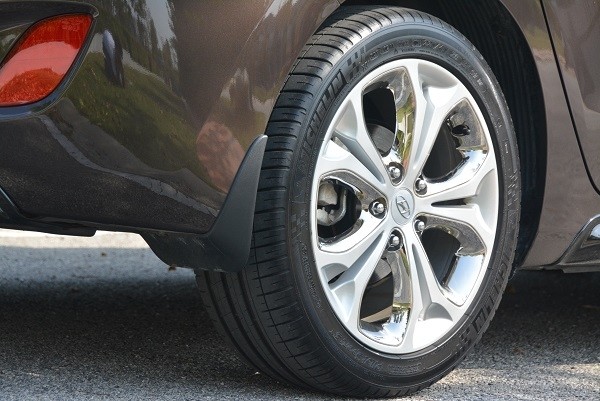 Cars come with Hankook tyres from factory, but test car was fitted with Michelin PS3s.

Verdict
Gone are the days where Hyundai can be considered as budget selections for those that can't afford equivalent-sized Japanese cars. Whilst the value prepositions of their cars still hold largely true, they can't be considered cheap anymore; not when the Elantra 1.8 is priced on par with the Sylphy, Civic, and Corolla Altis variants of the same capacity, and most certainly not when the i30 here is priced near and around their 2.0-litre counterparts.
If anything, the i30's pricing shows where Hyundai sees itself relative to the Japanese big boys, which is nothing less than equal footing. Fair enough, we can't begrudge them on that, but it also means that as cars like the i30 shed their budget aspirations, they also open themselves to scrutiny under more exacting standards; and here, the i30 struggles a bit.
Aesthetics and packaging-wise, the i30 is excellent, but in both driving performance and equipment, the it is merely competent. That makes it a largely average product, and in a segment that's not short of choices it is easy to overlook. If you like it enough, the i30 is a fine choice to make, but for the price, alluring options are indeed aplenty.