2014 Nissan Sylphy Test Drive Review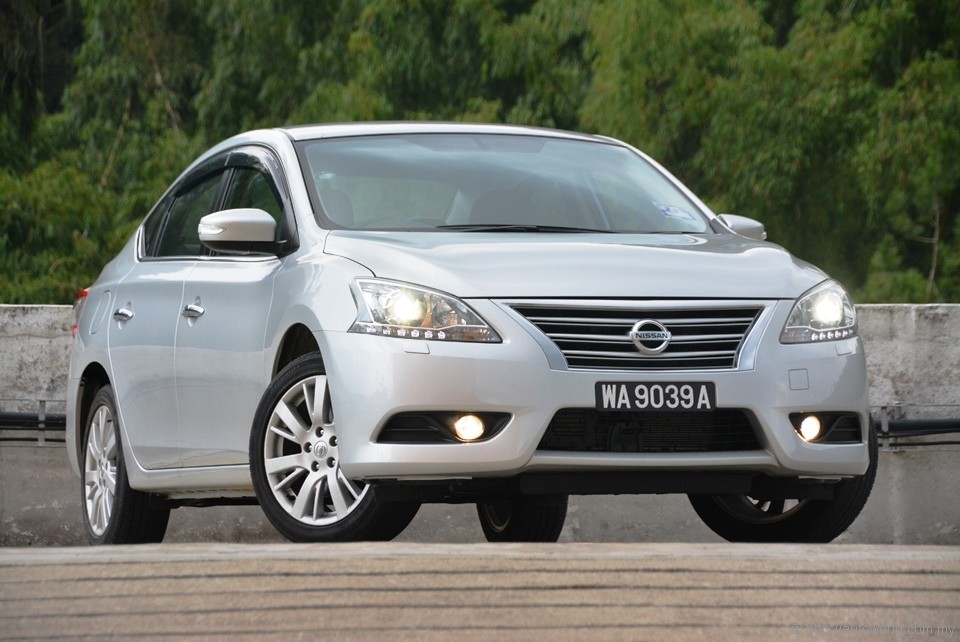 Behind Nissan's globally fragmented model hierarchy hides many interesting stories. Unlike say, the Ford Focus or Toyota Corolla, Nissan models adopt different names in different parts of the world, so what we know as the Teana could also be a Cefiro, Maxima, or Altima in another country.
In some cases, the same nameplate is used for completely unrelated models in different countries – the US market Sentra, for example, bears no relation to the Sentra N16 which we are familiar with. In Japan, the N16 was pitched as a successor to the famed Nissan Bluebird and was known to Japanese consumers as the Nissan Bluebird Sylphy.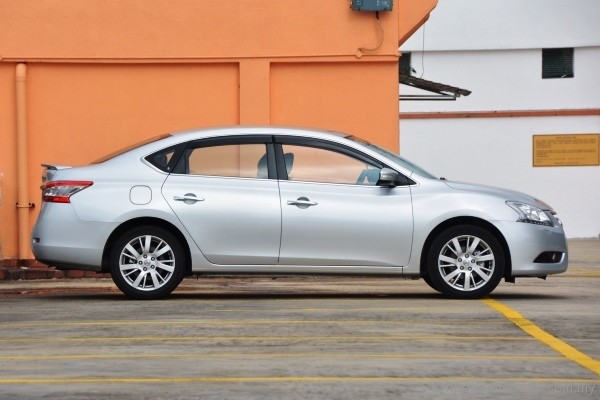 An all-new platform underpins the new Sylphy, which is now a global Nissan car.

Replacing the N16 in Japan was the second-generation Bluebird Sylphy G11 that made its way to Malaysia simply as the Nissan Sylphy. Based on the Latio's B platform, the G11 Sylphy was conceived primarily for the Japanese market before a later decision was made to export it. This explains why it had rather unique specifications compared to other mainstream C-segment models such as a speedometer that reads only up to 180kph and rear drum brakes when every other car in the segment had advanced to all-round discs.
The new third generation Sylphy B17, on the other hand, is a model conceived with global aspirations, and although it continues to be identified with different names according to country, this very same model will now spearhead Nissan's C-segment presence in no less than 120 countries worldwide.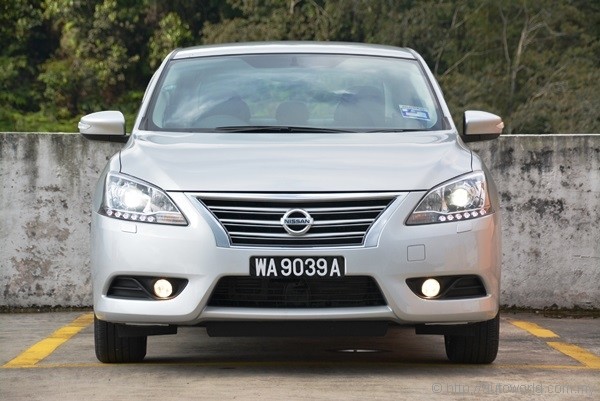 Xenon headlamps are exclusive for the VL.

Prices & Variants
The new Sylphy offers itself to Malaysians with a selection of two model variants, both fully imported from Thailand. Despite a reduction in engine capacity from 2.0 to 1.8 litres, prices start at a similar ballpark as before at RM115,093.80 with for the 1.8E base model going up to RM125,353.80 for the 1.8VL as tested in this review. The previous model commanded between RM114,910.60 and RM124,910.60 depending on variant.
On offer is a remarkably generous equipment manifest that, for starters, mandates identical levels of safety for both variants, with six airbags and electronic stability control fitted as standard on both models. Indeed, the new Sylphy's Malaysia-spec safety package is standardized with that of the Australia-spec Pulsar, which unfortunately also means the absence of ISOFIX lower anchors as Australia is a late adoptee of the standard – that's a long story for another day.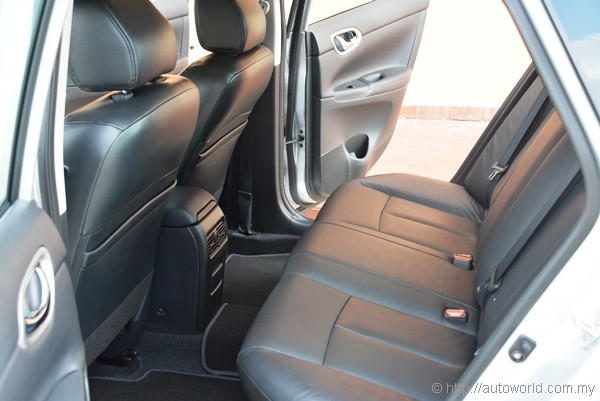 Rear leg room remains impressive.

The amenities package, on the other hand, is understandably less generous if one picks the cheaper 1.8E spec with the VL's RM10,000 premium adding smart keyless access with push-button start, auto bi-xenon headlamps, leather upholstery, dual-zone climate control, and a factory-fitted reverse camera. Buyers of the E spec model can have a locally-sourced reverse camera fitted in conjunction with the TCAT-developed multimedia navigator that is available as a RM3,300 cost option.
Speaking of options, our test car came fitted with what local distributors Edaran Tan Chong Motor calls the 'Navigator Package', which essentially bundles the full suite of optional accessories, namely the aforementioned navigator, plastic door visors (RM320), trunk tray (RM200), LED illuminated sill plate (RM400), and sports pedals (RM200) into a combined price of RM3,800. Our opinion is that this is an unnecessary expense, but buyers who pick the E grade model can give it due consideration for its reverse camera integration.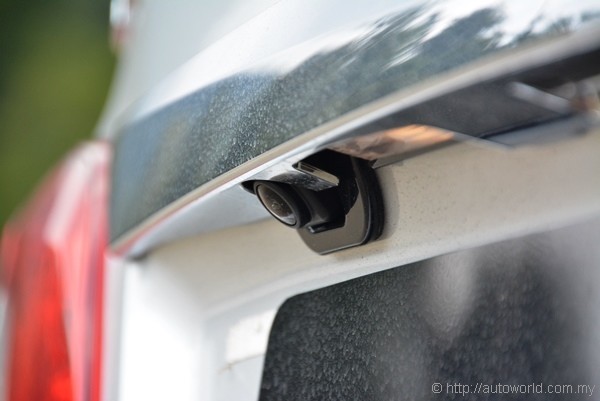 VL-spec gets factory-fitted reverse camera. E-spec requires RM3,300 upgrade to multimedia unit.

Specifications
The enhancement of twin CVTC on Nissan's new MRA8DE engine helps mitigate the effects of 200 lost cubic centimetres in engine capacity. Drop in power output is impressively minimal, going from the predecessor's 131hp to just 129hp in the current model, produced at a higher engine speed of 6,000rpm as opposed to 5,200rpm in the outgoing 2.0-litre. Loss in torque is more substantial, however, with the new model making do with 174Nm @ 3,600rpm compared to the previous 191Nm @ 4,400rpm.
Interesting to note, despite their common engines code and 1,798cc displacement, the new Sylphy's MRA8 and the more familiar MR18 engine used in the Grand Livina and Latio actually have next to nothing in common except, perhaps, all-aluminium construction. Even their block layouts differ; where the MR18 is a big bore engine (bore – 84.0mm, stroke – 81.1mm), the newer MRA8 sports a long stroke configuration (bore – 79.7mm, stroke – 90.1mm).
The engine mates with a CVT as standard. Despite retaining the X-Tronic moniker, the transmission in use features heavily revised internals from its predecessor to deliver improved smoothness and efficiency. Typical of Nissan CVTs, there are no virtual pre-programmed ratios available for manual selection – drivers only choose between the regular 'D' driving mode, 'L' for low ratios, or push a 'Sport' button on the gear lever for more aggressive shifting.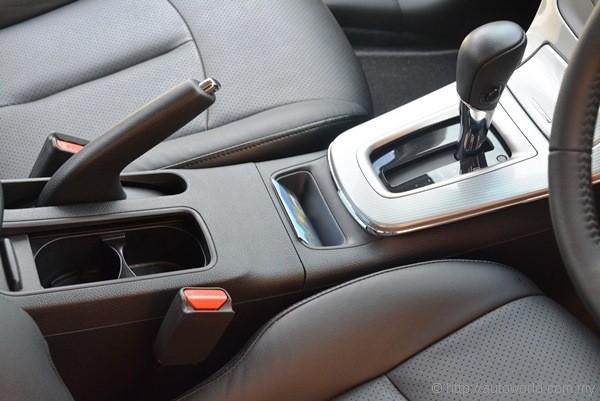 Centre console is more compartmentalized, but misses sheer volume of the predecessor's Grand Canyon.

A timely hardware upgrade from the predecessor going to the current model is the switch from rear drum brakes to discs, which brings another aspect of the Sylphy's specification in line with market trends. Suspension similarly follows segment norms, with MacPherson struts up front and a rear torsion beam.
Whilst multi-link rear suspension is always preferable, the torsion beam is an acceptable compromise if it benefits packaging. In the Sylphy's case, Nissan made full use of the available space to deliver a commendable 510 litres of boot space and 680mm of rear leg room. Fair trade, but then again, there are also cars like the Volkswagen Jetta, Proton Prevé, and previous-gen Ford Focus that similarly pack over 500 litres in their trunks whilst also offering the dynamic benefits of independent rear suspension.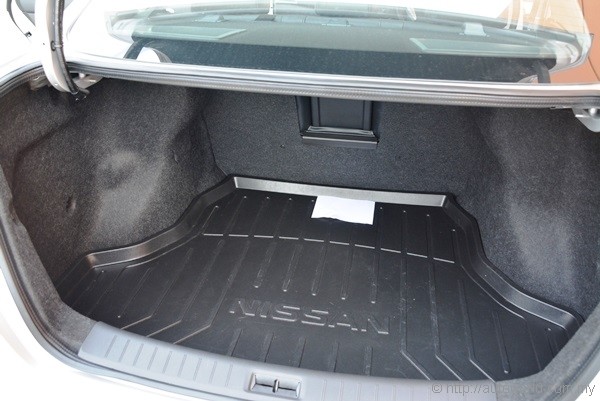 Boot has 510 litres of space.

Exterior
Being a car designed for the Japanese market without global considerations, the outgoing Sylphy had something of an oddball appearance despite its many hidden qualities. The new model, on the other hand, defaults to more conventional proportions but appropriately enhanced by sharper design touches that give it a significantly more modern disposition.
Visual differentiation between the two variants is easy – one only needs to spot any of several elements that are clearly exclusive to the 1.8VL, namely xenon projector headlamps with LED position lights, rear duck-tail spoiler with integrated brake light, front fog lamps, and upsized 17-inch alloys. Individually, these enhancements are minor, but line the two variants side-by-side, it suggests a gap between them that is far greater than the RM10k that is shown on the official price lists.


Interior
Like its exterior, the old G11 Sylphy's cabin was renowned neither for its aesthetic appeal nor for its generosity in equipment. Its ergonomics, however, was functional and its utilization of space simply unrivaled. Like the Almera below it, the G11 had leg room to trouble D-segment sedans, even though its narrow B platform put shoulder room at a squeeze.
The new B17 Sylphy carries over the G11's spacious cabin dimensions, but with the benefit of added width to give better shoulder room. Appearance-wise, the former model's wood finishing is dropped and replaced with a more dynamic-looking matte silver and carbon-ish mix of trims. It has the positive effect of giving the cabin greater appeal to a younger crowd, but the trim surrounding the side air-con vents interestingly does not match with finishing that joins from the door, creating a curious visual incoherence.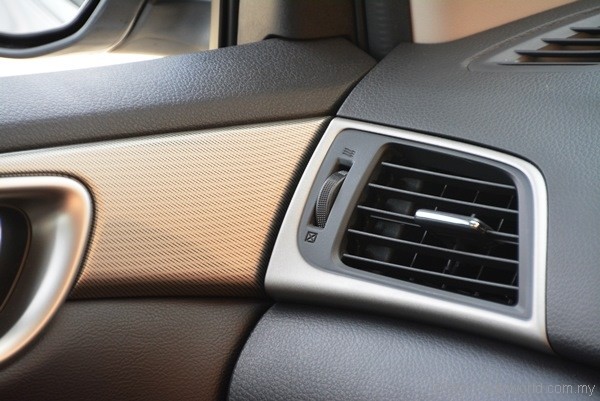 Door and dash trim do not properly match. It's not a manufacturing error, but appears incoherent.

The new-found visual sophistication has a price, however, and it comes in the form of reduced small item storage. Owners of the G11 accustomed to its monstrous 'Grand Canyon' centre console will suddenly find a severe shortage of space to dump their keys and handphones in the current model, which adopts a more conventional layout featuring a handbrake, lidded box, and a pair of rounded cupholders. This drastic reduction of usable storage space is perhaps the new cabin's biggest drawback, although we've been made to understand that it is also a necessary to accommodate the additional piping to serve air for the rear blowers.
Another less than efficient usage of space concerns the multi-info display integrated into the instrument panel. Despite occupying a considerable area of space, it displays a limited amount of information at any one time, requiring the driver to continuously cycle between displays more often. Much of the screen area is blank most of the time, which is a waste.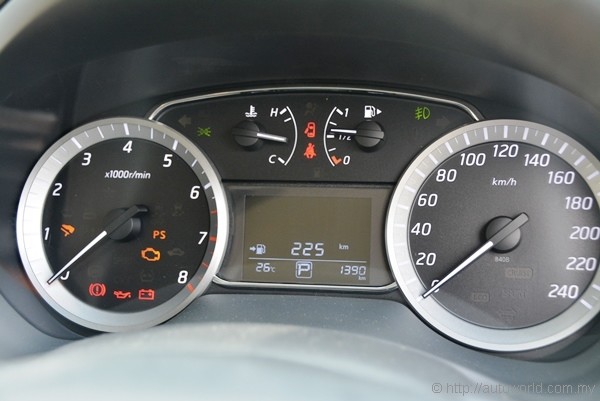 Multi-info display in instrument panel is big, but much of that space is inexplicably left unused.

Driving Experience
With the old Sylphy not being a particular barnstormer, most are unlikely to notice any significant dips in performance from the old 2.0-litre mill to the new 1.8. The current car in fact leaps more forcefully off the line from rest and hardly felt lacking in urban driving speeds. For most drivers, it gives the impression of adequacy, that the downsized mill is able to match the grunt of its bigger-displacement predecessor.
Push harder however, and the new engine's 17Nm torque deficit from the old 2.0 is felt more acutely. Despite not being the last word in performance, the old 2.0 was notable for its ability to effortlessly accrue impressive speeds – on long enough stretches, barely half-throttle is needed to max out its 180kph speedometer, and it often happens without you realizing it. This easy going nature is no longer present in the new model, which requires harder work to cajole brisk progress.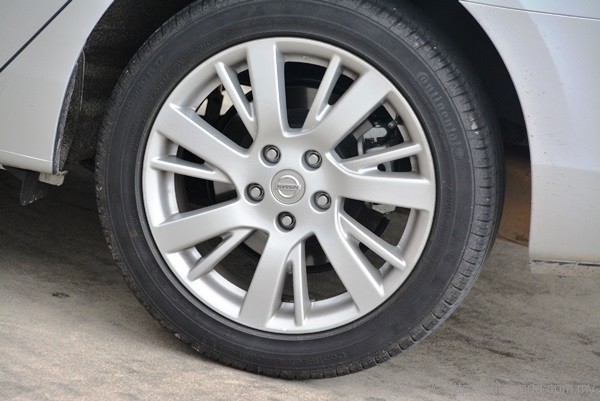 Rear gets a much-needed upgrade to disc brakes.

The optimistic enthusiast will liken this to greater driving involvement, which the old Sylphy admittedly lacks and the new one clearly exhibiting more of. What was an over-assisted steering that lacked feedback is now replaced with one that is more substantially weighted and more satisfying in its interaction. It feels crisper and more natural than its predecessor, thus contributing to greater confidence around corners.
Suspension feels noticeably firmed up, with the obvious benefit being improved poise around corners and greater high speed stability. The flip side of this is that the ride quality now feels surprisingly busy, particularly on traffic strips, expansion joints, and other coarse chip surfaces. Cornering hard on rough surfaces induces a surprising level of lateral motion that may catch a few drivers off guard. Our observations are based entirely on the VL grade test car pictured here, and we suspect that the smaller 16-inch alloys of the E grade variant might result in a more hushed and composed ride quality.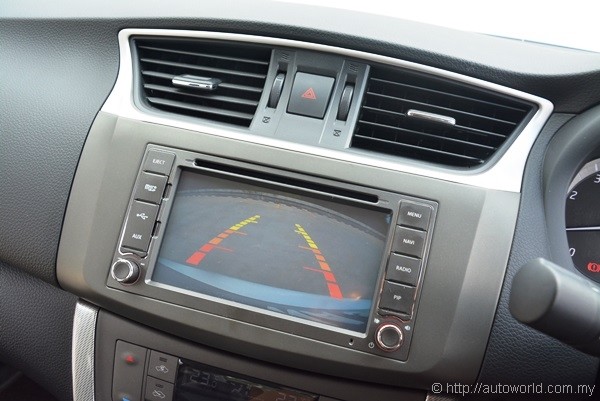 Our test car came fitted with the TCAT multimedia unit anyway.

Verdict
Having six airbags and stability control in a base model Nissan is a concept that we are just getting to grips with, but it pleasingly casts the Sylphy in a very aspirational light allowing it to avoid embarrassment by the class-leading Ford Focus, whilst cruelly exposing the bareness of the Honda Civic and Toyota Corolla in their 1.8-litre guises. It does not have the full measure of these rivals in terms of driving experience however; its closest match, the Corolla, proves to be a smoother operator in both ride quality and effortless power delivery.
As a whole, the new Sylphy's sharper looks and keener equipment widens its appeal considerably, and like the similarly-new Teana, its superiority as a product to its predecessor is beyond dispute. We are particularly impressed with the standardization of safety features and it is a practice which we hope to eventually be adopted by all car makers. For a brand not previously renowned for its generosity in equipment, Nissan's strides with the Sylphy is impressive. Even if it doesn't establish itself as a class leader, the Sylphy most certainly lines up among the segment's front runners.