2014 BMW X1 xDrive20d Test Drive Review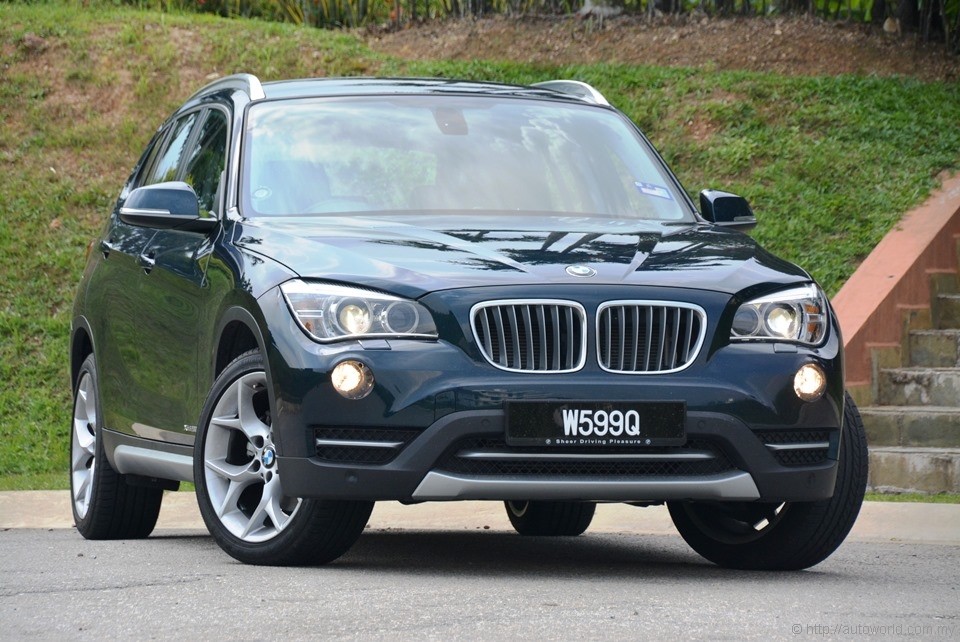 Launched globally in 2009, the X1 now ranks as an elder statesmen in BMW's current line-up. Here in Malaysia, it has went through a number of changes since its debut. It was originally launched as a CBU model with a pair of 2.0-litre engines – naturally-aspirated petrol with rear wheel drive and a turbodiesel powering all fours.
Today, the X1 is locally assembled and refreshed with the nip and tuck of a mid-cycle facelift. Engine options continue to be a pair of 2.0-litre mills, but petrol power is now boosted by turbocharging and the diesel, whilst largely unchanged, is the beneficiary of extra power. Prices of both variants have been lowered, but equipment levels are raised, giving rise to improved value.


What's New
The diesel-powered xDrive20d variant of the X1 makes a belated return to the line-up after being momentarily withdrawn at the introduction of its 2012 facelift. It picks up where the predecessor left off with the same 2.0-litre N47 turbodiesel supplying propulsion, but with outputs raised from 177hp and 350Nm previously to 184hp and 380Nm. Increased outputs are offered in conjunction with an uprated transmission, sporting two extra ratios from the previous six.
As the 'xDrive' badge suggests, the diesel variant we're reviewing here enjoys all-wheel drive traction, as opposed to old-fashioned rear-wheel drive in the petrol-powered sDrive20i. Interestingly, the two variants also operate different steering systems; the sDrive20i switched to electric assist with the 2012 facelift, but the xDrive20d continues with a hydraulic setup. As we will elaborate later, there are significant implications to this.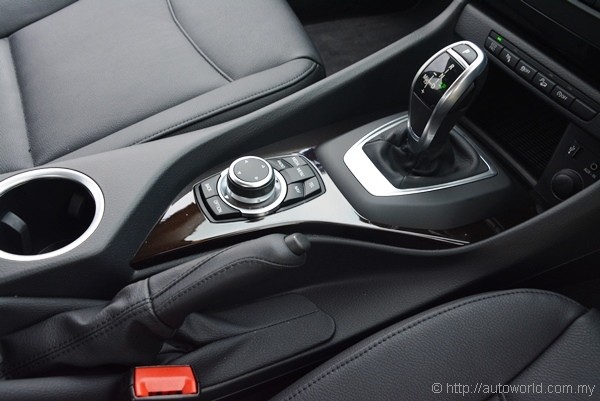 8-speed automatic gearbox comes with paddle shifters in the X1 xDrive20d.

There isn't much to shout about X1 as far as equipment is concerned, but significant improvements can nevertheless be seen if compared to earlier models, with the most notable enhancement being the incorporation of iDrive complete with satellite navigation in both variants on sale today. The continued absence of keyless access remain lamentable, but electric seats, xenon headlamps, paddle shifter, and the ever comprehensive safety kit ensures the equipment manifest makes for palatable reading. Exclusive for the xDrive20d, BMW also throws in the xLine aesthetic trim for a more upmarket appearance inside out.
As mentioned earlier, owning an X1 these days not only lands more equipment (relatively), but is also a much cheaper affair. The diesel version as tested here rings the cash register at RM268,800 before insurance, which is a RM30,000 premium over its sDrive20i petrol sibling but is also crucially down from its original fully-imported guise by the same margin.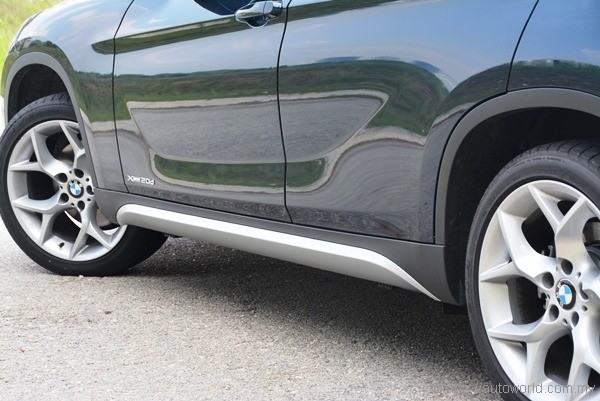 18-inch alloys complement the matte silver finishes around the car.

Driving Experience
With its platform being based on the E90 3 Series, we unsurprisingly find the X1's driving experience to be more reminiscent of previous- rather than current-generation BMWs. The good news to this, of course, is that the X1 offers far greater sense of driver involvement than any of the current BMWs can manage. There is, for example, more clarity in feedback from the steering and overall, it feels less sanitized by electronics than many cars of more modern dispositions.
Return of AWD to the roster has restored the supernatural cornering grip that was the hallmark of BMW's xDrive system. It gives drivers the confidence to commit and power the X1 through the bends. On long winding roads like the Karak Highway, the X1's dynamics is without equal; backed by the awesome firepower of its turbodiesel engine, it is outright unstoppable.


Much improved from the original 2010 X1 in today's model is a softer and more pliant ride. There is a small penalty for this added comfort in terms of added body roll, but it is a price worth paying in that it improves the X1's case as a day-to-day preposition. Where the 2010 X1's ride was uncompromising, the 2014 is merely firm and adequately forgiving. As a whole, it's a more balanced suspension set up.
Retention of hydraulic power steering will probably be celebrated by enthusiasts, but in the case of our test car, it's a double-edged sword. It is, on one hand, impossible to fault for stability and feedback, the confidence it inspires at high speeds simply unparalleled amongst modern day electric power steering systems. The flip side, unfortunately, is that at parking speeds, the steering becomes unfeasibly heavy, and it makes the X1 feel more cumbersome than even the X3 in tight spaces. For urban day-to-day usage, the electric-assisted steering of the sDrive model is of greater appeal.


Verdict
In its xDrive20d guise, the X1 is marvelous to drive hard, but outside that spectrum, its appeal dwindles in that its RM30,000 premium over the petrol sibling becomes difficult to justify. It's not that you're getting less than what you pay for, far from it, but the question becomes how much of what you're paying for are you going to put into good use? BMW's xDrive system is, for the record, an excellent piece of hardware that is well worth the money.
For most buyers, the sDrive20i will suffice as a highly adequate alternative that offers comparable levels of equipment and not too shabby dynamics. Remember that the X1 sits low enough on the ground that a rear-wheel set-up is more than sufficient to bless it with excellent handling characteristics already. The biggest swing factor in our recommendation is, surprisingly, the steering, which in the electric-assisted sDrive20i is simply better weighted and far better suited for everyday use.