ASEAN NCAP Phase 3 results announced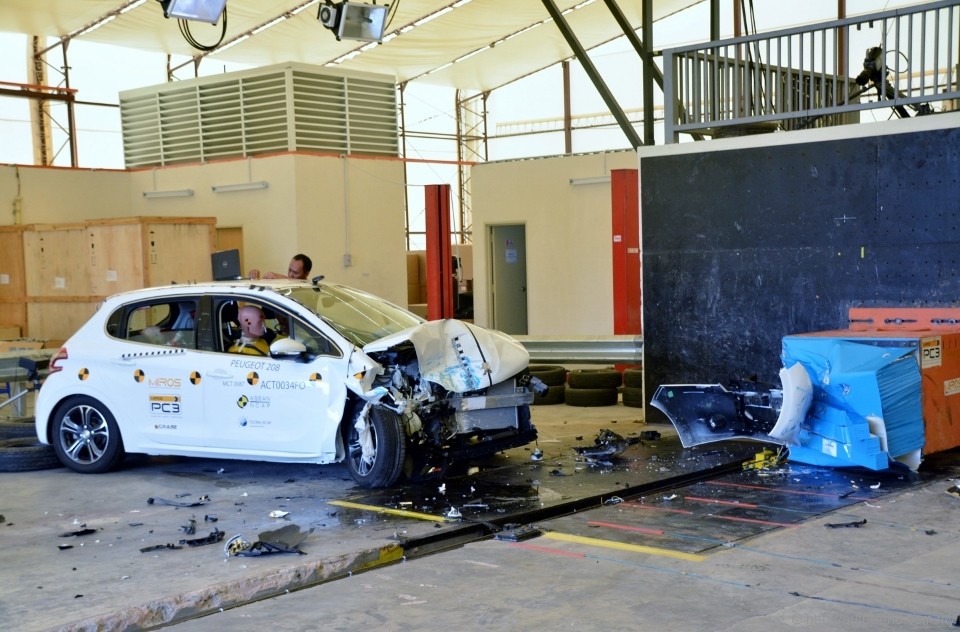 The pilot phase of ASEAN NCAP concludes with the announcement of results from Phase 3 crash tests recently on the 5th of May. A total of nine different models were tested between October 2013 and April 2014. Combined with results of the first two phases, a total of ten major OEMs operating in the region had key models tested in ASEAN NCAP.
Models under the spotlight this time were the Proton Prevé, Volkswagen Polo Sedan, Chevrolet Sonic, Chevrolet Colorado, Toyota Corolla Altis, Honda CR-V, Isuzu D-Max, Peugeot 208, and Kia Picanto. The Proton Suprima S and Volkswagen Polo hatchback were extended ratings based on the performance of their sedan counterparts.
As a fledgling programme still finding its footing, the ASEAN NCAP unsurprisingly finds itself still charting many firsts in its history. There was the first LHD vehicle, a Honda CR-V made in Thailand for the Philippines; the first vehicle tested in South Korea's KATRI lab for ASEAN NCAP, the Chevrolet Colorado; and the first pick-up trucks of the programme, namely the Colorado and Isuzu D-Max. Five brands made their first appearances in the ASEAN NCAP – Volkswagen, Chevrolet, Isuzu, Kia, and Peugeot.
A number of models were given dual ratings because of differing specifications in different markets. We have previously highlighted the ASEAN market's lack of homogeneity as a key stumbling block that prevents an effective unified motor vehicle rating system, not that ASEAN NCAP's valiant efforts are not praiseworthy, mind you.
Models that received two ratings were the Toyota Corolla Altis, Kia Picanto, Honda CR-V, and Chevrolet Colorado. In the case of the Corolla and Picanto, two sets of results were used in ASEAN NCAP's evaluations, whilst in the CR-V and Colorado's case, it was simply a case of five stars for versions with stability control and four stars for versions without. In case anyone forgot, stability control is a prerequisite for a five-star rating in ASEAN NCAP.
For the Toyota Corolla, ASEAN NCAP's own testing at the MIROS PC3 lab in Malacca was conducted on the base 1.8E model with dual airbags and no stability control. The result was four stars for both adult and child protection. A second test on the Corolla was conducted at the JARI lab in Japan using a full-spec 2.0V unit with seven airbags and stability control. In this specification, the Corolla was rated five stars for adult protection and four for child protection. Curiously, the separate test of the 2.0V was described as a collaborative effort with Australasian NCAP although Toyota does not actually offer a 2.0-litre version of the Corolla in Australia.
ASEAN NCAP did, however, test two versions of the Kia Picanto on its own, one being a Malaysia-spec model with six airbags and stability control as standard and the other a Thai-spec model with no airbags and no stability control. Difference between the two is therefore stark, as the Malaysian model bags four stars for both adult and child protection whilst the Thai-model is slapped with zero stars for adult and one star for child protection. Ouch.
In total, four vehicles bagged five star ratings in Phase 3, but as mentioned earlier, three of them, namely the CR-V, Colorado, and Corolla, came with caveats. The Proton Prevé completes the five-star quartet and it is the only model that receives this rating across the board, as all variants are now equipped with six airbags and stability control as standard.
The Prevé also scored the second highest adult occupant protection score of 15.38 out of a maximum score of 16.00, making it a highly commendable effort by Proton although its 67% (3 star) score for child protection was ultimately less impressive. The CR-V, should it come with ESC, scores the highest in both adult and child protection, at 15.46 and 86% respectively.
Overall results of ASEAN NCAP Phase 3 are summarized below: