2014 Toyota Corolla Altis 1.8E Test Drive Review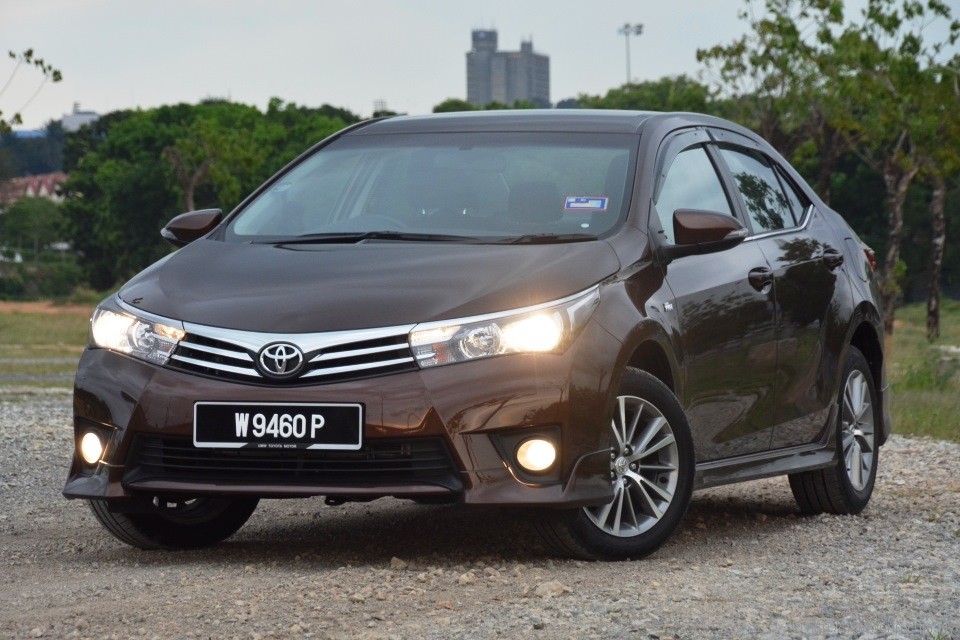 Despite being late in adopting a 2.0-litre engine for the C-segment, Toyota is evidently stacking a lot of chips on that engine this time round with the all-new 2014 Corolla Altis. This contrasts the ongoing global direction of downsizing, and Malaysia is in fact notable for being one of few markets that still take the Corolla with a 2.0-litre mill.
Both versions of the new Corolla unsurprisingly feature carryover engines from its predecessor, but while the 2.0 retains its original CVT, the 1.8 gets a new iteration of the same transmission that is lighter, more compact, and more efficient. Outputs of the naturally-aspirated 1,798cc four-cylinder dual VVT-i engine are identical to the previous model, rated at 138hp and 173Nm.


Differences from the 2.0
Unlike the previous Corolla which offered two spec levels with the 1.8-litre engine and a single range-topping trim for the 2.0-litre, Toyota switched things round this time by offering the option of basic and full-spec 2.0-litre versions supplemented by a solitary 1.8-litre E model as the entry-level variant.
As such, whilst buyers of the Corolla 2.0 get the option of loading their vehicles with the full compliment of bells and whistles, the 1.8E makes do with a significantly watered-down equipment list, though its price tag of RM114,000 with insurance puts it firmly at the affordable end of the segment.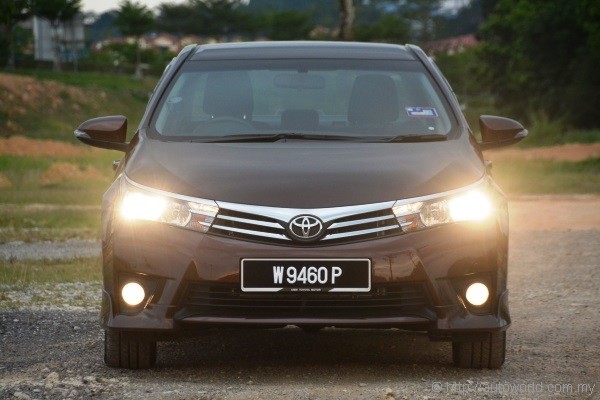 Radiator grille is chrome-finished as opposed to smoke-finished in the 2.0V.

Considering a RM22,000 price drop from the range-topping 2.0V model, omission of items such as LED headlights, paddle shifters, cruise control, and leather upholstery are largely forgivable. We can also excuse the fact that the reverse camera is now a cost option rather than standard and for reasons which we will elaborate later, the downsized rims from 17 to 16-inches are even welcomed. Keyless entry and electronic stability control, however, are two glaring blanks on the equipment manifest that urgently require filling.
Our test car for this review came fitted with two out of two cost options offered by UMW Toyota for the 1.8E. The decorative external Aerokit is an additional RM2,350 outlay, and getting the above-mentioned reverse camera entails speccing the DVD-AVN multimedia unit with satellite navigation for RM2,990. We highly recommend the latter option.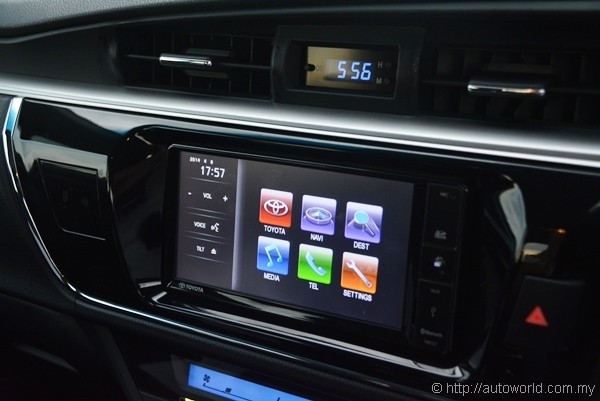 Multimedia unit is a recommended cost option for it includes a reverse camera.

Driving Experience
On paper difference in outputs between the 1.8- and 2.0-litre versions are to the tune of 5hp and 14Nm, and if there is any significant difference on the road, it's difficult to discern. For the most part, the 1.8-litre 2ZR mill, ably assisted by its well-calibrated CVT, felt entirely up to its task of delivering smooth and seamless progress. Sustenance of high speeds proved effortless, thanks to good reserves of low-end torque below 2,000rpm.
Vehicle dynamics are unsurprisingly skewed in the direction of comfort, and in the case of our 1.8E test car with 205/55 R16 tyres, ride quality is enhanced compared to the 2.0V, which sat on 215/45 R17s. Surface irregularities that would have sent jiggles into the 2.0V's cabin are more effectively absorbed by the higher-profile tyres of this lower-specced model.
Handling and directional sharpness appear unaffected by the downsized rubber, making the 1.8 seem like the better-balanced dynamic package between the two variants of the new 2014 Corolla we've thus far tested. You may not expect this, but there actually is some cornering talent in this car's chassis; it's not enough to send the segment's best panicking into submission, but there is adequate composure to inspire confidence at high speeds and around fast sweeping bends. Interaction is still lacking, however, as controls continue to be devoid of feedback, though improvement over the predecessor is definite.


Verdict
From a driving performance standpoint, the Corolla Altis 1.8 is an entirely adequate alternative to the range-topping 2.0-litre versions. It crucially does not feel underpowered, and is actually more comfortable to boot. There is no noticeable deficit in handling as a result of the smaller tyres, which makes this version dynamically more satisfying.
Bigger and more pertinent deficiencies of the 1.8 revolve around its equipment count. Although its price tag of RM114,000 is attractive, it loses too much kit to get to that price point. Adding the recommended reverse camera to the shopping cart brings this variant's price close to RM117,000, and this is where the exceptionally well-equipped Ford Focus Titanium comes into the reckoning with stability control, four airbags, keyless entry, and independent rear suspension as standard.
The Corolla Altis excels as a supremely comfortable and refined compact family sedan. It exudes the right sort of driving characteristics for the purpose; it is easy to live with whether out on the open highway or trapped in the congestion of urban traffic. The 1.8 version has more than what we would call adequate performance for its application, and it is a worthy choice to make if the security of Toyota's renowned reliability and comprehensive aftersales network matter more to you than the allure of fancy gadgets.