Suzuki Swift Sport M/T Test Drive Review
Modern cars incorporate an increasing amount of technology and complexity into their mechanical make up due to various reasons. In an era when safety and efficiency take great importance, manufacturers are operating on increasingly fine engineering margins to squeeze the best operating performance off their cars.
Innovations such as turbocharging and direct injection have allowed engineers to deliver previously unheard of combinations of performance and economy, but at the risk of sounding cliched, it also adds a sense of detachment to the modern day driving experience. Enthusiasts craving for the kind of involvement derived from properly working a vehicle through its rev ranges and banging through the gear changes find their options increasingly limited in a pool of highly-talented and well-honed vehicles that hand over their full performance potential on a silver platter.
It may not be humanly possible for anyone operating three pedals and a stick to swap cogs faster than a DSG, but I'd be damned if I say I don't find the old-fashioned way more entertaining. The precise coordination of your four limbs in a perfectly-executed heel-and-toe gear change generates infinitely greater levels of satisfaction than the much simpler act of flicking the left paddle of a dual clutch gearbox. Such pleasures will grow increasingly rare in modern cars, but out there in the market is an oasis of old school fun called the Suzuki Swift Sport.


Prices & Specifications
Going from the regular Swift 1.4 to the Sport here is a huge jump to the tune of around RM25k. Suzuki's advertised price is RM97,888 for the manual version as tested here, but that's without insurance; if you don't have at least 25% NCB to your name, you're looking at six figures on the final invoice. The CVT automatic sits about RM5,000 further north, with a final price of RM105,802.50 including insurance.
Equipment levels are identical regardless of transmission, with notable extras over the Swift 1.4 GLX being side airbags, stability control, and HID headlamps. Otherwise, what you're given merely covers the basics by today's standards even if, expected or not, the presence of reverse sensors, keyless entry & start, ABS, and EBD is highly appreciated.
As explained while reviewing the 1.4, the current-generation Swift is a clean-slate development from the previous model, even if similarities in appearance are uncanny. The Swift Sport utilizes the same set of all-new underpinnings, but under the hood, Suzuki saw fit to retain the services of the predecessor's 1.6-litre M16A engine. Naturally aspirated and port injected, the M16A relies on a good old-fashioned willingness to rev to deliver highly respectable outputs of 134hp and 160Nm.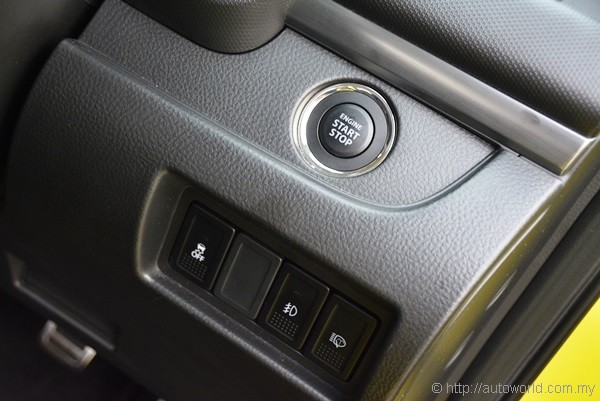 Engine start/stop button is standard.

Exterior
Just as they did with the previous model, Suzuki's designers settled for subtle enhancements in the Swift Sport's appearance over the regular model. There are new light combos, with the smoked projectors up front adding a particular touch of class. Enlarged fog lamp slots with extended horizontal slats give the front fascia an edgier look that befits its enhanced performance.
A similar theme follows at the rear, where new tail lights unique to the Sport complement a revised bumper underlined by grey diffuser elements. A centrally-mounted rear fog light sits at the heart of the diffuser area with enlarged exhaust tips peeking out either side of it. The various elements add up to create a tastefully enhanced appearance over the regular model.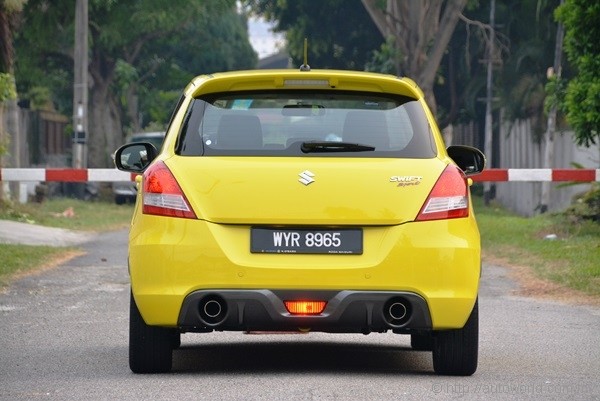 Centrally-mounted rear fog lights.

Interior
Aside from the front semi-bucket seats emblazoned with 'Sport' labels on their respective backrests, what you see in the Swift Sport's cabin is the same dashboard as you would find in the regular Swift 1.4. The overall design is generally unremarkable, but one that is generally problem free to live with. Build quality is well within acceptable norms of the segment, with materials feeling more durable than they are plush.
The one major bug bear of the interior, however, is space. Even granting the fact that the Swift is a compact hatchback, there is no escaping the fact that similarly-sized rivals such as the Volkswagen Polo and Ford Fiesta seem to offer more room for your rear passengers and cargo – say nothing of the superbly-packaged Honda Jazz and Perodua Myvi.
Besides lacking in overall volume, the Suzuki's interior is also notably found wanting in its allocation of small item storage spaces. Yes, the centre bin ahead of the gear lever is usefully deep, but further behind along the centre console, we see too much unexploited spaces going to waste. Saving grace, however, is the teh tarik hook (popularized by our friend Chips Yap of Motor Trader) placed within the driver's easy reach behind the front passenger seat.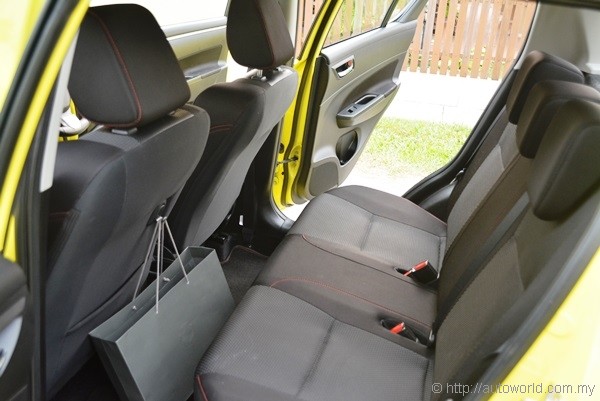 Useful bag hook on the back of the front passenger seat.

Driving Experience
The driving characteristics of the regular Swift 1.4 make it a likable enough pup as it was, and the Swift Sport simply builds upon those strengths and enhances them. There isn't much to shout about in terms of straight line acceleration, but if you're the type that finds rewards in the less than tangible aspects of driving, then you're in for a treat. Rather than awe with outright power, the Swift Sport chooses to delight with interaction and involvement.
Acceleration from the atmospheric-breathing 1.6-litre twin-cam engine is modest at best by today's standards, but it is wonderfully smooth and free-revving all the way to the top. Such engines are a dying breed, and we should commend Suzuki for being able to keep it going in the face of today's tough emission regulations. The engine is adequately flexible through the revs and pulls gamely enough from below 2,500rpm, even if its natural state clearly lies beyond 4,000rpm.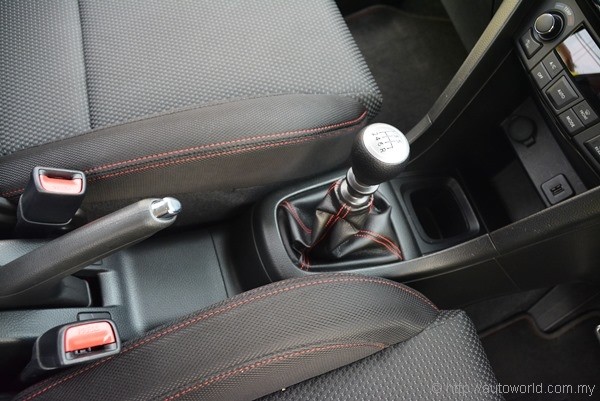 6-speed manual delights with precise throws. Space along centre console not fully utilized.

The 6-speed manual 'box fitted to our test car was a similarly slick piece of kit, delighting with crisp and precise throws that restores joy to the process of rowing through the gears. Below the leather covering, linkages from the lever form a well-calibrated mechanism that can be operated with great confidence and a minimum of fuss. Complementing the gearbox is a clutch pedal that is light on its weight and devoid of nasty surprises – its biting point is easy to catch, meaning beginner drivers can just as easily enjoy the thrills of this entertaining bundle of joy.
Dynamics of the Swift Sport builds on the already lofty starting position of the regular Swift and enhances it with a sharper helm and improved directional stability. There is the inevitable sacrifice in pliancy as a result of a firmer suspension, within highly tolerable parameters. The steering feels pleasingly light when navigating tight spaces at low speed, yet remains suitably incisive when carving corners. Technologically advanced it may be not, but the Swift Sport certainly feels like a meticulously honed and sharpened tool – primed to do the simple things right.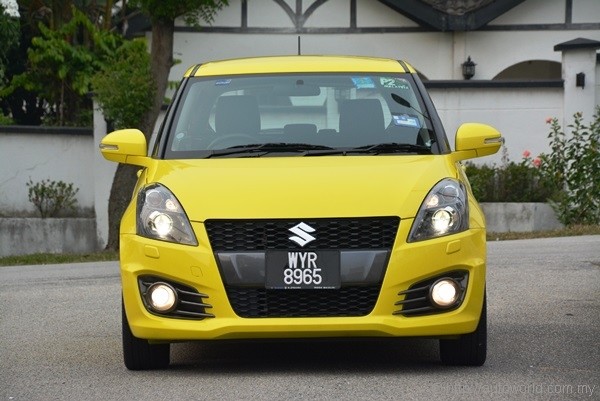 HID projector headlamps and aggressive bumper finish differentiates Sport from 1.4.

Verdict
There is just so much to love about the Swift Sport that its small shortcomings can all be so easily overlooked. Cramped accommodations is perhaps the most pertinent issue, as is limited small item storage, but as far as dynamics are concerned, Suzuki nailed an absolute sweet spot with this little fella.
Some may lament the Swift Sport's lack of power in the face of today's competition, but that is not to its detriment. By not being corrupting it with too much power, Suzuki has allowed a raft of other qualities to shine through in this brilliant little car, namely poise, balance, and sheer unadulterated fun. We suspect that people who would appreciate such qualities is a shrinking crowd, which makes Suzuki's persistence in making the Swift Sport as it is all the more praiseworthy.