2014 Toyota Corolla Altis First Driving Impressions
Last week, it was announced that UMW Toyota Motor has secured over 20,000 bookings of the all-new third-generation Toyota Vios since its launch in October 2013, which is less than four months ago. Whilst not unexpected, it is still a very substantial number, and to put this figure into perspective, Proton took roughly the same amount of time to pick up 22,000 bookings for the Saga SV, a car which, let's not forget, costs less than half the money.
In other segments, Toyota enjoys the same kind of dominance with the Camry and Hilux both outselling their competitors by considerable margins. The only blip comes in the C-segment, where the Corolla is cast far adrift from the segment pacesetters. It may have legitimate claim to being the world's best-selling name plate, but here the Corolla has been playing second fiddle to the Honda Civic for a number of years and faces increasingly stiff competition from new models.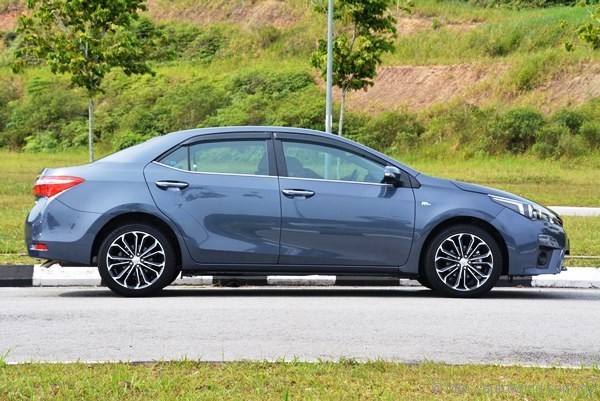 One of the boldest-looking models ever to wear the Corolla badge.

A far cry from the heady days of the Corolla AE101, more recent iterations of the Corolla, better known as the Altis, have picked up unflattering reputations for being drab uncle's cars. Toyota certainly did not help its case one single bit by launching a half-baked effort with the previous generation Altis. A facelift in 2010 introduced new powertrains and incorporated significant improvement, but proved insufficient to give Toyota the same kind of dominance it enjoys in other segments.
An all-new Corolla Altis will launch next week and unlike the previous model, this one features considerable changes from the predecessor. Toyota is nothing if not a keen learner, and the latest Altis demonstrates renewed intent to stake a bigger claim of market share in the congested and competitive C-segment.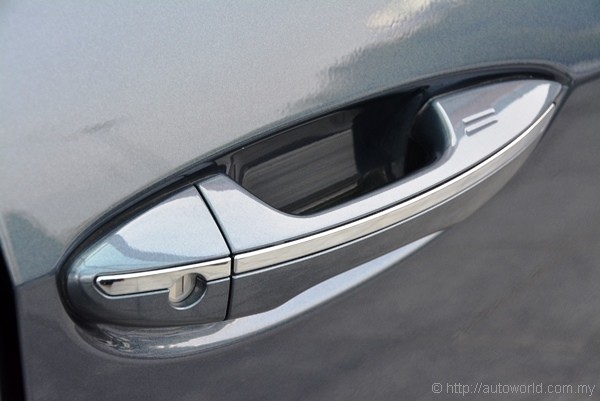 Keyless entry exclusive to, you guessed it, the 2.0V.

Prices & Variants
As announced last week, the 2014 Corolla Altis will line-up with three variants, starting with the 1.8E at RM114,000 with insurance. Equipment native to this base model includes 16″ alloy rims, halogen projector headlamps, single-zone automatic climate control, steering-mounted controls, USB & Bluetooth connectivity, security window film, ABS, EBD, dual airbags, and ISOFIX.
An additional RM9,000 upgrades you to the mid-range 2.0G, where in addition to extra power of the 2.0-litre engine, you also get the 2-DIN CD player upgraded to a touchscreen system with reverse camera. Bigger and more serious goodies such as 17″ rims, paddle shifters, LED headlamps, daytime running lights, keyless entry with start/stop button, leather upholstery, and electric driver seat adjust are exclusive to the range-topping 2.0V model, and that requires an additional RM13,000 outlay over the 2.0G, hitting the road at a hefty RM136,000 with insurance.
You do get an additional safety package with the 2.0V, which brings your net airbag count to seven, but that's sadly a cost option which pushes the vehicle's final price to RM139,900. As I write this, I'm holding a price list of the new Mazda3 SkyActiv-G 2.0 that reads RM138,935.50 with insurance. Toyota's pricing is ambitious, to say the least.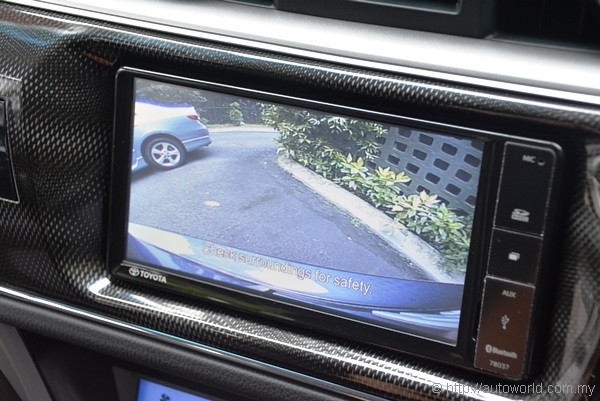 2-DIN touchscreen with reverse camera standard for 2.0-litre models.

Specifications
Not unexpectedly, the 2014 Corolla Altis carries over its predecessor's 1.8- and 2.0-litre ZR-series engines paired with a CVT as standard. We find little fault with this, as the ZR engine is reasonably new, and we can't expect Toyota to phase it out after less than four years of usage. Both engines are equipped with Dual VVT-i, with the 1.8-litre 2ZR mill producing 138hp @ 6,400rpm and 173Nm @ 4,000rpm, and the 2.0-litre 3ZR rolling out 143hp @ 6,200rpm and 187Nm @ 3,600rpm. These outputs are identical to the predecessor's and they go the front wheels via a CVT with seven programmed virtual ratios for manual selection.
Under its sheet metal, the 2014 Corolla Altis sits on a new platform that stretches longer than the previous model. Its ingredients corresponds to commonly-used elements in the C-segment these days – all-round disc brakes, electric power steering, and torsion beam rear suspension. Most dimensions have grown, most notably along the wheelbase, but usage of lighter materials are evident, with the range-topping 2.0V model tipping the scales a full 15kg lighter than the corresponding variant from before. The new Altis spans 16mm wider and 80mm longer than the previous model and its wheelbase stretches 100mm longer. Only height has been reduced, and that only by a mere 5mm.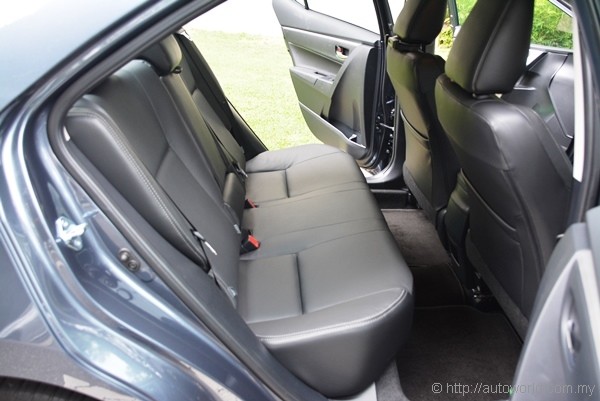 Extra 100mm of wheelbase put to good use with extra legroom.
Exterior
Dressed to impress, the new Altis is especially eager to shed the old man's tag that weighed down its predecessors. It carries a sleek appearance and interplay of its design lines are generally well-resolved. The front and rear fascias are designed around well-defined trapezoidal features that give the overall appearance a distinctive theme.
Up front, the headlamps and front grille form a flowing and cohesive visual unit, with the seamless 'extension' of the two horizontal grille louvres and chrome lining on top into the headlamp unit reinforcing the visual integration. The separation line between the grille and headlights then neatly flow off in one direction onto the bonnet towards the A-pillar and the other down toward the bumper.
The rear sports a less intricate appearance than the front, but no less sophisticated. The chrome strip above the license plate area neatly meets the white area of the tail lamps, and off the chrome strip's edges run two character line that flow and align with corresponding lines on the bumper to create a similar trapezoidal effect to the front. This design feature is actually more pronounced with the optional TRD Sportivo kit, though we still don't recommend spending the extra money.


Interior
The additional 100mm of space between the axles was put to good use by Toyota; there is noticeable improvement in rear leg room, and the rear seats, besides having 60:40 split folding, also feature recline adjustment, useful for taking naps on long-distance cruising. The facelift team should look at designing seats that fold flat however, but that aside, the rear half of the cabin is everything we could ask for.
Moving to the front, we find a dashboard that is unusually vertical by today's design trends, but there are enough sharp lines that make it look appropriately modern even if integrated features are not exactly cutting edge. The single-zone automatic climate control system, for example, is entirely adequate, but it's far from being a class-leading feature. The overall control scheme is straight forward and easy to master. Buttons have good tactile feel, and most surfaces are pleasing to touch; the dashboard top mould, for example, is soft-touch plastic.
Distribution of storage spaces along the centre console consist of a central lidded box, two deep cup holders, and a small bin forward of the transmission lever. Storage volume is entirely adequate for most users, but the Honda Civic offers more, and effortlessly so. Toyota may have excelled at build quality and presentation, but they can't match Honda's impressive ability to magically free up cabin and storage spaces.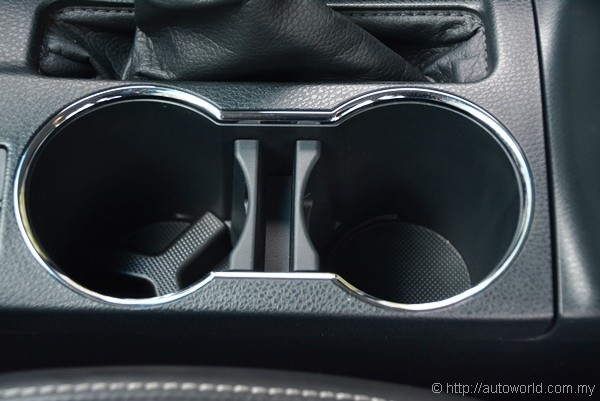 Three-pointed 'rubber star' is a simple yet clever means to allow varying of the cup-holder's depth.
Driving Experience
In concert with its reinvigourated appearance, Toyota has also sought to reinject some zest in the Altis' driving experience. The previous model had excelled in comfort and refinement, but it was also as stable as a boat at high speeds – nose-dive was particularly noticeable under hard braking. The new one enjoys a firmer suspension setup but one that stops short of being too harsh, with the result being a car that corners with controlled body roll and suffering minimal sacrifices in ride comfort.
Grip levels around bends are impressive, although we'll need a more comprehensive test to see if the chassis or the sticky Michelin PS3 tyres of our 2.0V test cars deserve a bigger share of that credit. Our brief media drive today did not include the lower-specced variants for us to make comparisons.

2.0V boasts LED headlamps and daytime running lights.

Yet perhaps the most impressive aspect of the new Altis' driving experience is a familiar element from the predecessor, namely its engine and transmission. Toyota's Super CVT-i is particularly impressive in the way it manages to closely approximate the behaviour of a smooth torque converter gearbox. On hard acceleration, the transmission holds itself on a fixed ratio, allowing engine revs and vehicle speed to build in conjunction. At the end of the rev range, the transmission then shifts to another ratio some distance away and pulls the same way. When you flick the shift paddles, there's even a gentle jerk that convincingly mimics a stepped transmission.
Overall, the transmission's calibration is faultless, and it beautifully plays to the engine's strengths. Acceleration is smooth and response instantaneous. Every time the accelerator is floored, the car responds with an immediate and linear build-up of speed. Alongside Nissan's X-Tronic and Audi's Multitronic, Toyota's Super CVT-i deservedly ranks among the best CVTs in the business.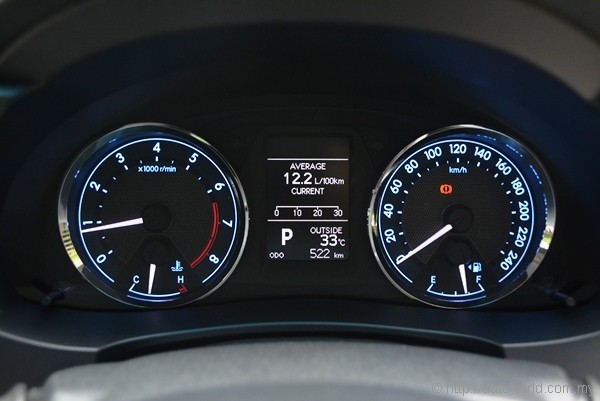 Two-dial instrument cluster is simple and easy to read.

Verdict
Despite retaining the identical power and drive trains, the all-new 2014 Toyota Corolla Altis is in every way and without doubt a much improved car over its predecessor. It is, for a start, a more aspirational product and one that resonates far better with younger buyers. Toyota has clearly learned its lessons from earlier versions of the Altis, and it has worked very hard to ace the new model's presentation whilst retaining the solid basics that defined generations of Toyota products.
The biggest issue with the Altis is its price. No doubt it starts at an affordable RM114k, but the 1.8E at that price really has too many dashes on its equipment list to make it a purchase worth recommending. Most of the headline equipment offered with the Altis are unfortunately restricted to the 2.0V model, and if safety is a priority, adding the seven-airbag package puts you in the ball park for 2.0-litre versions of the Honda Accord and Hyundai Sonata.
There really is much to like about the new Corolla Altis. It is in many respects, an excellent car that is likely to give its owners many years of reliable service. It still has all the intrinsic values associated with the Toyota badge – chiefly after sales and residual value – further enhanced with style and flair. It's just a little too expensive.