2014 Ford Fiesta 1.0 EcoBoost tested in Chiang Mai, Thailand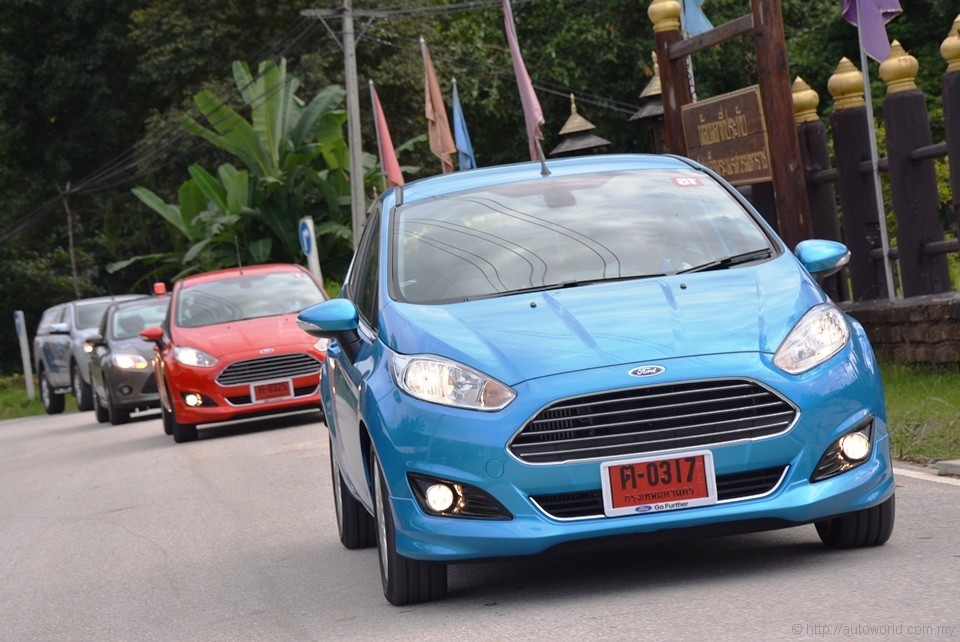 Launched in 2010, the Fiesta has been an almost instant success for Ford, propelling the brand's image among Malaysians to heights last seen in the good old days of the Laser TX3 and probably even beyond. Whilst still unable to match the overall popularity of tried and tested Japanese sedans in its price range, the Fiesta offers a wonderful blend of good looks, generous kit, and an entertaining drive that sees it simultaneously appeal to both driving enthusiasts and the style-conscious buyers.
Earlier this year, Ford came full circle by launching a new facelifted version of the Fiesta that built on these very same qualities and renew its challenge in the highly-competitive B-segment. The jury is still out on the aesthetic effectiveness of its new gaping grille, but the new model once again puts Ford at the segment forefront in equipment with an enhanced kit count.
The biggest news however, comes from the engine room, as Ford phased out the 1.4- and 1.6-litre Duratec mills and replaced them with a new 1.5-litre unit that moves the Fiesta squarely into Vios/City territory. Available both as a four-door Titanium sedan and five-door Sport hatch, the Fiesta 1.5 Ti-VCT will be joined next year by the new and much-anticipated Fiesta 1.0 EcoBoost, which we had the chance to try out earlier this week in Chiang Mai, Thailand.


Pricing and Variants
The advances of technology mean that Malaysians will have to get used to the alien concept of having a 1.0-litre engine positioned as the range-topping model above the 1.5-litre variant. It was announced during our media drive in Chiang Mai that Malaysia will get the Fiesta EcoBoost only as a five-door hatchback with its on-the-road price estimated between RM96,000 and RM99,000.
Regardless of the engine's merits, which we will delve into later, there will still be conservative buyers operating in old mindsets who remain skeptical on small engines, turbocharging, or both. For these folk, the continued availability of the naturally-aspirated 1.5-litre model will adequately serve their needs. To recap, the Fiesta 1.5 is priced at just under RM87,000 on-the-road in both sedan and hatchback bodystyles.
Our fleet of Thai-spec Fiesta EcoBoost test cars, which have both the sedan and hatch options, were kitted in the same levels of trim as the 1.5 Titanium and Sport versions we currently get in Malaysia. Ford has remained silent on the actual trim levels which we will be getting, but judging from the price tag being mooted, additional equipment from what we saw in Thailand is likely to be a given, and we are anticipating reinstatement of the seven-airbag package that was offered with the pre-facelift model.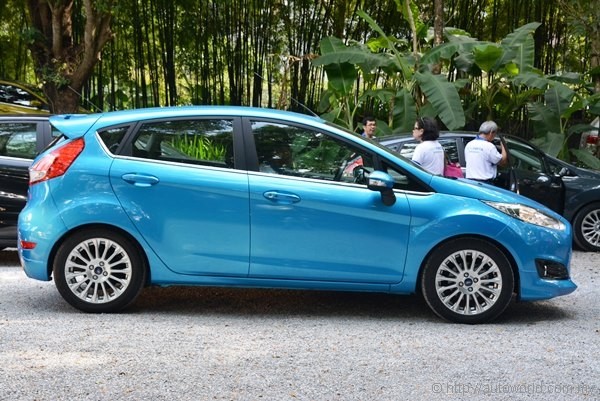 In Malaysia, the Fiesta EcoBoost will only be available as a five-door hatchback.

The 1.0-litre EcoBoost engine
Past winners of the coveted International Engine of the Year Award include the Mazda RX-8's Renesis rotary engine, Volkswagen's 1.4 twincharger, and a host of BMW engines including the E60 M5's V10 and the N54 3.0-litre twin turbocharged straight-six. This exclusive club now includes the Ford 1.0-litre EcoBoost as a two-time winner, and the quality of competition it had to beat to this year's prize included the VW twincharger, BMW's new 2.0-litre N20, Ferrari's 6.3-litre V12, and the McLaren MP4-12C's 3.8-litre V8.
Where do we even begin to espouse the virtues of this engine? Let's start with numbers; with outputs of 123hp and 170Nm, the former served at 6,000rpm and the latter made available from 1,400 to 4,500rpm, the 999cc triple actually makes more outputs than even the 1.6-litre Ti-VCT engine of the pre-facelift Fiesta launched in 2010. That model made do with 118hp and 152Nm, themselves not too shabby numbers in this segment.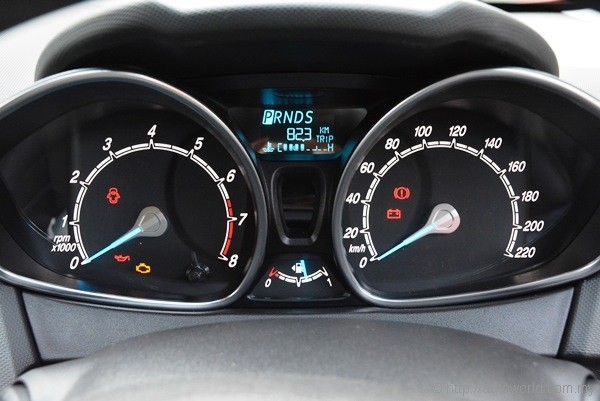 Like almost all of Europe's downsized engines, the EcoBoost 1.0 incorporates the use of turbocharging and direct injection to make up for its lost capacity, but the extent of innovations applied to the engine does not end there. Ford paid plenty of attention to reduce noise and vibration, the Achilles heel of three-pots, whilst seeking to keep weight and complexity to a minimum. This philosophy is embodied by Ford's creative approach in designing a deliberately unbalanced crankshaft that is calibrated to counteract the engine's natural vibrations, thus negating the need for an additional counter-rotating balance shaft.
Other design features of the engine worth highlighting include an oil-immersed composite timing belt that runs as quiet as regular timing belts but boast the durability and lifespan of a timing chain. It is designed to last the lifetime of the vehicle, and because its lubrication is drawn from the main engine oil reservoir, it is totally maintenance free. Another fine example of the engine's optimized design is the integration of its exhaust manifold into the cylinder head rather than being separately bolted on. Ford claims that this design not only saved a whole kilogram of weight, but also ensures optimum air-fuel mix and help facilitate quicker engine warm-up.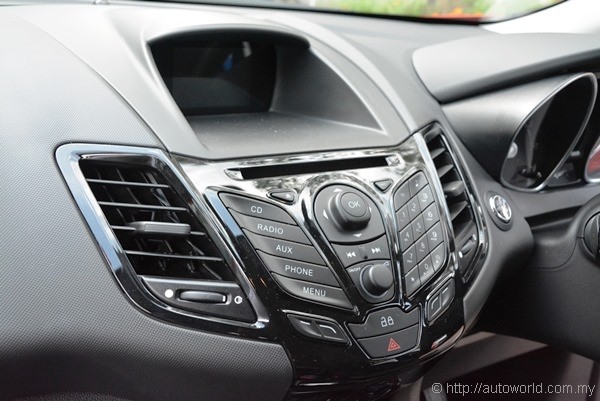 Nokia-inspired keypad remains a distinct feature of the Fiesta, but ease of use is so-so.

Design
As stated earlier, the Fiesta EcoBoost test cars provided to us in Chiang Mai sport identical trim and appearance to the 1.5-litre versions presently sold in Malaysia. The enlarged radiator grille that will be the signature appearance of the upcoming generation of Ford models dominate the new Fiesta's front fascia. In fact, Ford extensively revised the Fiesta's front sheet metal with the fenders, bonnet, and bumpers being completely new. Rear panels remain unchanged, but the tail lights are of an updated design.
Inside, the Fiesta does not offer generous accommodations like Japanese B-segment sedans, but ambiance and build quality are both beyond reproach. Small item storage is very adequately taken care off by a good distribution of cubby holes along the centre console and generously-sized front door pockets. Cup holders can be made deeper, but overall, we found more space to swallow our phone and keys than we did in the Focus and Kuga.
Ergonomics of controls, however, can be improved. Whilst there was no issue in finding a good driving position, we have poorly placed power window switches (too far back) on one hand, and a centre stack that seems to prioritize form over function on the other. The Nokia-inspired array of controls appropriately exude the look of sophistication which the Fiesta seeks to portray, but it is also complicated to operate on the move. Then there's the rocker switch-operated SelectShift transmission manual override feature, which simply is a bad idea. It's better than totally not having manual control like the pre-facelift Fiesta, but the set up remains unconducive for enthusiastic driving.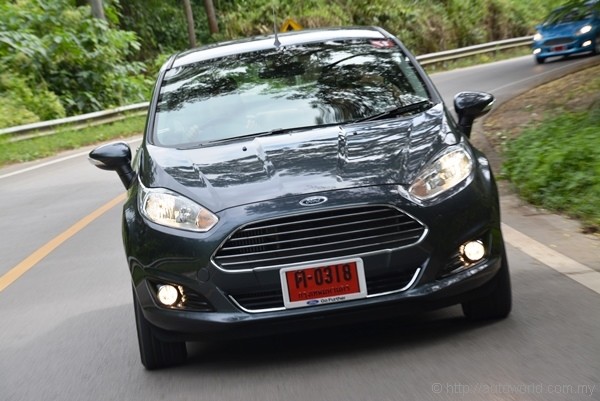 The new Ford corporate look grafted on the Fiesta.

Driving Experience
Earlier versions of the Fiesta we've driven with 1.4, 1.5, and 1.6-litre naturally aspirated engines were all blessed with overwhelmingly positive driving characteristics, but we had good reason to believe that the 1.0-litre EcoBoost was going to elevate the experience to a new level. To start with, there is now more power at our disposal, and not only is weight reduced, it is reduced over the front axle, meaning this car is less nose-heavy than its predecessors and should consequently be more agile around corners.
The burden of such expectations often prove crushing to most cars, but we are pleased to report that the Fiesta did not disappoint on our lengthy drive route that took us through the congested town centre and later the mountainous back roads around Chiang Mai. Conservative speeds maintained by the convoy mean that we will have to reserve judgment of the car's handling for the moment, but there were no obvious vices to report. Ride quality was typically European – firm but well-damped – and steering response felt satisfyingly quick.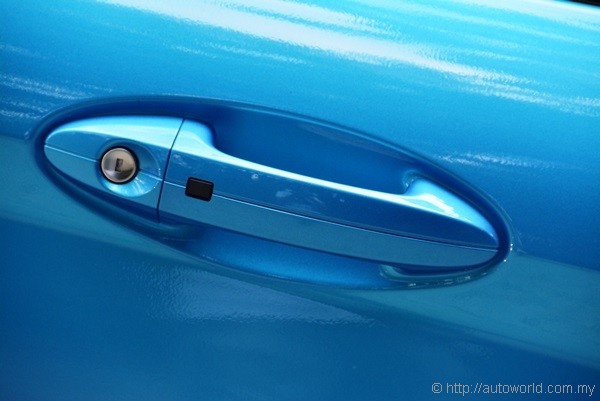 Smart keyless entry and push start button is among expected equipment.

Before setting off on our drive in the morning, we popped the hood up for our usual engine room shot, and with the engine running, we observed noticeable but hardly severe vibrations of the engine as it idled. What impressed us however, was that once we were seated inside, the engine's noise and vibrations were both convincingly isolated from the cabin. They were barely perceptible. The beauty about purely mechanical solutions, such as the unbalanced crankshaft and oil-immersed timing belt, is that they are impeccably effective when calibrated well. The EcoBoost triple is a fine example of this and its overall refinement, be it on idle or on the move, put many bigger four-cylinder engines to shame.
Equally impressive was the way it effortlessly dispatched slopes not dissimilar to the road leading up to Genting Highlands. With the 6-speed PowerShift transmission left in 'Sport' mode, the Fiesta was charging up the mountains with very little effort propelled by a surge of torque that even 1.8-litre engines would envy. Turbo lag was barely perceptible and the three pistons were happily dancing their way to the red line once the blower properly spooled up. In fact we found going down hill more of a problem – having to consciously locate a rocker switch rather than mindlessly slam the gear lever forward/backward added an unnecessary layer of effort in our quest to summon engine braking.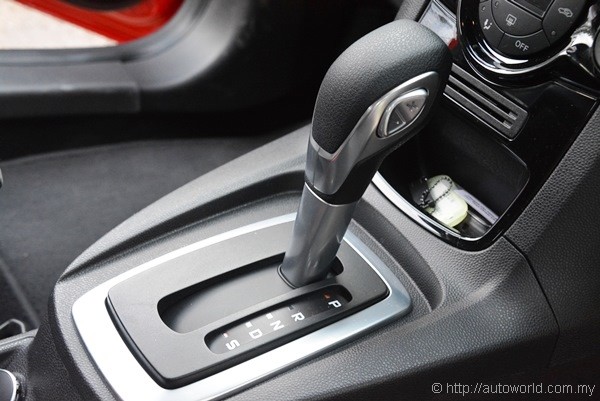 The Fiesta EcoBoost is available exclusively with Ford's 6-speed PowerShift transmission.

Conclusion
Having read glowing review after glowing review of the 1.0-litre EcoBoost from overseas, we were a tad disappointed back in September when Ford launched the facelifted Fiesta without this engine on offer. Yet, as they say, good things come to those who wait, and the Fiesta 1.0 EcoBoost fully justifies the rave reviews that we have been reading but only able to recently verify.
The biggest issue faced by the Fiesta 1.0 EcoBoost remains one of perception and not its outright ability, of which it has plenty. Common folk who do not follow international automotive news will find it hard to accept paying a premium for a 1.0-litre engine despite the engine's considerable innovation, and not to mention firepower. For those of us in the know, however, this is one car which we feel could not come quick enough, and we genuinely look forward to its introduction come 2014. We can hardly wait.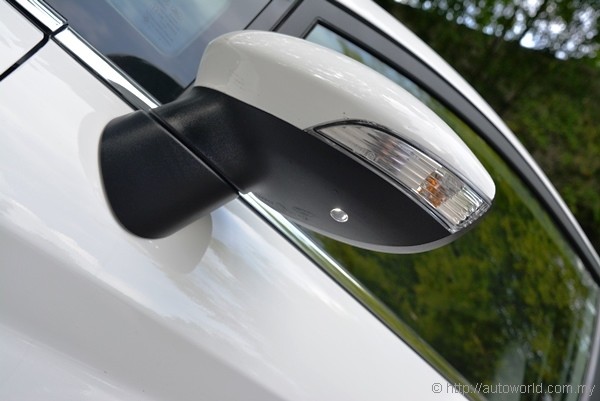 Puddle lights on side mirrors help illuminate ground in the dark.