2013 BMW M5 facelift launched in Malaysia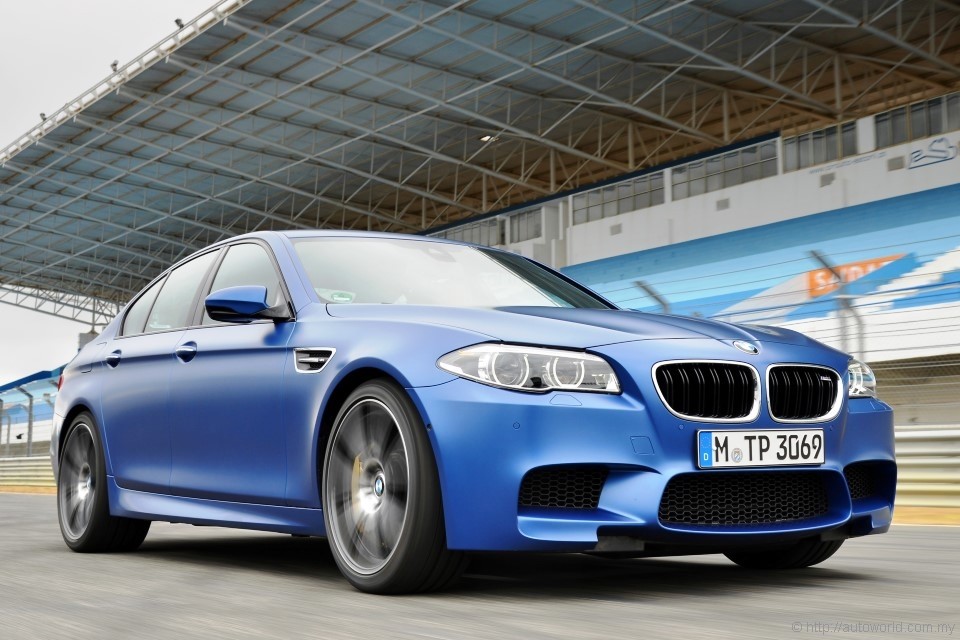 Whilst we were busy running around the halls of Tokyo Big Sight covering the 2013 Tokyo Motor Show last week, word came in from the people in BMW Group Malaysia that the current F10 generation of the BMW M5 has received its customary midlife upgrade as a consequence of the recent facelift applied to the entire F10 5 Series range that was incidentally introduced in Malaysia just last month.
Typical of BMW facelifts, the new M5 features only very subtle cosmetic enhancements, thus retaining many of the styling cues that defined its predecessor. Trademark M-specific design elements such as the large frontal air intakes, flared wheel arches, front fender gills, M exterior mirrors, hall mark quad tail pipes, and aerodynamic rear bumper diffusers continue to mark the M5 apart from a regular 528i.
New LED-based head and tail lamp clusters transplanted from the facelifted regular 5 Series make their appearance in the new M5. Consistent with the most recent BMW models, the Corona rings position and daytime running lights integrated inside in the headlamp assembly cluster sport a distinctive flat-bottomed appearance. Following a previously discontinued practice that was revived with the latest M6, the facelifted M5 also wears a subtle identification badge on its mildly redesigned double kidney front grille.
Inside, the most noticeable change would be the new M leather steering wheel with dual-spoke design that was first seen in the M6. As per the pre-facelift F10 M5, but unlike regular variants of the 5 Series, the new M5's steering rack is assisted by hydraulics rather than an electric motor.
Connectivity and infotainment features are also enhanced considerably in the new M5. It is the first BMW M car to feature the new Touch Controller, which has a touch-sensitive surface layered on the top of the iDrive rotary controller to allow characters to be written by your fingers as you input commands into the computer. Further extended features under the BMW ConnectedDrive umbrella include intelligent features such as the anti-dazzle High Beam assistant, heads-up display, and BMW Apps enabling social media and web radio connectivity. Also incorporated in the M5's onboard computer is a built-in M lap timer.
At the heart of the M5 continues to be the highly-sophisticated S63 4.4-litre turbocharged V8 packed with technologies such as direct injection, Valvetronic, and Double VANOS. Both cylinder banks are served by a single exhaust manifold, but each bank has a dedicated electronic control unit and its own twin-scroll turbocharger. Outputs remain unchanged at 560hp and 680Nm, sent to the rear by a Getrag 7-speed dual clutch transmission and regulated by the electronic multi-plate Active M Differential LSD that optimizes power distribution between the left and right driven wheels on slippery surfaces and tight bends.
Able to hit 100kph from rest in 4.3 seconds and then reaching the double ton less than nine seconds later, the M5 is nevertheless rated to consume fuel at a rate of just 9.9 l/100km, making it the only vehicle that punches out in excess of 500hp to be rated with a fuel consumption at less than 10 l/100km. Your actual mileage may vary by considerable margins, we suspect.
Not fast enough? Consider the optional Competition Package then. Aesthetically, cars so specified wear exclusively styled 20″ M Light Alloy wheels and black-chrome tail pipes fitted to a sport exhaust system that is said to emit an even more satisfying sound. Under this package, the DSC's M Dynamic Mode is tuned to offer an even more hard core setting than the regular M5.
Stopping power is also enhanced with M Carbon Ceramic brakes and the suspension is lowered by 10mm for further reduction in body roll around fast corners. Engine outputs, meanwhile, are massaged to produce even more potent outputs of 575hp, enabling a 0.1-second reduction in its century sprint times, and a 0.2-second reduction of its 0-200kph sprint to 12.8 seconds.
Officially available at all BMW dealerships throughout Malaysia, the new BMW M5 hits the road at RM901,800 without insurance, up from RM898,800 of the pre-facelift model. Opting for the Competition Package brings the invoice up to RM986,800.