Subaru Levorg concept makes Tokyo debut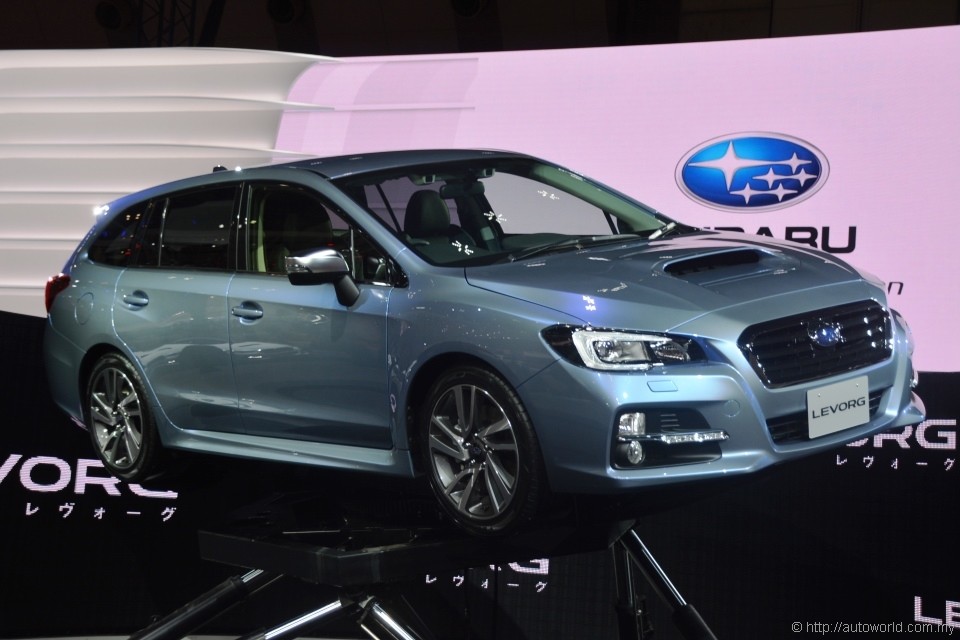 Subaru is showcasing a new generation sports tourer concept at the 2013 Tokyo Motor Show dubbed the Levorg, shown in an almost production-ready prototype form. Together with the Legacy Concept sedan and all-new WRX being displayed at the concurrent Los Angeles International Motor Show, the Levorg also shows us what appears to be a new corporate look that will define the next generation of Subaru models.
Whilst its name may indicate shared underpinnings with the Legacy, the Levorg is in fact a smaller vehicle – its 2,650mm wheelbase is a full 100mm shorter than the current Legacy in both its sedan and wagon body styles. A Subaru executive we spoke to at Tokyo informed us that the Levorg is in fact based on the Impreza's platform and similarities of the Levorg's front fascia to that of the new WRX being shown in LA is more than passing.
The Levorg's moving gear features Subaru's usual arrangement of having a flat-four engine driving a fully symmetrical AWD system. Two low-capacity petrol engines have been described, and they both feature direct injection and turbocharging to a combination of strong torque and excellent fuel efficiency.
The smaller of the two engines displaces 1.6 litres, pushing out an impressive 168hp and 250Nm with fuel consumption rated at 17.4 km/l on the JC08 cycle. Above the 1.6 is a highly-tuned 2.0-litre mill rated at a ballistic 296hp and 400Nm. To put those figures into perspective, BMW quotes 306hp and 400Nm for its impressive 3.0-litre N55 twin-scroll turbo engine. Fuel consumption on the JC08 cycle is rated at 13.2km/l.
Interestingly, by way of comparison, the WRX being unveiled in LA has lower outputs than the Levorg 2.0, with 268hp and 350Nm being the quoted outputs of its Boxer engine, which similarly displaces two litres featuring turbocharging and direct injection. The WRX, now separated from the Impreza range like how the GT-R is dissociated from the Nissan Skyline family, is offered with the choice of a 6-speed manual transmission or a Sport Lineartronic CVT – first for a WRX.
Back to the Levorg, both engines are fitted with Lineartronic CVTs as standard, with the 2.0-litre model getting the beefed up Sport Lineartronic to cope with its higher outputs. In Sport# mode of the SI-DRIVE system, the 2.0's Sport Lineartronic allows the driver to manually trigger shifts between eight virtual ratios for a sportier feeling.
The Levorg is fitted with a comprehensive array of safety systems including the usual complement of airbags, traction control, and what not. It also comes with the latest version of Subaru Eyesight technology, which incorporates autonomous braking, adaptive cruise control (with brake light recognition), lane keeping assist, pre-collision reverse throttle management, and hazard avoidance assist.
Pictures:
– Levorg: KON
– WRX: Official Subaru release.