2013 SsangYong Stavic Test Drive Review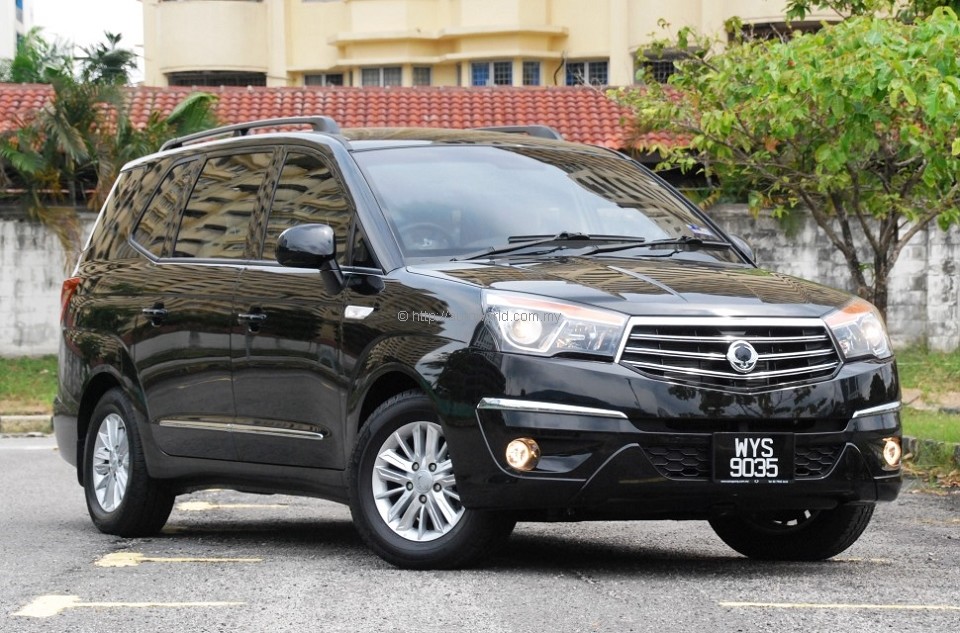 Despite being a niche player all along, SsangYong is not what you would call an obscure brand in the eyes of the motoring public. A much-publicized technical alliance with Daimler-Chrysler in the 1990s gave the company access to Mercedes-Benz technology, and it quickly developed a reputation as the Korean brand with Mercedes engines.
The company fell into hard times recently, culminating in a takeover by India's Mahindra & Mahindra Ltd, who acquired a 70% in 2011. Blessed with a modest cash injection from its new owners, SsangYong is now able to gradually revitalize its model range. All-new models from ground-up remain distant dreams for now, but extensive updates of existing designs are possible, and one model that benefited from a much-needed makeover was the Stavic MPV that was launched in Malaysia only recently.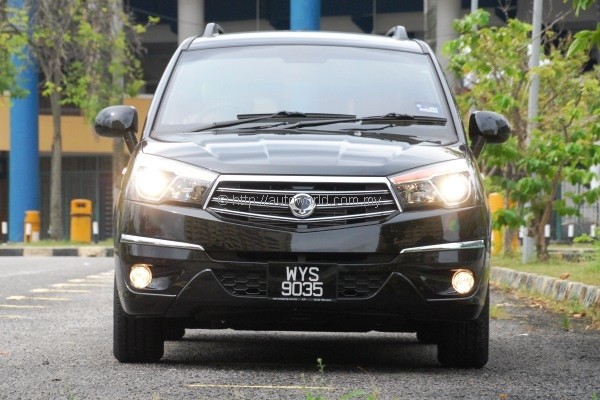 The new model's fascia gives better presence and is easier on the eyes.

Pricing & Equipment
At a tick over RM120k with insurance, the 11-seater Stavic is simply jaw-dropping value – if you look at it as a ratio of price versus seats, the Stavic is effectively on par with national cars. Assuming both SsangYong and its local distributor make decent profits out of this car, you're looking at some seriously competitive cost structures in putting this car together.
Being a relatively small volume manufacturer, SsangYong does not have much economies of scale to leverage against its suppliers which makes the Stavic's competitive price all the more impressive, yet build quality, which we would elaborate later, is actually half decent and you're not even looking at a bare list of kit – electric driver seat adjust, projector headlamps, multi-zone climate control, and reverse camera are standard items, amongst many other things.
Of course, it is not flawless; cost considerations are easily exposed upon closer inspection. You don't get stability and traction control, you don't get a trip computer, and heck, the remote alarm control is housed in a separate casing from the key fob like your dad's old Proton Iswara. Yet, these are but small blemishes – a lot of things become very forgivable when you are offered this much car for a mere RM120k.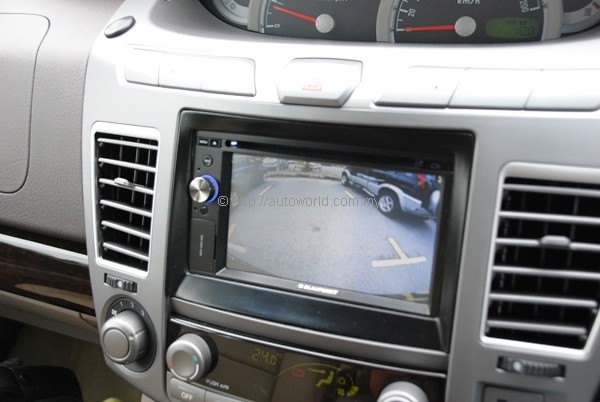 Reverse camera is extremely useful for a car this size.

Specifications
Back in the days of the Musso, SsangYong unashamedly flaunts its technical partnership with Mercedes-Benz in advertising campaigns. At a time when consumer confidence in Korean products were low, having proven technology from a premium German car maker went a long way to assure customers, and many liked the idea of paying Korean prices for the underpinnings of a W124 E-Class.
The technical collaboration has scaled down considerably these days, although signs of it remain present, the foot-operated hand-released parking brake being a prominent example. The 2.0-litre turbodiesel engine is largely SsangYong's own development producing 153hp and 360Nm sent astern by a Mercedes-sourced 5-speed automatic transmission with manual overriding.
In conjunction with its FR architecture, the Stavic is independently sprung all-round, with double wishbones up front and an intricate ten-member multi-link rear suspension with separate spring-shock assembly. Disc brakes are ventilated all-round and incorporate ABS.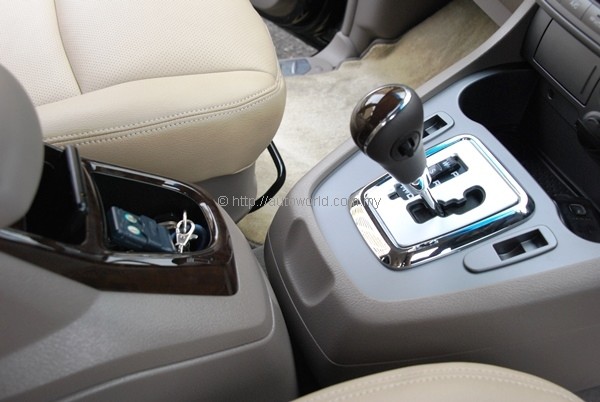 5-speed automatic transmission from Mercedes shifts with pleasing smoothness.

Exterior
Good looks was not a virtue one associated with the previous Stavic, which had the dubious distinction of being bestowed with a lengthy list of uncomplimentary 'accolades' highlighting its ugliness. This new one improves on that front considerably, with a fascia that looks a lot less offensive and an overall appearance that is easy on the eyes. The lack of fussy details gives it a dignified stature, even though the lack of fancy LED and Xenon illumination robs it of any upmarket pretensions.
The Stavic's eleven-seater capacity and value-for-money preposition makes comparisons with the Hyundai Starex inevitable. Although the plump looking Hyundai looks gargantuan next to it, the SsangYong isn't actually significantly smaller. The Starex is noticeably taller (1,925mm vs 1,850mm), but both cars occupy similarly sized footprints (5,130mm x 1,915mm of the Stavic vs 5,125mm x 1,920mm of the Starex). The Hyundai nevertheless has the advantage of a longer wheelbase (3,200mm vs 3,000mm) to facilitate wider door openings.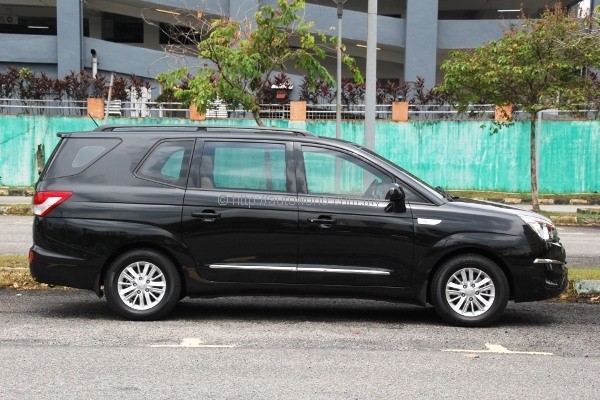 It's 5.13m overall rarely felt intimidating even in tight spaces.

Interior
More functional than plush, the Stavic's cabin will not win any awards for design or material selection, but the hardy plastics feel well-screwed together, and layout of controls are largely fault-free. The rocker-switch operated manual override function of the transmission is perhaps the only example of flawed ergonomics, but the steering-mounted shift buttons are sufficient for most needs – you don't need paddle shifters for an 11-seater, especially not one that costs you only RM120k.
As you would expect, the rail-mounted second and third row seats allow many possible seating and combinations combinations depending on your needs. If you're traveling with nine people or less on board, the most convenient set up will be to fold the two centre seats side ways up to create a little path all the way to the back. The possibilities of configurations are endless, ranging from a makeshift lounge to even a …err… bus.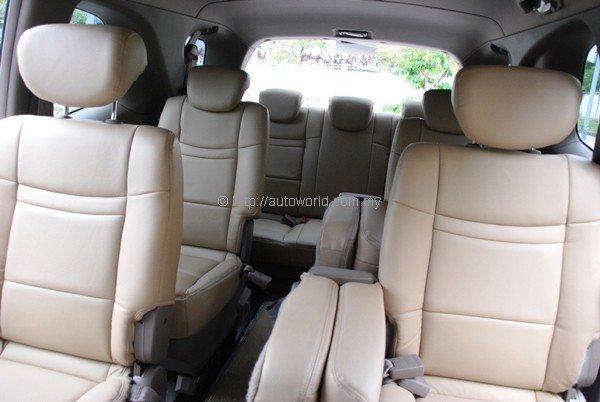 Three row of foldable seats at the rear accommodate nine, plus two in front.

Driving Impressions
Whilst the Stavic is already an eminently accomplished people carrier, its road manners are indeed a revelation and adds another dimension to its appeal. It won't outdrive a Ford S-Max (few things can), but there is still plenty to like – the dynamics package is decent and the 2.0-litre engine pulls its weight without fuss. The automatic gearbox from Mercedes may be old, but it shifts smooth and unobtrusive; in other words, very fit for its purpose.
We did not push the Stavic into extra-legal speeds often during our weekend with it, but the crucial take away is that the engine and transmission combo was never found wanting when we summoned for bursts of acceleration. There is a pleasing absence of lag from the engine's power delivery and other than descending steep slopes, there was never a need to manually take control of the transmission – indicating its overall effectiveness.
For its considerable size, the Stavic is also pleasantly unintimidating to drive. It feels neither big nor cumbersome on the move, and overall visibility is actually rather good – the biggest blind spot is taken care of by the reverse camera, which could perhaps do with a better viewing angle, but is overall sufficient to ensure you don't inadvertently reverse over someone's child.


Verdict
The Stavic is most certainly not the best MPV in the market, but it's value preposition makes it difficult to fault. Its flaws are crucially not irredeemable and does not significantly dent its case as a product. The most legitimate concern for the owner is perhaps the lack of after sales support from a small service network.
It is important to highlight that the Stavic is not what we would label as a cheap product, and that c-word is one which we have refrained from applying in this review until this final paragraph. While it is true that certain features look out of date, and the selection of materials feel utilitarian, the Stavic also feels solidly built and overall pleasant to drive.