2013 Isuzu D-Max 4×4 A/T Test Drive Review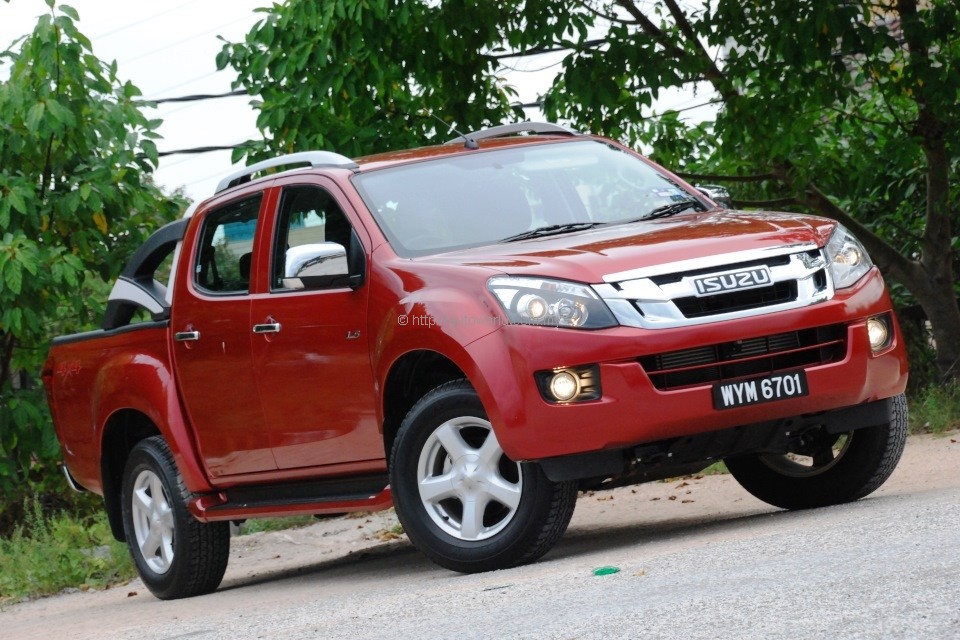 Pick-up trucks typically endure longer product life-cycles compared to passenger cars. The Mitsubishi Triton, for example, has been around for seven years now; the class-leading Toyota Hilux is even older, having soldiered on for eight years in its current platform albeit suitably updated with new engines and design along the way.
The first generation Isuzu D-Max was ten years old when its replacement was launched globally last year, but combined effects of the Ayutthaya floods and overwhelming demand from the Thai market, where over a quarter million units have been snapped up, contributed to its delayed introduction here in Malaysia.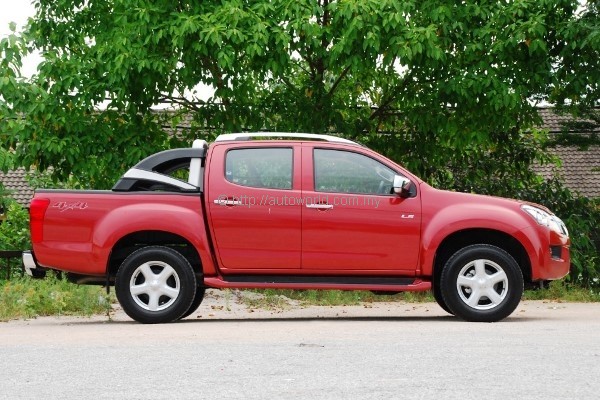 The lengthened platform means that the new D-Max is one of the biggest trucks in the market.

Prices & Variants
The new D-Max range lines up with a total of five variants, which we can organize into three trim levels – the basic 4×2 low-rider going up to the high-riding models in two states of trim. The lower grade high-rider models have the option of 4×2 and 4×4 drivetrains, both equipped with 5-speed manual transmissions as standard. Conversely, top grade high-rider models come with 4×4 as standard, but with a choice of manual and automatic transmissions, both with five ratios.
Prices start at RM69,799.60 for the low-riding model, which comes with a multi-info display, single-DIN audio with USB port, central locking, power windows, rear centre three-point belt, ISOFIX, and immobilizer. The standard grade high-rider models, priced at RM79,899.60 for 4×2 and RM85,499.60 for 4×4, add projector headlamps and electric side mirrors with integrated blinkers. The 4×4 variant gets a limited slip differential as well.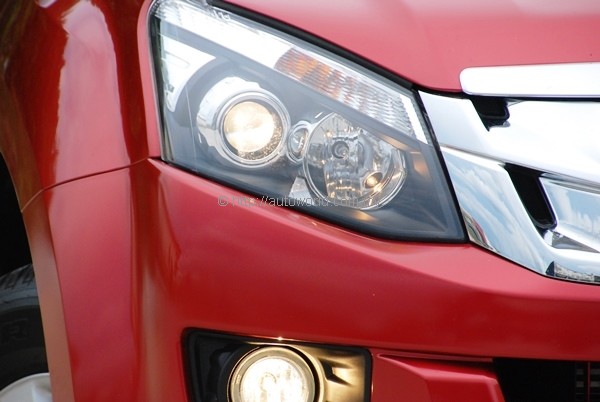 Projector headlamp is a commendable offering in the segment.

The top spec models, priced at RM94,619.60 and RM100,689.60 for manual and automatic transmissions respectively, enjoy a considerable leap in equipment, particularly in the area of safety, getting dual airbags, pre-tensioned front seat belts, ABS, EBD, brake assist, stability control, and traction control. This comprehensive array of electronics negated the need for LSPV and LSD, and both are consequently omitted.
Other items exclusive to the range toppers are front fog lamps, LED tail lights, self-illuminating panels, steering-mounted controls, and one-touch driver power window with anti-pinch. Three items make up the options list, but two of them – side steps (RM1,350) and bed liner (RM800) – are in fact standard for the high-spec models. The distinctive roll bar is a RM1,200 cost option offered to all high-riding variants only. The roll bar serves only aesthetic purposes and has no structural function.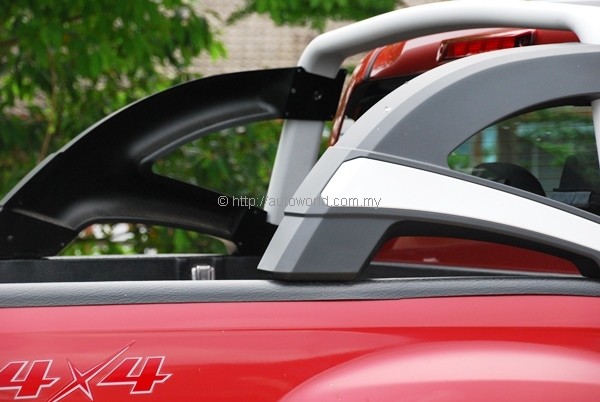 Roll bar is a RM1,200 option.

Specifications
Isuzu typically adopts a conservative approach in engine tuning. The previous D-Max, for example, pushed out a modest 134hp and 280Nm from its 3.0-litre engine. Content to concede the horsepower race to the likes of Nissan, Ford, and Chevrolet, Isuzu instead looks to focus its attention on durability and fuel economy, both qualities which the previous D-Max is known to possess in abundance, qualities which the new D-Max would do well to preserve.
One look at the engine room is all one needs to judge Isuzu's priorities. Designed for easy servicing to minimize downtime, Isuzu thoughtfully placed the regular maintenance items for uncomplicated access. The oil filter, for example, is top mounted and easy to reach. Outputs are, as you would expect, modest – maximum power of 134hp is unchanged from the previous model, but torque, a more valuable currency in pick-up kingdom, is usefully boosted to 320Nm.
Thanks to variable geometry turbocharging, Isuzu is able to improve on the previous model's outputs despite a reduction in engine capacity to 2.5 litres. The 2.5 VGS engine is used in all high-riding variants of the D-Max, with the low-riding model making do with a more rudimentary engine of the same capacity producing 78hp and 176Nm. Isuzu does not offer a 3.0-litre option for Malaysia at the moment, but there is good reason to revisit that decision in the future – East Malaysia buyers are known to prefer bigger engines.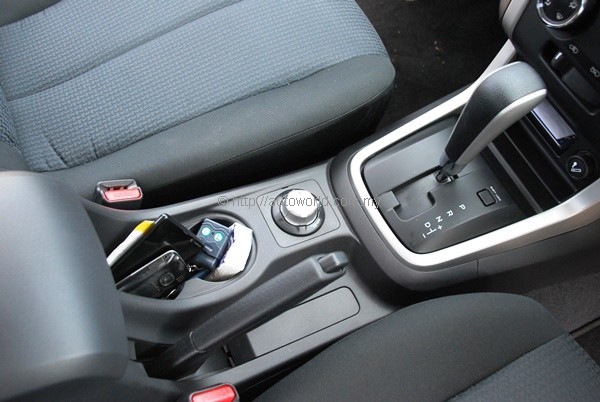 Auto transmission has 5 speeds. 4×4 system is electronic shift on the fly.

Exterior
The new D-Max has grown in size from its predecessor, although at 5,295mm stem-to-stern, it is still not the longest truck in the segment – the Ranger and Colorado both push the tape measure comfortably beyond 5.3m. Its wheelbase, however, matches the Chevrolet to within a millimeter – unsurprising considering their common platform, a fact highlighted by the identical window lines the two trucks share.
Isuzu spent a lot of time in the wind tunnel sculpting the D-Max's sheet metal. This emphasis on aerodynamics, Isuzu argues, is to the benefit of fuel economy (debatable) and reduced wind noise (fair enough). As a result, despite increased dimensions, the new D-Max actually looks more streamlined and less bulky than its predecessor. The added design flair was also not overdone, so in terms of public opinion, it is not as divisive as the Colorado or the Mazda BT-50. It is a handsome truck, the D-Max, although the five-spoke alloys with soft edges seemed like an ill fit..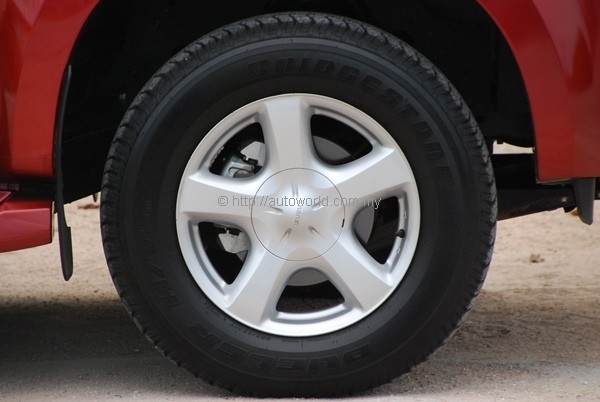 Alloy rims not among the best looking in the market.

Interior
Chevrolet Colorado owners stepping into the D-Max will find themselves in familiar surroundings. The dashboard is effectively a carbon copy with the majority of switchgear being shared items. Top spec variants get Isuzu's e-LUMAX auto illuminating instrument panel, which we must commend for its uncanny ability to self-adjust its brightness spot on in almost all lighting conditions.
Small item storage along the centre console is adequate rather than outstanding – the cubby hole below the centre stack, for example, could and should be deeper. The three lidded storage compartments on the dashboard are nevertheless useful, and the retracting cup holders at the side can usefully double up as mini drawers. I found them to be convenient locations to chuck my mobile phones.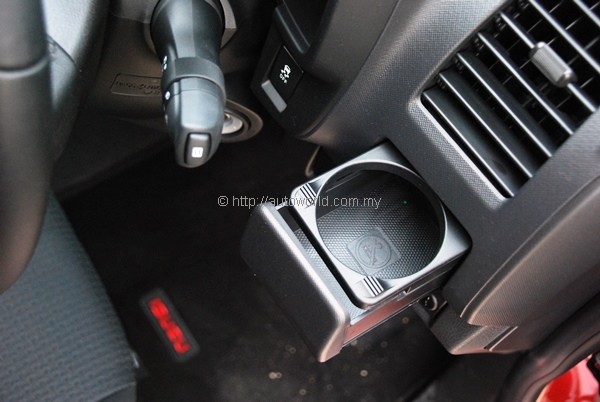 Retractable cupholder can usefully double as a phone holder.

Driving Experience
One of my favourite distractions when reviewing pick up trucks is to find vast sand-filled clearings and indulge in some harmless sideways action, preferably with photographic evidence. Most pick-ups kick out their tails on sand easily enough with their driveline in 2H mode, but the same proved tricky to accomplish in the D-Max. The reason for this is that you can only deactivate the D-Max's traction control but never stability control – even though the engine will happily supply enough power to break traction, stability control will step in and straighten you out.
As a whole, the D-Max is a vehicle that acquits itself very well to physically demanding terrain, but some might find its ruggedness off-putting on the road. Insulation of noise is in fact excellent, but ride quality on tarmac is very firm even by pick-up truck standards – the Ford Ranger and Mitsubishi Triton remain superior options if one prioritizes road manners. These aspects of the driving experience are in fact very reminiscent of the Chevrolet Colorado, which oddly combines exceptional quietness with a somewhat stiff ride.
Up front, the engine is not the most refined-sounding unit in the market, but being an Isuzu mill, you know it is bullet proof. Its conservative state of tune also means that you'll only be able to keep up with the Hilux in a traffic light sprint, but the positive side of this is that turbo lag is almost non-existent. The engine also retains and improves upon the D-Max's proud tradition of fuel economy – the 76 litre tank was half full when we returned it after clocking 440km.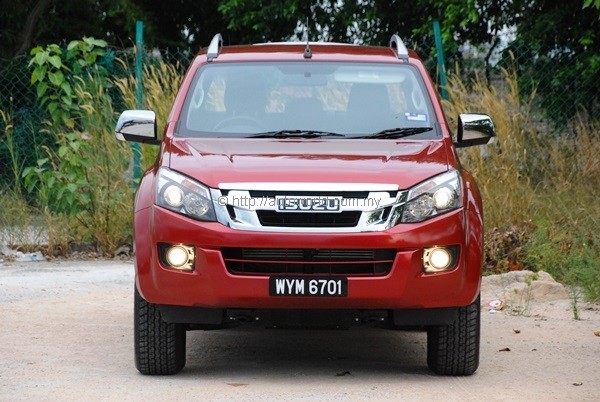 The new D-Max has a modern and attractive-looking fascia.

Verdict
As pick-up trucks become increasingly car-like in their manners and also features offered, trucks that deliberately set out to be simple, durable, and rugged suddenly become easy to overlook. The quandary Isuzu faced was that an increasing number of truck buyers were yearning for products like the Ford Ranger and its fancy technologies, but most of its core buyers select the D-Max on the grounds of its honest simplicity and unrivaled economy.
Against this backdrop, it is easy to see what Isuzu sought to achieve with the new D-Max. Aesthetically bold, but mechanically conservative, the new D-Max seeks to widen its appeal to a new set of buyers whilst trying its best to stay true to values that Isuzu has held dear for many years. The D-Max is still not the most car-like truck in the market, but buyers with pragmatic priorities now have a more stylish option to consider.