PLUS mobile workshops reduce complaints on unscrupulous tow trucks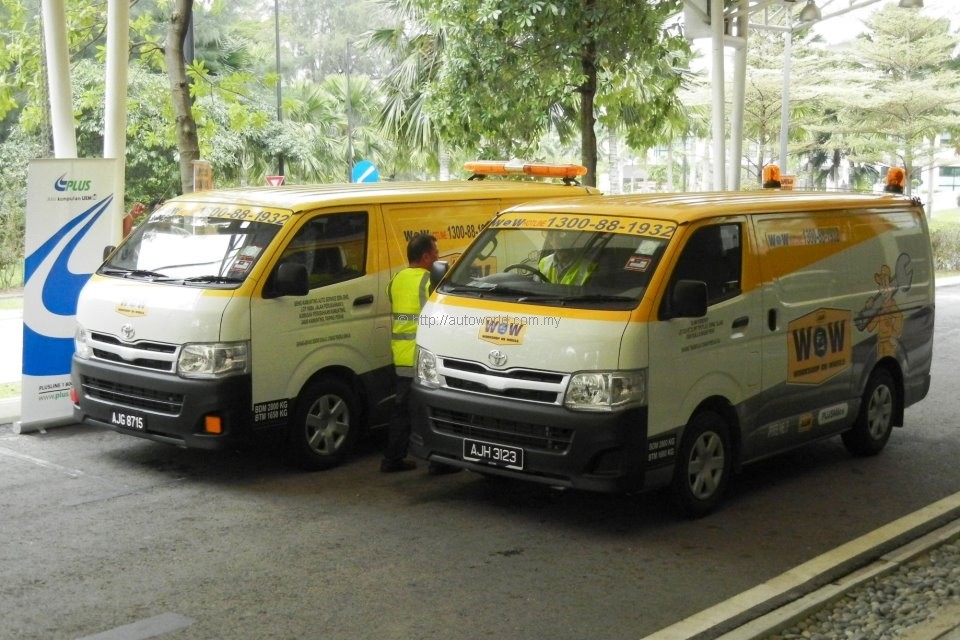 Incidences of unscrupulous tow trucks preying on hapless victims have reduced drastically over the past year on PLUS-operated highways. From 42 complaints received between 2011 and September 2012, only five complaints were received by the companies from users of its network of highways since October 2012.
The commendable reduction is being attributed to the company's introduction of its Workshop on Wheels (WOW) highway mobile workshop service. According to PLUS Managing Director, Dato' Noorizah Hj Abd Hamid, highway users facing mechanical problems on the highways were often exposed to being tricked and cheated by irresponsible parties.
In a collaboration with the Automobile Association of Malaysia (AAM), PLUS has appointed the services of AAM panel workshops to operate the mobile workshops that form the backbone of WOW's services, which cover free towing for small and light vehicles to the nearest rest areas or toll plazas, engine inspections and minor repairs. Response teams can be summoned by calling the PLUSLine toll free number (1 800 88 0000) or by using emergency telephones situated at regular intervals along the highway.
"Upon notification from highway users, a PLUSRonda team will be immediately dispatched to the designated location to conduct inspection, evaluation and assist in minor repair. If more repairs are required, the PLUSRonda team will then contact the Traffic Monitoring Centre before a WOW unit is assigned to provide further repairs," explained Noorizah.
WOW also offers vehicle spare parts replacements as vehicle battery, radiator, fans and others at prices which PLUS believes to be reasonable. These services are provided on site or at other safe locations on the highways without having the users to exit the highway and being charged for towing service. In the event that major repairs are required, the affected vehicle will be towed to WOW panel workshops, or if the user insists, to their own preferred workshops at their own costs.
"To avoid any confusion and discrepancy, spare parts charges are clearly displayed on all WOW vehicles for the users' reference and evaluation," Noorizah said.
Since the service was implemented in stages beginning last October, WOW teams had successfully attended 3,387 breakdown cases. At the moment, there 17 WOW teams on the North-South Expressway, the Penang Bridge and the Secondlink highway.