More investment from Mercedes-Benz Malaysia into Pekan plant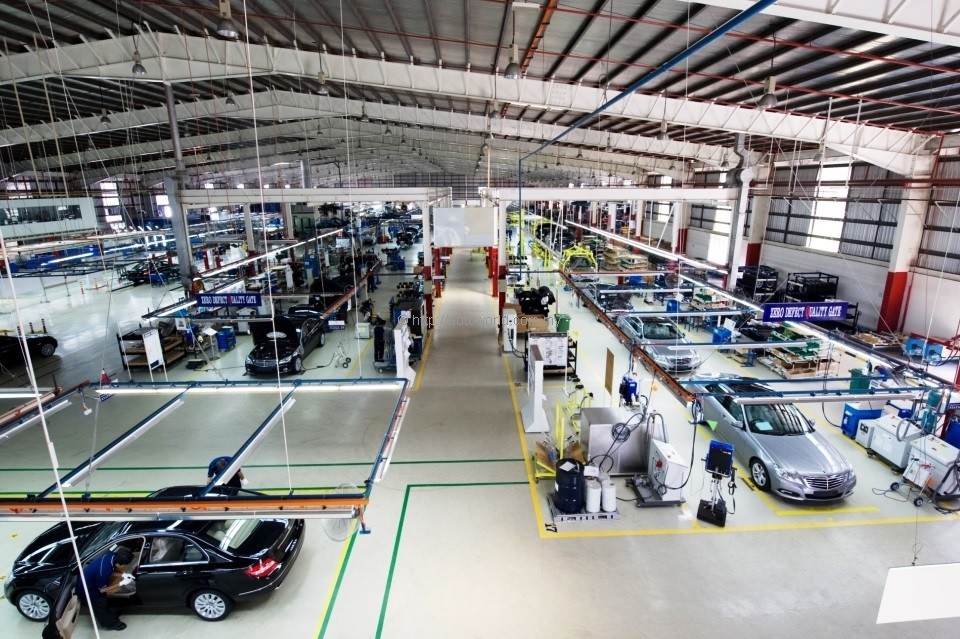 Mercedes-Benz Malaysia (MBM) has announced its commitment to invest an additional RM100 million over the next five years in its assembly plant in Pekan, Pahang, building on the RM250 million that it has spent there since starting operations in 2004, when the company was founded as Daimler-Chrysler Malaysia.
"As we reach our 10-year milestone this year, we celebrate a decade of MBM excellence in product quality and superlative service. Over the years, Malaysia, and in particular the Automotive Park in Pekan, has proven to be an ideal location for the plant. With infrastructure and availability of a suitable manufacturing partner in Pekan, we have successfully established the MBM plant to become our assembly hub for the Malaysian market," said MBM President and CEO, Mr. Roland Folger.
Prior to MBM's arrival in Malaysia, local assembly of Mercedes vehicles were scattered in various locations, and the Pekan plant allowed the assembly of all models to be consolidated into one location. This gave Mercedes the advantage of being able to more effectively implement its own processes and quality control and consequently ensuring that Malaysian-assembled Mercs are of equivalent quality to their German counterparts, even if many consumers still believe otherwise.
Situated inside the premises of DRB-Hicom's assembly plant that also rolls out the Isuzu D-Max and Suzuki Swift, albeit in separate buildings, Mercedes-Benz Malaysia assembles a range of passenger and commercial vehicles under the Mercedes-Benz and Mitsubishi FUSO marques, the latter not related to Mitsubishi Motors (it's a long story).
Annual production rate of the Pekan plant has been on a steady increase ever since it started operation, recording average annual growth of 13%, rising from 2,188 passenger cars in its first full year of production in 2005 to 5,168 last year. As of April 2013, the plant has rolled out a total of 29,084 passenger vehicles and 15,174 commercial vehicles. All vehicles made in the Pekan plant are for domestic use only.
The passenger vehicle section of the plant is where MBM rolls out high-volume variants of the C-Class, E-Class and S-Class, its three bread-and-butter models. It is a very extensive programme, which encompasses welding of body panels and paint job applications. MBM shares paint booths of its passenger cars with Suzuki and those of its commercial vehicles with Isuzu. Vehicle bumpers arrive pre-painted from Germany, and this requires extensive coordination to ensure a seamless matching of the paint work.
In the assembly shop, the vehicles are organized into three production lines, with each of the W204 C-Class, W212 E-Class, and V221 S-Class taking one line each. It is a remarkably efficient set up as the cars go from being empty painted shells to a fully drivable state along a line that stretches no longer than 100m from start to finish.
Speaking to the media during a plant tour yesterday, MBM Vice President, Product Plant, Mr. Sebastian Streuff, said, "Each vehicle is put through a four-stage control system executed at various points of the assembly line. To implement the control systems, our employees are also well-qualified and constantly updated in the latest methods of quality control. It is ensured that each vehicle delivered meets stringent requirements set by our headquarters, Daimler AG."
Looking forward, MBM has stated that the RM100 million investment over the next five years, which will begin this year, will prepare the plant for new model introductions during this time frame. We know from international developments that the facelifted W212 E-Class and the sixth-generation W222 S-Class have both made their global debuts. The W204 C-Class was facelifted in 2011, and is likely to undergo its full model change globally by 2014. Since there are no plans at this point to expand the Pekan plant's scope beyond these three models, it is safe to assume that as far as the passenger car section of the plant are concerned, these three models are the ones to watch out for.
Pictures: Official Mercedes-Benz release.