Mazda CX-5 CKD Test Drive Review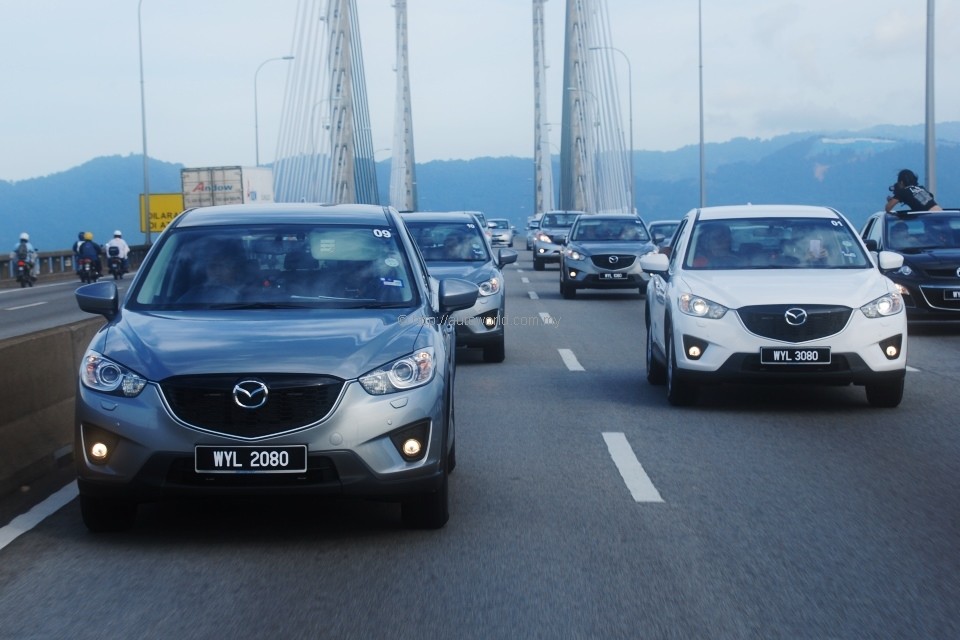 As reported last week, Mazda has launched the locally-assembled versions of its CX-5 mid-sized SUV built in Inokom at Kulim, Kedah. Having started with the Mazda3 in 2011, Mazda's CKD operations in Malaysia now sits on solid foundations and Mazda Malaysia, a local joint venture between Mazda Corporation Japan and Bermaz Motor Sdn Bhd, is looking to expand its footprint in the Inokom plant that also hosts assembly facilities for Hyundai and BMW vehicles.
Within the Inokom compound, Mazda is already acquiring a body shop for its own use and construction has already begun for a vehicle assembly facility in the premises for Mazda's exclusive usage. Production of the CX-5 will be transferred to the new facility upon its completion. In total, Mazda is ready to spend up to RM100 million investing in its Malaysia assembling facilities and it expects local production to reach 20,000 units per annum in the future, with the possibility of export being publicly mooted.
Malaysian consumers, however, typically hold foreign-built cars to higher regard than locally-assembled units, and as the Volkswagen Passat illustrated, there are enough people out there willing to pay a premium just so that they can boast of driving a 'Made in Japan' or 'Made in Germany' car. Mazda naturally wants to dispel such perceptions and it is keen to prove that the Kulim-built CX-5s are of comparable quality and feel to Japan-made units.


Prices & Variants
As before, the CX-5 continues to be available in a choice of FWD and AWD drivelines, both with propulsion supplied by a partnership comprising of Mazda's 2.0-litre SkyActiv-G engine and its 6-speed SkyActiv-Drive automatic transmission. Through Government incentives and content localization, Mazda is able to slash a whooping RM15,000 off the CX-5's price tag, bringing the entire range below the RM155k mark including insurance.
Making the CX-5 even more affordable is the introduction of a FWD Mid-Spec variant at RM136,943.70 with insurance to complement the existing FWD & AWD High-Spec variants priced at RM144,125,70 and RM154,385.70 respectively. Equipment omitted to enable the RM8,000 reduction in price of the Mid-Spec model include GPS navigation, keyless entry, and parking sensors. Reverse camera is standard for all variants, which is a plus point.
From the CBU models, Mazda has removed the sunroof and the 11-speaker Bose sound system, replacing the latter with a common-grade six-speaker setup. Both items are acceptable deletions and their absence certainly should not constitute a deal-breaker for these homegrown cars.


Specifications
Mechanically, the locally-assembled CX-5 is identical to its fully imported counterpart, boasting the full range of Mazda's revolutionary SkyActiv suite of technologies. The 2.0-litre naturally aspirated direct injection SkyActiv-G engine, which operates at an atypically high 13:1 compression ratio, continues to be the sole powertrain on offer, churning out 155hp and 200Nm for the FWD model and 154hp and 198Nm for the AWD model, in both instances being paired to Mazda's own 6-speed SkyActiv-Drive automatic transmission.
At the launch-cum-media drive press conference held in Penang last week, Bermaz's Managing Director, Dato' Ben Yeoh mentioned the possibility of a more powerful variant being introduced in the future operating the 2.5-litre SkyActiv-G engine that currently supplies the Mazda6 with 185hp and 250Nm. We suspect Bermaz will keep close tabs on the recently-launched Ford Kuga and the soon-to-arrive Honda CR-V 2.4 to gauge the appetite of buyers in this segment for more power.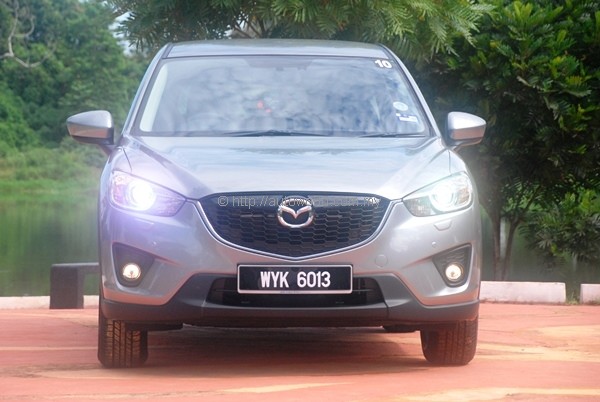 The CX-5 marked the debut of Mazda's Kodo styling when it came out last year.

Exterior
Appearance-wise, the only way to tell a locally-built CX-5 from the imported model is the absence of a sunroof in all variants of the former. Sharper-eyed onlookers will also note the absence of HIDs from the Mid Spec variant and if one looks even closer at the door handles, he or she would also notice the absence of keyless entry from the Mid Spec.
When the CX-5 was first launched here, it was fitted with 19-inch rims as standard which were absolutely great to behold but likely to give owners potential heart attacks during tyre changes. Somewhere along the way, Mazda wisely downsized the rims to 17 inches, although to Mazda's credit the CX-5's ride quality was not adversely affected by the bigger rims. This is in contrast with the Ford Kuga, which in this writer's opinion, felt drastically better with 17-inch rims compared to 19-inchers.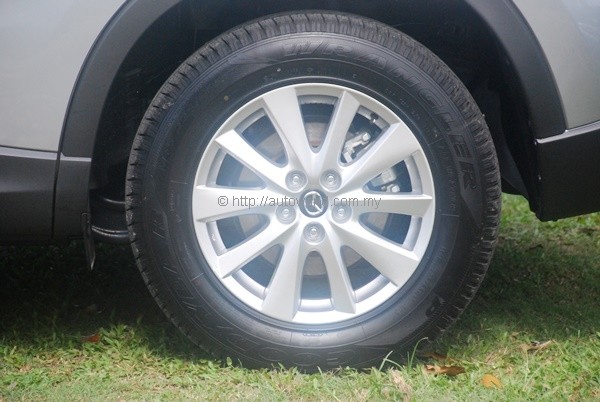 Downsized 17-in rims are a sensible choice by Bermaz. Lower replacement costs for the owner.

Interior
The majority of differences between the Mid and High Spec models can be spotted inside the cabin, where the former makes do without leather seats and satellite navigation. Touch screen is standard in both trim variants, though with different head units. The Mid Spec variant's head unit appear to be locally sourced but with a bigger screen than the ones used in the High Spec models. Without drive time behind a Mid Spec unit, we are unable to report on operational differences between the two head units for now.
Perhaps the bigger question from readers will centre around the subject of build quality, specifically on any differences between the CBU and CKD units. Our impression is that there isn't any – panel gaps were consistent and there weren't any unpleasant rattles in our test cars which were admittedly fresh from the factory when we tested them. We will revisit this topic in greater detail if and when we get around to arranging for a lengthier test drive.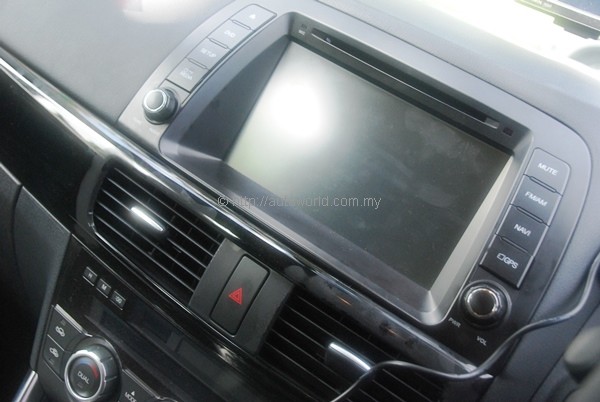 Mid Spec versions get a touchscreen too, but it is different from the ones in the High Spec.

Driving Experience
The standout quality of the CX-5's driving experience, and that of the Mazda6 as well, is a remarkable sense of mechanical cohesion on the move. The level of mechanical refinement that Mazda managed to engineer in its SkyActiv cars is extremely impressive, and the description of them being well-oiled machines is a gross understatement. After driving the CX-5, all the marketing talk about how the SkyActiv approach in designing every component in the vehicle to work in perfect harmony with each other feels very believable.
The locally-built CX-5's driving experience felt largely similar to the fully-imported model we tested last year, though its engine seemed slightly more responsive than what we recall of the CBU model, possibly due to the CKD's smaller rims subjecting the engine to less load. The engine does its best work in the mid-ranges and is faultless under part throttle applications. Brisk progress does require added effort to summon, however, and this is where the 2.5-litre variant can potentially come in to satisfy those who prefer expending less effort for access to brisk performance.
Front-wheel driven SUVs remain a relatively new concept, although one that is rapidly gaining popularity. However, in instances where an SUV was designed to be all-wheel driven from the start, FWD variants usually feel slightly less secure in their handling. The CX-5 does not have this problem as Mazda designed it with a 2WD variant in mind right from the start. As such, dynamic differences between the front- and all-wheel drive variants of the CX-5 are minimal at best, with the former enjoying significantly better fuel consumption. We reckon that the advantages of AWD in the CX-5 become significant only on slippery surfaces.

6-speed SkyActiv-Drive is a complete rethink of how to make a good torque converter transmission.

Verdict
As it was, Mazda already had a fantastic product with the CX-5 and the lower price tag as a result of this CKD project makes it an even more attractive purchase. The 2WD Mid Spec variant is a significant addition to the range, presenting the CX-5 as a viable alternative to value-conscious buyers who would previously have restricted themselves to Korean products. Those ready to part with more cash will find the High Spec variants equally worthwhile purchases.
Already boasting an assembly portfolio of various BMW and Hyundai models, the Inokom plant is quite capable of building vehicles of high quality. The CKD Mazda CX-5 does not disappoint in that respect and it retains the same level of build quality and driving feel as its Japan-made siblings.