2013 Honda CR-Z CVT Test Drive Review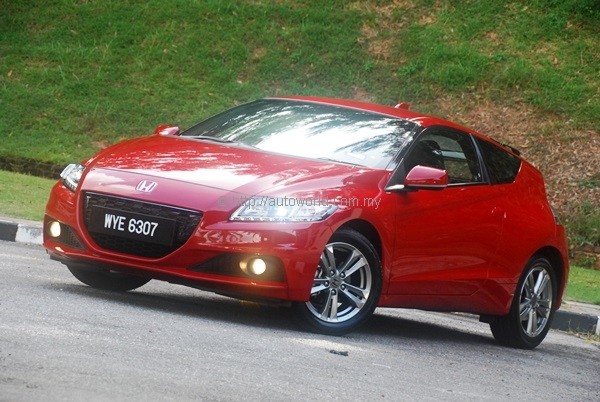 Since its launch in late 2011, the Honda CR-Z has been extremely well-received in our market. Initially offered with only a 6-speed manual transmission (the only hybrid in the world to do so), the CR-Z's popularity amongst Malaysians skyrocketed when the CVT variant was introduced mid-way last year, propelling it to top spot in the country's hybrid vehicle sales charts.
The CR-Z's success can primarily be attributed to the simple fact that it is a handsome and sporty-looking vehicle made affordable by the hybrid tax incentive that will expire this December unless renewed. It also handles superbly thanks to a well-balanced chassis and quick steering rack that makes it delightfully agile on winding trunk roads. There really is little to criticize about the CR-Z from a dynamic standpoint, but some reviews have criticized its 1.5-litre IMA hybrid powertrain as being gutless.
An updated version of the CR-Z was introduced earlier this year, featuring mildly-revised aesthetics and, more importantly, upgrades to its powertrain package and battery pack. We are not exactly sure if this qualifies as a facelift, but Honda did fly in Norio Tomobe, Large Project Leader of the CR-Z, to face questions from the Malaysian motoring media just before the revised model's launch. You don't send your chief engineer all the way here from Japan just to explain superficial changes.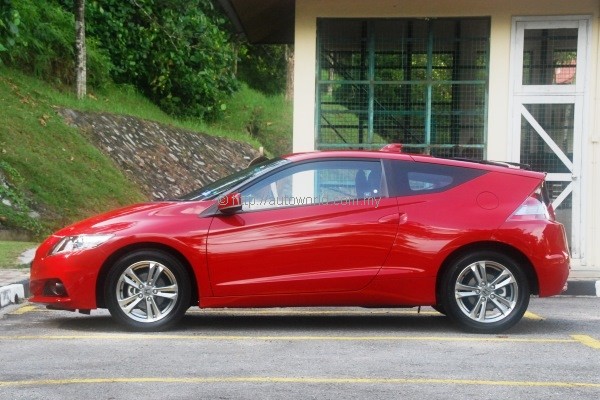 The side silhouette remains unchanged.

Prices & Variants
As before, the CR-Z continues to be offered in only one trim level, but buyers are given a choice between a 6-speed manual transmission and a CVT. Our experience with the pre-facelift model suggests the manual version to be the superior pick, but with Honda Malaysia's manual test car fully booked till August, we will have to make do with evaluating the CR-Z's credentials on the basis of the CVT model for now.
There is a price increase to report, as both variants now cost RM4k more than before. Our CVT test car is priced at RM123,000 with insurance, with its manual counterpart now going for RM119,000 under the same terms. The CR-Z benefits from the hybrid tax exemptions which will expire in 31 December 2013, and nobody knows what will be happening with regards to this incentive scheme beyond that date. It is worth noting that overseas, the CR-Z's price tag is usually plus-minus 20% of a Toyota 86 depending on country.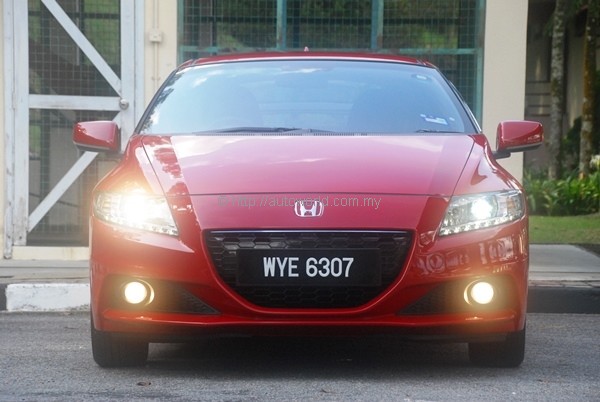 Note subtle changes to the front bumper.

Specifications
We never like reporting about price increases, but Honda has more than new bumpers to back its argument this time. Outputs have been boosted by significant margins, with power and torque increased by ten and three per cent respectively, resulting in figures of 133hp and 172Nm at the dyno. The gain in torque could have been higher, but Honda deliberate kept twist low to preserve the CVT's belt. As before, outputs of the CVT model are lower than the manual's.
Supporting the enhanced powertrain is a new lithium-ion battery, which is claimed to hold twice as much charge as the preceding NiMH pack. Overall dimension of the battery pack remains unchanged, but it now weighs lighter and its cells are spaced further apart for more effective cooling. It is also quicker to charge and discharge, ensuring that more power is available for the electric motor for longer durations of time.
As before, the CR-Z's powertrain electronic settings can be adjusted by a three-mode Drive System that allows the user to choose between Econ, Normal, and Sport modes, each with their unique throttle and transmission mapping patterns. Additional boost from the electric motor can be summoned 'nitro-style' by a Sport Plus button mounted on the steering wheel. We will discuss the effectiveness of this button later on in this review.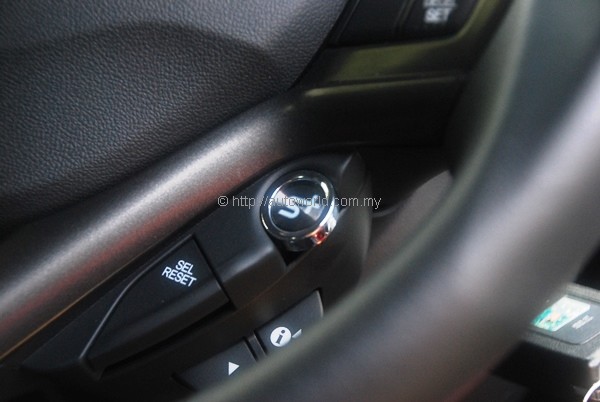 Sport button meant to give an electric nitrous boost.

Exterior
Compared to the substantial spec upgrades under its skin, Honda's tweaks to the CR-Z's exterior are notably minor and subtle. There are no new tail light clusters and the 16″ alloy rims are of an unchanged design, but Honda restraint in this respect is perfectly understandable – the CR-Z looks good enough as it is, why over-tinker a winning formula?
Aesthetic alterations are limited almost strictly to the bumpers. The front grille largely retains a similar shape, although the grille elements themselves have been changed to a honeycomb design. The fog lamp recess has been enlarged, and the front splitter now more pronounced. Astern, the rear diffuser element has been mildly reshaped, and there is now a painted strip running across the bottom, where previously it was fully unpainted.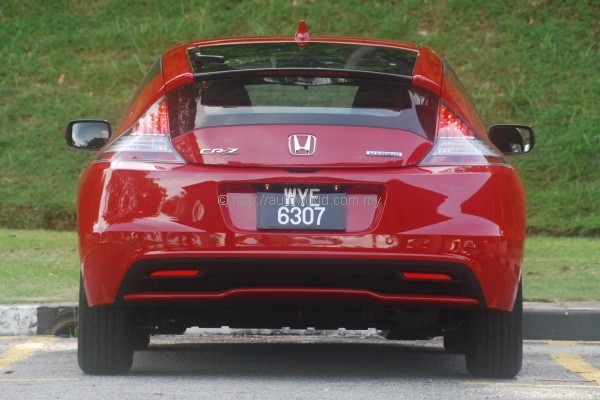 The rear diffuser element has also been subtly altered.

Interior
The overall architecture of the CR-Z's cabin has remained unaltered, but there was never any need to do so. The original design had spot on ergonomics with well-placed controls and ample small item storage spaces. If you disregard the rear seats, the CR-Z's cabin is decently practical to accommodate two travelers. Materials and build quality are on par with the rest of Honda's B-segment models, which essentially means decent but not ground-breaking.
There are a couple of minor tweaks to the control layout to report. First, activation of the fog lights have been migrated from the signal stalk to a button on the right flanking panel replacing the headlamp level adjust knob that was previously there. The aforementioned Sport Plus button is mounted on the steering wheel clustered together with the trip computer controls. The button carries a sporty enough appearance, although its positioning appears a distinct afterthought.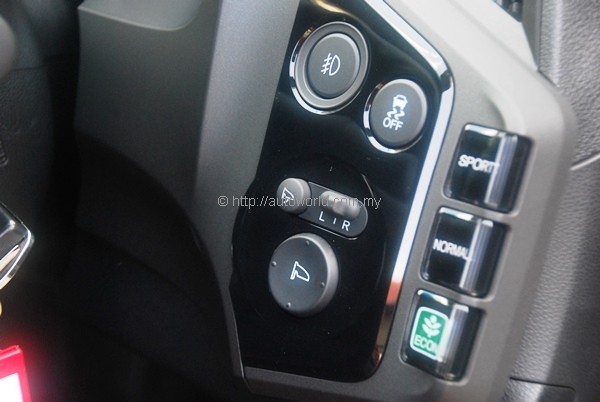 Fog light switch migrated to the dashboard.

Driving Experience
Honda made a big deal of the new lithium-ion battery pack and also the Sport Plus button on the steering wheel; so the clear message is that this new CR-Z should feel significantly faster than before. Perhaps it does, but any difference certainly escaped my attention. I will go as far as saying that it is not slow, but don't expect to be pinned to the seat when you accelerate off the traffic light. Pressing the Sport Plus button cajoled an added kick of acceleration, but not by convincing margins. The manual version with 134hp and 190Nm might yield more dramatic results.
The overall driving experience of the 2013 CR-Z is essentially a story of 'same-old same-old' with its 2012 predecessor, but that's not a bad thing as far as its ride and handling is concerned. Blessed with a steering sharp and quick, the CR-Z remains a delightful tool to wield on trunk roads, its nose obedient to your steering inputs. Ride quality is firm, but not fidgety, which translates to good composure over poor surfaces.


Verdict
The 2013 CR-Z does not give us much that is new to write home about – I personally fail to see the fuss about the Sport Plus button – though the new lithium-ion battery is perhaps worth highlighting. Of greater importance is that the overall driving experience remains largely enjoyable and as a whole, the CR-Z remains a worthwhile purchase, RM4,000 price hike notwithstanding.
Most of the same virtues and flaws that we've pointed out with last year's CR-Z remains valid with the current model – the CR-Z is a good-looking and fun-to-drive little sports car that is perhaps not very fast, but decently affordable and exceptionally good value, thanks to Government incentives. Better get one before they start taxing it again.