Volvo XC90 T5 Executive Test Drive Review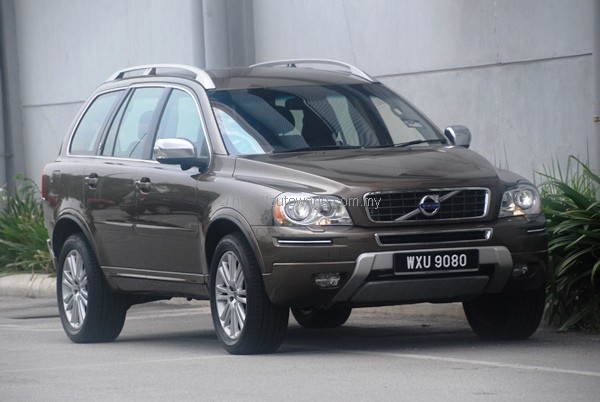 The Volvo XC90 turns 11 this year and in a typical product cycle, now would probably have been the time which the facelift of its successor is launched, but no. Although development for the second generation XC90 is well underway, it is still very far from being showroom ready. There aren't even spyshots of prototypes being tested in remote locations.
The large premium SUV market segment which the XC90 operates in is a relatively new chapter in the history of motorized vehicles, but because rivals such as the BMW X5, Mercedes-Benz M-Class, and Volkswagen Touareg have moved on to second generation models, Volvo remains disadvantaged amongst the competition.
Yet, the XC90 remains a strong seller for Volvo over 31,000 units sold worldwide last year. It is a far cry from the record-setting 85,000 units mustered in 2005, but it is a clear demonstration that this old horse has plenty of legs left.


Prices & Variants
Volvo gave the XC90 a bit of a botox treatment in January by introducing the new XC90 T5 Executive that is now being offered as the sole variant available in the Malaysian market. The diesel-powered D5 model that was introduced in 2009 has been discontinued, which is unfortunate, since diesel engines are inherently better-suited at dealing with an SUV's massive bulk.
Excluding insurance, the XC90 is priced at RM368,888 on-the-road, which is incredible value for a premium 7-seater SUV, and one loaded with as much safety kit as this one. There are dealer ads advertising pre-registered units at RM319,888. Pursuing such a deal should prove a very worthwhile endeavour.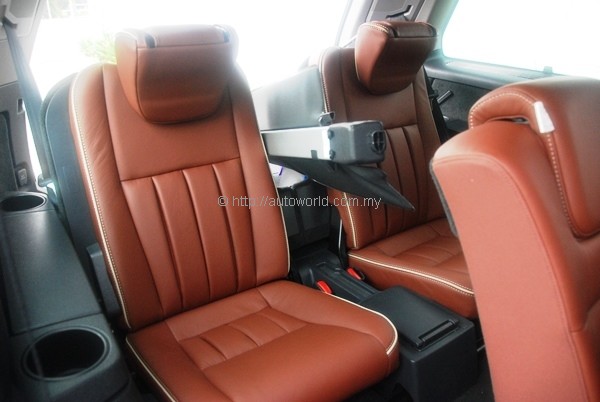 Third row seats two comfortably, but we were at a loss where to put the retractable tonneau cover.

Specifications
The XC90's mechanical bits are nothing to write home about, being practically unchanged since launch. As mentioned earlier, the diesel model's withdrawal leaves the turbocharged 2.5-litre five-cylinder mill as the sole powertrain option on offer serving out 210hp @ 5,000rpm and 320Nm @ 1,500 – 4,500rpm. Not exactly headline figures these days, but still promising enough on paper. These outputs go to all four wheels via a 5-speed automatic transmission with Geartronic manual override.
Worth refreshing our memories however, is the XC90's array of safety gear – beyond the usual assortment of airbags and various three-alphabet electronic driving aids. Although the XC90's age probably makes retrofitting some of Volvo's latest systems such as Active City Stop and Pedestrian Detection prohibitively difficult (read: very expensive!), the XC90 remains, safety-wise, one of the most comprehensively equipped vehicles in the business.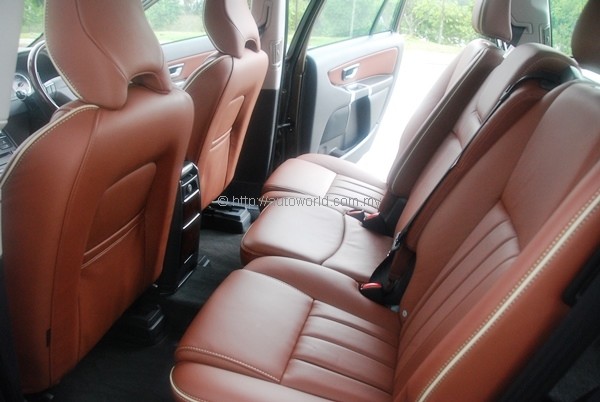 Second row seats feature forward-backward adjustment.

There is Blind Spot Information System (BLIS), Active Bending Lights, side airbags, and Whiplash Protection System (WHIPS). Most deserving of our attention would be the concealed lower cross-member attached to the front suspension subframe that is designed to activate the crumple zones of lower sitting cars in a collision. Far from designing cars to merely ace Euro NCAP tests, Volvo took the effort to design one that took care of the other car as well.
The XC90 is in fact Volvo's first-ever SUV and for a first time effort, Volvo demonstrated commendable awareness to address the increased risk of rollover that comes with the vehicle's raised ride height. Roll Stability Control is included in the comprehensive complement of electronic nannies, and when the laws of physics finally prevails, Roll Over Protection System (ROPS) gives you a fair chance at crawling out of the wreckage unscathed.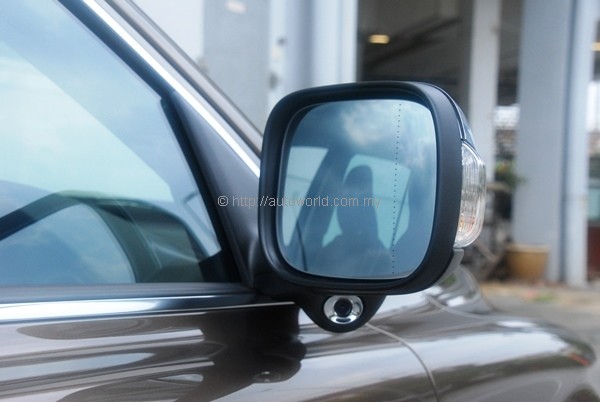 Side mirror with BLIS camera.

Design
Time has been very kind on the XC90's shape. No doubt it hardly looks as fresh as the XC60, but it is by no means a tired-looking design. The XC90's basic shape has a timeless quality and Volvo applied just enough aesthetic tweaks – the clear lens headlights and LED tail lamps play a big role in this – to about ensure that it does not look like a car from the previous century.
Despite its size, the XC90 does not project a bulky appearance, its overall silhouette resembling a large estate rather than an SUV. This is perhaps unsurprising, considering Volvo's lengthy heritage of wagons, and it is clear that this history had a strong influence in the XC90's design.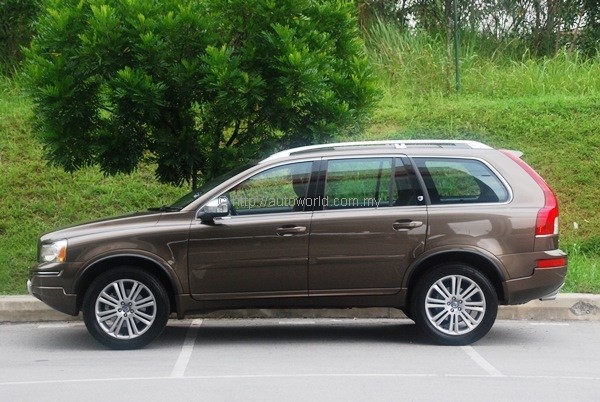 The XC90 measures just over 4.8m stem to stern.

Interior
Stepping into the XC90's cabin, one is immediately reminded of the considerable years that has lapsed since the model's global debut. To be fair, the issues are more aesthetic than functional, so there's actually little wrong with the cabin, but it is also clear to see that it did not age as well as its exterior. The absence of even the most basic iteration of a colour screen is the clearest indicator of the XC90's advancing years, and neither are we accustomed to twisting the key in a car at this price range anymore.
Overall build quality is nevertheless decent and there is enough room to comfortably accommodate seven on board for medium-length journeys, with the provision that those perched on the forward/aft-adjustable second row seats give due consideration to legroom for the folks seated at the back. The overall seat comfort levels are good, but they lack lateral support, a fact which this writer discovered whilst examining the XC90's handling credentials on the way up Genting Highlands.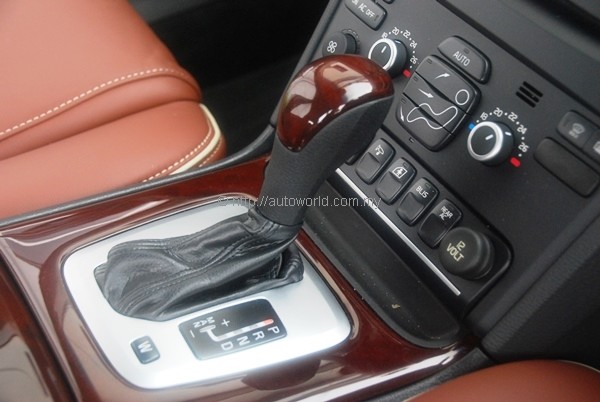 5-speed auto transmission produces decently smooth if not particularly quick shifts.

Driving Impressions
The engine room is another area where the XC90's age is showing. Despite quoting the full availability of peak torque from 1,500 to 4,500rpm, the XC90 does not deliver the kind of neck-snapping acceleration that we've come to expect from modern turbocharged engines. Although the XC90's 2.5-litre five-pot is turbocharged as well, it dates back to the earlier days of Europe's forced-induction renaissance and consequently lacks the polish and punch of VW TSIs, BMW TwinPower Turbos or Ford EcoBoosts.
Straight line performance of the XC90 is best described as just about adequate for urban and highway driving, but the automatic transmission's five ratios are not particularly well suited for brisk hill-climbing runs, especially for downhill stretches where second gear is too low and third a little too high.
The XC90 will not cause too much problems for its rivals on the handling front, but one aspect that will be appreciated is how it does not feel its size – meaning it is not a cumbersome vehicle to drive, even if it is nowhere near as agile as a BMW X5. The winding roads of Bukit Tinggi may not be the XC90's natural habitat, but navigating MidValley's tight parking lot proved a lot less intimidating an experience than it was with the Volkswagen Touareg, which incidentally shares a similarly-sized footprint.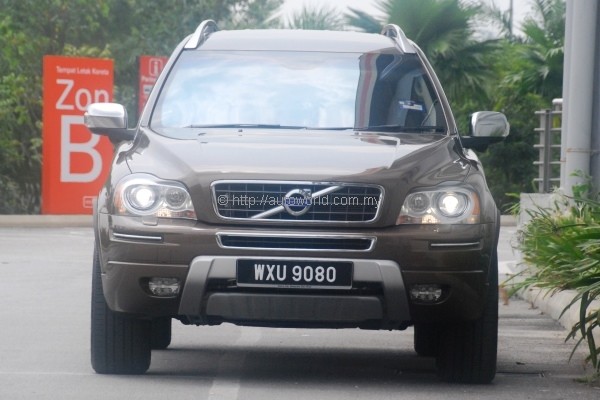 Despite its considerable size, the XC90 does not have an imposing presence.

Verdict
By all accounts, the XC90 should really be considered as a product that is way past its sell-by date, but it curiously remains relevant, perhaps because no one else has made a product that matches its brief more closely. It really is a unique product sitting in its own niche amongst 7-seater SUVs – too expensive and classy to rival a Toyota Fortuner, but neither refined nor luxurious enough to take on a Land Rover Discovery.
Another aspect of the XC90's success that most certainly deserves mention is simply how Volvo got all the basics of this car spot on right from the start. It may no longer be a segment front runner, but this is still a car that does many things right, chiefly ferrying seven people in cocooned in relative comfort and safety to their destinations. Volvo may have asked too much of its stalwart to soldier on for this long, but we must give the XC90 credit for managing it as gamely as it has.