Mazda3 MPS Test Drive Review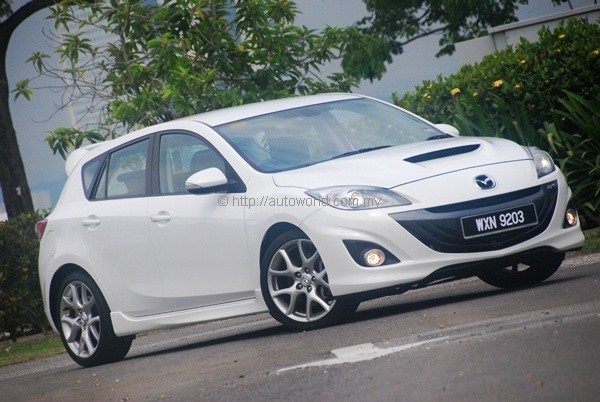 The prevailing trend of engine downsizing these days is making the time-honoured practice of shoe-horning large powerful engines into pint-sized cars as a recipe for fun become increasingly less fashionable. Six-cylinder engines are making way for four-cylinder turbos, and V8s are being replaced with smaller and more compact V6s.
As such, cars like the Mazda3 MPS are a dying breed, and for all its shortcomings, of which there are a few, this is a car which we will genuinely miss once its product life cycle comes to an end. It is highly unlikely that we will be seeing too many C-segment vehicles rolling out with anything bigger than two litres in the future, much less a 2.3-litre turbocharged engine like the one used by the MPS.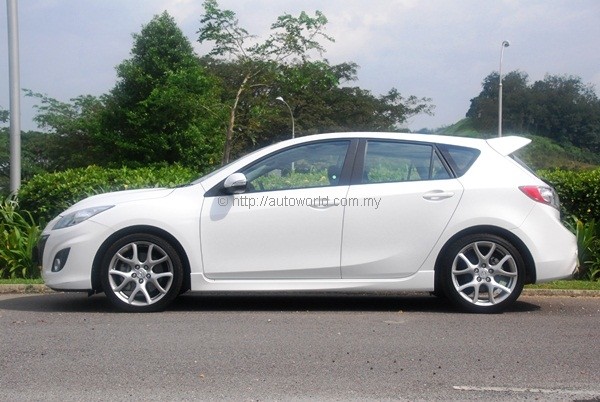 Aesthetic enhancements over the standard Mazda3 are subtle, but enough to project its added power.

Weighing not significantly more than a standard Mazda3 2.0, the MPS pushes out substantially higher outputs, with 255hp and 380Nm going to the front wheels via a 6-speed manual transmission. Yes, you read it correctly, all that power going to the front wheels. Without some seriously competent chassis tuning, it is, on paper, a recipe for disaster.
The reality is thankfully, not quite a disaster, but the MPS is still quite a handful with torque steer just a flick of the throttle away. It is a car you need to wrestle with and it doesn't even bother to pretend being civilized – its ride is stiff and power delivery is brutal, although it is actually not as quick as it feels. There were a number of occasions which I found myself grossly overestimating my actual speed before a glance at the speedometer brought me firmly down to earth. It is properly fast, the MPS, but often it feels faster than it actually is.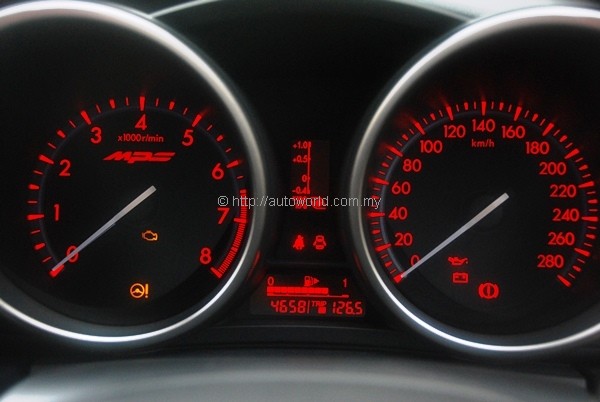 A boost indicator sits in between the speedometer and tachometer.

The MPS is clearly not a vehicle to be driven sedately around town – the standard Mazda3 is way better suited for that. In fact, it is also hardly the ideal weapon of choice to tackle anything other than an immaculately surfaced road. Whilst the stiffened suspension undoubtedly keeps body roll to a minimal, the setup lacks overall pliancy to keep it composed over undulations, which means you are never quite confident of fully flexing its muscles out in the real world.
And it does have considerable muscles to flex – the engine pulls strongly from down low and continues relentlessly until its red line. The previous generation MPS, which we never received here in Malaysia, was heavily criticized for its brutal torque steer. While Mazda claims that they have set out to rein that characteristic in, it is obvious that they weren't trying hard enough – our advice is, be careful and hold the steering tight if you ever decide to bury the throttle.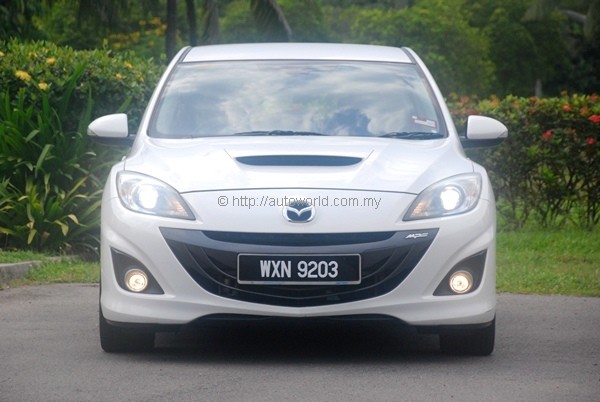 The bonnet scoop is a clear indicator that this is no ordinary Mazda3.

Simply put, driving the MPS is a very involving experience; the car asks a lot from its driver, and you'll either like it or you don't. The mere mention of manual transmission is enough to scare many urban drivers these days and in the MPS' case, a high-biting clutch makes smooth shifting difficult to execute at times. The shifting action itself is satisfactory; not Type R slick, but reasonably smooth and precise albeit with longish throws.
In the grand scheme of things, the brutish MPS competes against a crowd of highly refined and polished hot hatches such as the Golf GTI, Focus ST, and Megane RS. Compared to these precision instruments, the MPS is a wild animal that requires substantial effort to be tamed. It is not a car for all tastes, but it is one of those cars that just add much needed colour to the motoring world, and whose existence should indeed be celebrated.