Hyundai Veloster 1.6 M/T Test Drive Review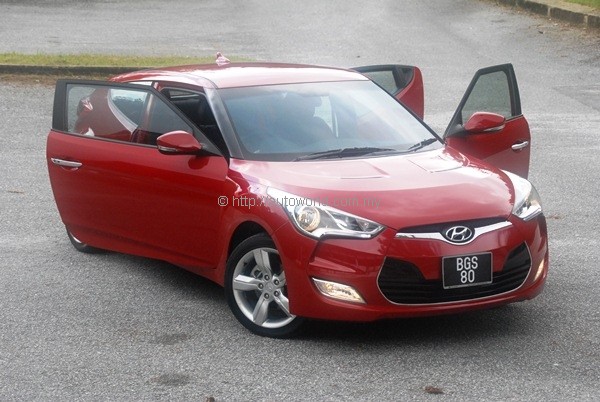 Besides making your average four-door sedans and SUVs, Hyundai has always enjoyed the odd stab at making sporty coupes. There were three generations of the Hyundai Coupe and like their unimaginative names, the cars were nothing much to shout about, and were often mocked by the badge snobs.
Still, Hyundai is nothing if not persistent and with its brand image on the rise, the company decided that another attempt at the coupe market is in order. Starting from a clean slate, Hyundai's latest effort is more grandiosely named the Veloster and it is built with significantly more imagination and verve than its forebears.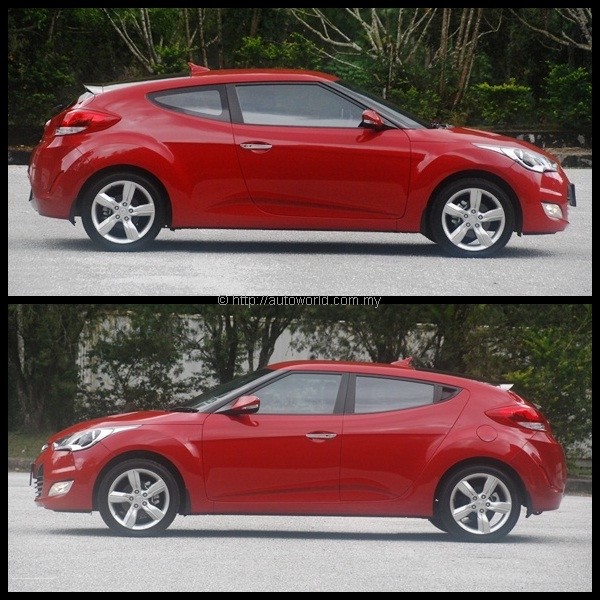 The Veloster is a coupe on the driver's side, and a hatchback on the passenger's side.

Prices & Variants
The Veloster goes smack against the popular Honda CR-Z in terms of pricing, with RM116,901.50 the money needed for you to have it in the standard manual transmission spec with insurance. Automatic transmission is a RM5,000 option, and the even better-appointed Premium model completes the range at RM132,901.50 with insurance.
Our review today focuses on the manual version, and equipment for the money gets you dual airbags and ABS to take care of safety with a touchscreen audio system, steering-mounted controls, keyless entry, push start button, and powered side mirrors for creature comforts. Reverse camera, a necessity for this car considering its narrow rear vision, is unfortunately omitted and only available in the Premium model, which we are scheduling for review at a later date.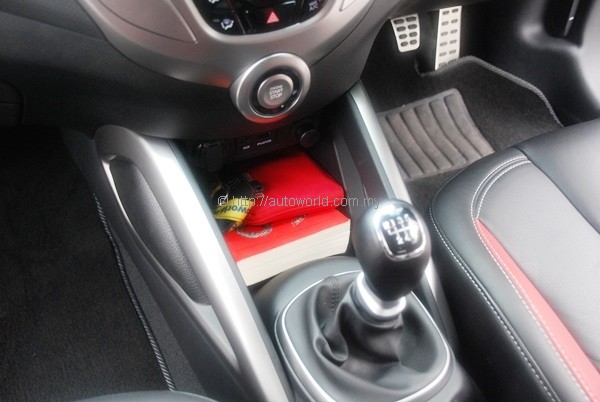 This centre console storage bin is big enough to swallow a whole novel.

Specifications
Hyundai has built the Veloster on the Elantra's platform, but with its wheelbase slightly shortened from 2,700 to 2,650mm. Suspension consequently follows the same architecture – we may hanker for proper all-independent suspension, but Hyundai has decided that the simpler torsion beam rear layout with separate springs and shocks would suffice. Front end sits on MacPherson struts. Disc brakes all round are standard fit.
The Veloster's global engine catalogue only offers engines in 1.6-litre displacements. Low fuel quality makes direct injection technology is a non-starter in our market, and the result is that the Veloster will have to make do with the naturally-aspirated Gamma II MPI engine that we've already grown familiar with in the Elantra and Kia Forte. Outputs are marginally higher than the Elantra's, being quoted at 130hp and 158Nm, produced at 6,300 and 4,850rpm respectively.
(Editor's Note (24 Mar 2013): Although other car makers have went ahead and introduced direct injection technology in our market, Hyundai remains conservative in this respect and for now has chosen to withhold it's own line-up of direct injection engines from markets with high sulphur fuel.)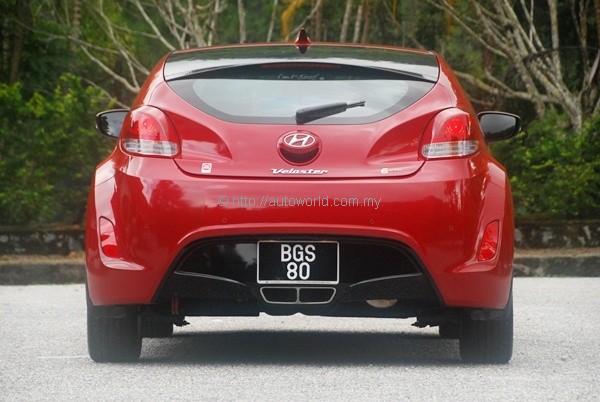 Rear bumper has aggressive diffuser element.
Design
The Veloster aims to be two vehicles in one. It is a coupe on the driver's side and a hatchback on the passenger side. Unlike the case of the MINI Clubman, the Veloster's asymmetrical door arrangement is appropriately flipped based on driving position. This essentially means that Hyundai took the effort to design two unibody variations for LHD and RHD markets.
Hyundai's latest generation 'Fluidic Sculpture' styling continues to rule the roost on the Veloster's bodywork, and whilst opinion may be split on its appeal, we can all agree upon the fact that it is not a boring design. Its silhouette is reminiscent of the Renault Megane, and the slits at the edge of the front bumper has a more than passing resemblance to the Citroen DS4. Some critics suggest that the overall fussiness of Hyundai's current styling language may not last the test of time, but the company certainly deserves credit for its overall boldness.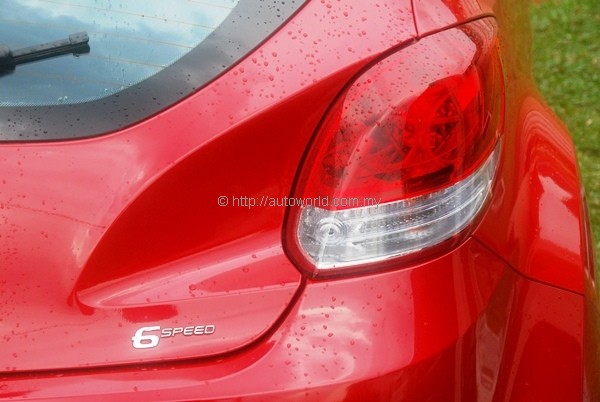 Tailgate is sculpted to highlight the tail lamps.

Interior
Recent Hyundai cabins have consistently delivered in both style and build quality but not entirely convincing in terms of ergonomics. It is somewhat ironic then, it is the Veloster that addresses this issue most convincingly. Granted that access to the rear seats and rear headroom is somewhat compromised, but the fact is that you can still fit two averaged sized adults at the rear for short trips, which is more than what we can say for the Honda CR-Z.
Controls on the centre dash are easy to use and well laid out; whilst small item storage is way better than what's available in the Elantra. The deep storage bin ahead of the gear lever is particularly appreciated, it being big enough to swallow a whole book along with my portable hard disk. Overall, there are plenty of spaces for you to deposit your keys, cards, phones, and loose change.
Despite missing out on satellite navigation and reverse camera, the dash-integrated touchscreen unit is worth highlighting. Interface of the unit is crisp and displays legible, making it quick and painless to operate. It is notably smoother and more polished than the locally-sourced alternative that is fitted in the Elantra 1.8. The absence of GPS is actually not a big deal, but in the interest of safety, we wish to reiterate our calls for a reverse camera.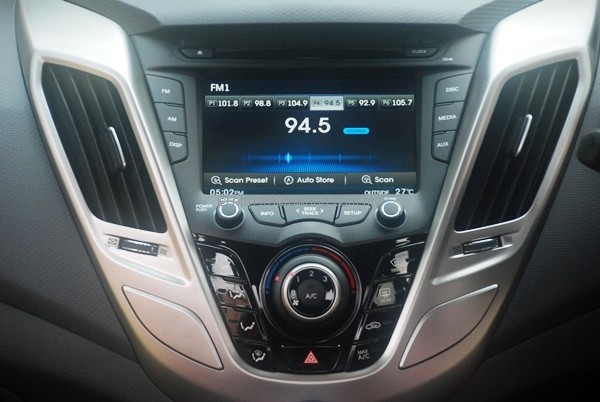 Unlike in the CKD models, the Veloster's touchscreen comes from Korea. Operation is smooth.

Driving Experience
This is where many Hyundais have fallen flat in recent years. Despite making great strides in design, engineering, and reliability, Hyundai's chassis handiwork still lacks finesse many a time delivering setups neither taut enough to handle sharply nor pliant enough to ride comfortably. The Veloster is a very pleasing departure from that norm, delivering a well-balanced blend of handling and comfort not seen in a Hyundai test car since we drove the i30 in 2010.
While the Veloster's electric steering rack is neither as quick nor as feedback-rich as the CR-Z's, its chassis has a pleasing fluidity and poise that allows it to flow fluently from corner to corner. It is a very satisfying handling setup achieved with very minimal sacrifice in ride comfort. If Hyundai were to reproduce this kind of dynamics in its mainstream models, cars like the Elantra and Sonata will become significantly more formidable.
Outright speed is not the Veloster's game, although it must be said that the Gamma engine here feels a little bit more pleasing to rev than it does in the Elantra. It is a competent but unremarkable powertrain, although mid-range pull is actually rather good – it will drag you out of corners in third gear with minimum fuss. The 6-speed manual gearbox, meanwhile, is a delight to operate with short and precise throws.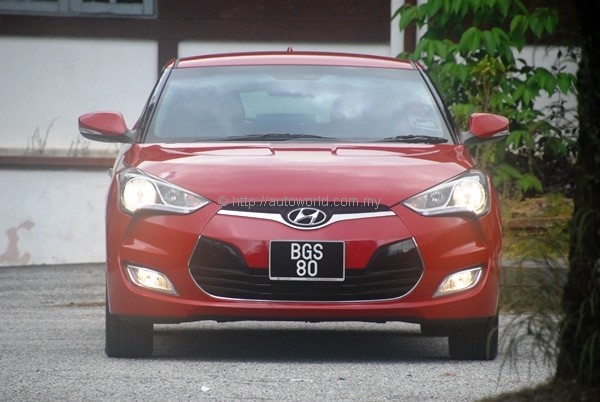 In the Veloster, we have a Hyundai that drives as well as it looks.

Verdict
With the Veloster, Hyundai is keeping up its recent trend in offering vehicles of great value and aesthetics, the difference this time being a driving experience that lives up to its hype and measures up to the vehicle's looks. Whilst not at the Ford Focus' lofty standards, the Veloster's ride and handling package is a great revelation and significantly raises the bar from what we typically expect of Hyundai vehicles.
Despite being a niche product, we see the Veloster as another crucial milestone in Hyundai's relentless upward march in the automotive food chain. Beyond delivering good value for the masses, the Veloster is a demonstration of Hyundai's confidence and intent of the company growing beyond just volume and value-for-money, but incorporating desirability as well. Affordable desirability, of course.