Perodua maintains 2012 sales target despite challenging year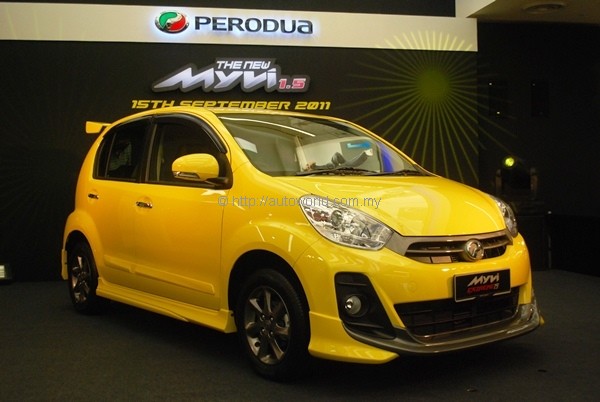 Having sold 155,400 vehicles in the first ten months of the year, Perodua remains confident in hitting its targeted sales of 188,000 units for the year of 2012. This bullish outlook comes despite a recent hit in sales caused by the tightening of credit terms by Bank Negara and also uncertainty on future car prices prior to the Budget 2013 announcement in September.
Speaking at a media briefing held in Phuket, Thailand, Perodua Managing Director Datuk Aminar Rashid Salleh noted that although there was a strong year-on-year increase from the 145,800 units sold in Jan-Oct 2011, a more accurate comparison of this year's sales figures would have been against the corresponding period of 2010, when 157,167 Perodua vehicles found homes.
Like many manufacturers in the region, Perodua's production in 2011 was badly hit by the Japan tsunami and Thai floods which choked supply chains for everybody and resulted in an industry-wide sales drop from which even Perodua was not spared.
For 2012, Bank Negara's responsible lending policy hit Perodua badly, particularly for buyers of the Viva, as many of them do not have sufficient credit rating to warrant good financing terms. As such, there was a period where a huge number of loan applications were rejected, resulting in a drop in sales.
Aminar stressed that Perodua was fully supportive of the responsible lending policy, but the early days of the policy's implementation caught many of the company's sales staff unprepared with the tightened terms. As such, Perodua has responded by instructing its own sales personnel to better understand the new financing terms, and conduct their own screening of the customer's credit worthiness before submitting loan applications to the bank.
Another factor that impacted car sales in the months leading up to September was rife speculation of a possible decrease in car prices after Budget 2013. The situation once again created an industry-wide decline in sales and Perodua was similarly caught up in the wave. Bookings notably picked up after the Budget's announcement as sales returns to normal levels.
Breaking down the company's overall sales figures, the ever-popular Myvi once again leads the way, with a total of 74,300 units sold in Jan-Oct 2012. Aminar pointed out that contrary to company expectations, sales of the 1.3 and 1.5-litre variants were split in a 50:50 ratio. The Myvi consistently averages 7,500 to 8,000 sales per month for Perodua, and in recent months, the Alza has also come strong, constantly pulling in more than 4,000 sales per month.
The Myvi is also performing strongly overseas as well. In Indonesia, where it is badged as the Daihatsu Sirion, the Myvi now constantly rakes in 500 sales per month. This is a significant increase from the monthly average of 150 units that the first generation Myvi used to achieve. Perodua's total annual exports currently stand at 8,000 units.
Recognising the need to shift over 30,000 cars over the next two months in order to hit its target, Perodua is embarking on a series of customer-specific campaigns in order to more effectively market its products. The currently running 'jik-tak-logy' series of advertisements, for example, are directed at Chinese-speaking consumers, playing on the Cantonese term 'jik-tak' meaning value for money.
Another campaign specifically targeted at younger buyers is the 'What's Up Graduate' programme, which lays down attractive financing terms for students and graduates looking to purchase their first car. Initial response is said to be good, with 300 bookings already collected under the scheme so far. Currently, the programme has largely been taken up by undergraduates for the Myvi 1.5.
On the after sales front, Perodua sees a huge scope for possible improvement. Only 30% of owners remain with the official service centres after expiry of their warranty periods, and there are even owners migrating to external workshops even while their vehicles are still under warranty. Realizing that its customers are among the most price-sensitive in the market, Perodua has been embarking on serious efforts for many years to recapture its servicing market share, which has been on an upward trend since 2006, a trend which Aminar credited to the contributions of his predecessor Datuk Syed Abdull Hafiz.
Moving forward, Perodua is also actively growing its Body & Paint services over the last two years, with a new RM1.5 million B&P hub in Balakong situated adjacent to the existing service outlet in the area set to be the newest addition to the after sales network.
Customers on the lookout for more affordable parts are now offered the option of a second 'Pro-Ganti' brand, which offers comparable quality and performance to original parts but at a fraction of the price. According to Aminar, 'Pro-Ganti' parts go through the same stringent tests as per Perodua original parts, but are designed to operate over shorter lifespans.