Hyundai MD Elantra 1.6 A/T Test Drive Review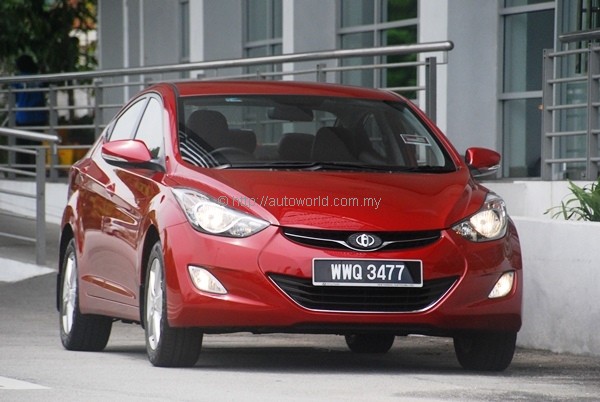 As the well-documented surge of Korea's automotive industry enters maturity, we are now seeing the arrival of wave after wave of increasingly attractive products from the likes of Hyundai and Kia in our shores. Although most people won't fork out Toyota Camry money for a Sonata, Hyundai's current combination of bold design, generous equipment, and competitive pricing has seen no shortage of takers.
Sales numbers don't lie, and the 5,000 bookings that Hyundai picked up for its all-new MD Elantra during its first three months here in Malaysia is indicative of strong positive consumer sentiment towards the product. And what's there not to like? In its 1.6 High Spec guise as tested here, the Elantra can be yours for just RM98,888 with insurance. That's superb value for money even if you take into account that your car's registration card will carry the Inokom rather than Hyundai name.


We will review its 1.8-litre sibling at a later date, but at the level of our test car, standard equipment already includes keyless entry and start, dual airbags, USB/AUX-IN connectivity, steering-mounted controls, stability control, all-round disc brakes, leather trim, and multi-function trip computer display. On the price vs specs argument alone, our test car's 1.6 High Spec trim is certainly the pick of the range.
Mechanically, the MD Elantra is a clean slate departure from its predecessor. Independent rear suspension has been dropped, being replaced with the more cost effective torsion beam layout. It is an acceptable, although not warmly welcomed compromise, but as they say in life, you win some and lose some. Most consumers won't be too concerned (or even aware) about losing independent rear suspension, but will instead be pleased by gaining better equipment and specifications, both of which Hyundai has delivered. At least you aren't seeing drum brakes behind the rear wheels.

Bold curvy lines define the Elantra's shape.

Other than cost, the use of torsion beam suspension also offers packaging benefits, taking up less space than a multi-link setup. This has allowed Hyundai to free up generous leg room for the Elantra's rear passengers, but less impressive is its 420-litre boot space and 48-litre fuel tank, neither of which are particularly outstanding in the C-segment. Split-folding rear seats allow boot space to be extended, but the small fuel tank is especially unfortunate, giving the Elantra an unremarkable cruising range of barely more than 400km between refills.
In the engine room, Hyundai has deployed the 1.6-litre Gamma engine to do its bidding in the Elantra, sending 128hp and 157Nm to the front wheels through its in-house developed 6-speed automatic transmission. As an aside, the 1.6 Standard model is offered with a 6-speed manual option, so the very few stick shift lovers left in the country should take note.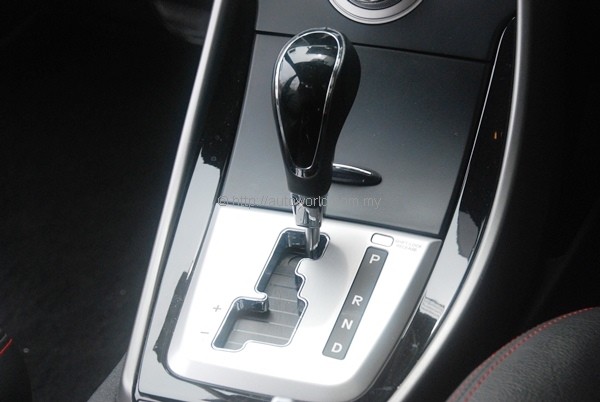 6-speed automatic is an in-house contraption. Maintenance free.

Although powertrain figures appear competitive for a 1.6-litre engine, we've been fooled way too often by Korean spec-sheets in recent years that promise spectacular numbers only to deliver ordinary performance on the road. The Elantra 1.6 didn't disappoint us in this aspect, but then again, nobody expects fireworks when you only supply 128 horses to shift 1.2 tonnes of metal about. On the whole, performance is adequate, and the engine's willingness to be worked allows the Elantra to be propelled at a reasonably brisk pace, at the slight expense of top end refinement.
Despite its relative success in catching up and overtaking the Japanese in terms of design and features, Hyundai has yet to achieve the same level of maturity in its ride and handling department. There were exceptions like the i10 and i30, but recent Korean cars in general, notably the Sonata, had the unfortunate habit of riding too stiff without any benefits in handling.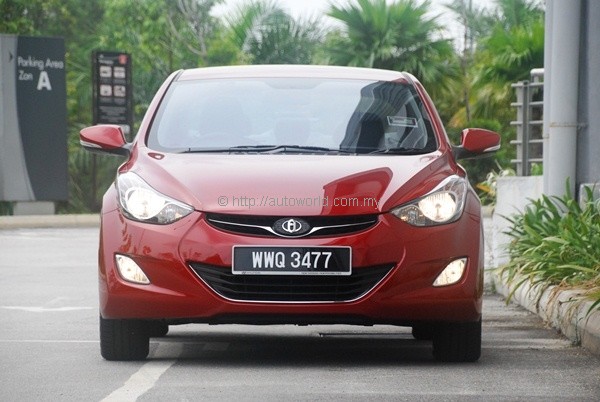 Fluidic Sculpture the definitive look of modern Hyundai vehicles.

The Elantra bucks this trend somewhat with a reasonably pliant suspension that does a good job soaking up road imperfections. Handling and stability remains suspect, however, with bump steer a notable problem in hard cornering maneuvers. The car also does not feel planted at high speeds, and not helping matters is an over-assisted electric steering that delivers barely discernible feedback. My very first tight U-turn after collecting the car proved quite a shock when I turned the steering full force without being greeted by any resistance.
There are many good reasons which you should consider the Elantra as your next purchase, although dynamics is certainly not be among them. We reckon the Elantra's looks alone has helped Hyundai ship a few cars out, and its affordable price tag certainly helps the case. Additionally, the improving stature of Korean brands among Malaysian consumers mean that poor resale is no longer a reality for owners. The Elantra offers good value for money, and the good news today is that you can expect to retain a greater portion of that value when you sell it.


Further Details:
– List of Hyundai dealerships in Malaysia
– Hyundai cars official prices and specifications in Malaysia
– Hyundai MD Elantra official prices and specifications in Malaysia