Proton Prevé CFE Test Drive Report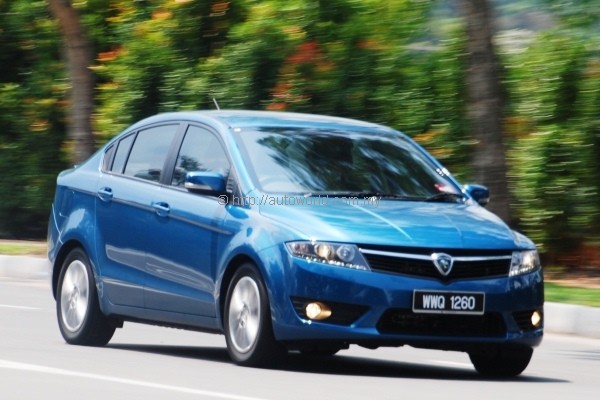 Without question, the Prevé is the car that will make or break Proton's fortunes in the coming years. It is a model for which failure is simply not an option, and one which has huge expectations to live up to. Simply put, the Prevé is the car that signals Proton's coming of age in the industry. It is a Proton that will set new standards.
But this is not the first time that we've been promised a Proton car good enough to play ball with the very best. Many Malaysians had bought the same promise from Proton when they put money on the Waja and Gen.2, only to be burned by quality problems and end up swearing off the brand for life. Although problems were largely solved with later batches, damage to consumers' confidence was sufficiently severe that once Perodua took over top spot in the national sales charts, Proton never got it back.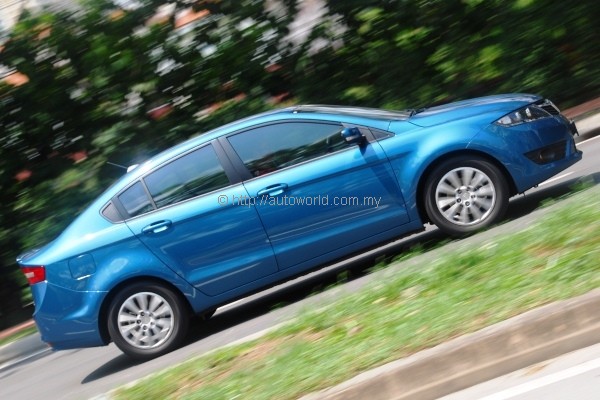 Composure at speed is excellent. Proton has once again delivered in the ride and handling stakes.

So, does the Prevé deliver the goods, or is it another bundle of empty promises? Well, to start with, the vibes are more positive this time. Those of you who watched the Prevé's launch live on national television would definitely not have missed the lively and energetic product presentation conducted by former MD Dato' Sri Syed Zainal. I ain't kidding you when I say that it was the most engaging and inspiring product presentations I've ever sat through in my career, and I've sat through many.
The belief and conviction imparted by DSZ in what was his last product launch at the helm of Proton has fueled confidence that the Prevé is indeed a product to be taken seriously. To start with, the ingredients are promising. The Prevé's features and equipment may not exactly be class-leading, but they match up well with segment benchmarks and some of them are items previously unheard of in Proton cars, even in the Inspira, which occupies a higher price bracket.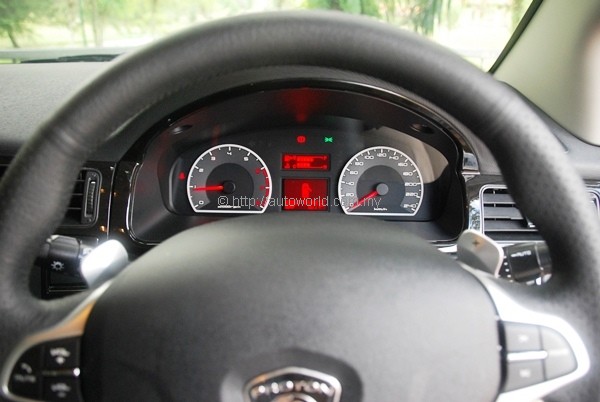 Paddle shifters and Optitron instrument panel.

The Prevé lines up with three variants, and across the board, standard equipment includes ABS, EBD, dual airbags, front active head rest, anti-pinch driver power window, steering-mounted controls, remote boot release, and rear fog lights. At the level of our range-topping Premium CFE test car, additional items include stability control, traction control, side airbags, ISOFIX, auto climate control, starter button, cruise control, auto wipers, auto headlights, auto folding side mirrors, paddle shifters, and GPS navigation.
That's a generous amount of kit, and when the sticker price reads just RM72,990 with insurance, the package sounds pretty compelling. It further helps the case that the Prevé is quite a looker, its shape defined by sleek clean lines. Cabin aesthetics are similarly pleasing, and although build quality can still be worked on, Proton has at least learned enough to finally avoid repeating amateur ergonomic errors that plagued the Waja and Gen.2 cabins. Important controls are within easy reach and painless to operate, while instruments are clearly legible. No awkwardly placed switches that require contortions of your arms to operate.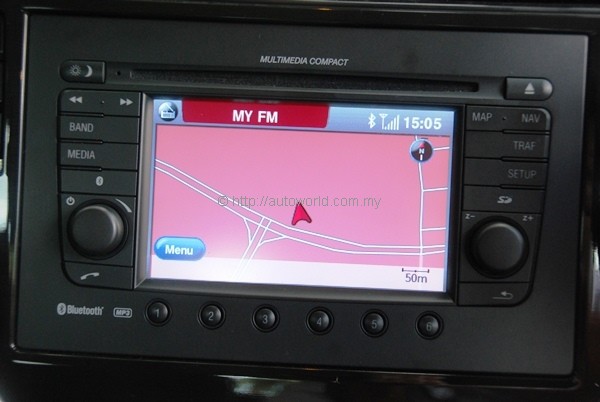 2 DIN multimedia unit is standard equipment for the CFE.

Internal spaces are also very well-packaged. Rear passengers enjoy generous leg and shoulder room, and the boot is cavernous with 508 litres at your disposal. The use of cheaper gooseneck hinges as opposed to the more compact pneumatic struts as found in the Persona eats a little into that space, but you do have 60:40 split-folding seats to expand your cargo hold if needed. For your further convenience, the CFE variant even comes equipped with remote-operated boot release. Don't bother finding for the button on the key fob though, this feature is activated by holding on to the 'unlock' button for several seconds.
Another peeve to pick with the interior would be the engine start/stop button, which is undoubtedly nice to print on brochures, but ultimately of little use in real life. Push-start buttons are pretty pointless if they are not accompanied by keyless operation, and what's worse is that the mandatory action of inserting the key into the designated slot requires a bit of finesse. Push it in too hard, the key pops right back out. The auto-folding mirrors could also do with better execution – they auto fold when you lock the doors, but do not auto unfold when you unlock. Apparently, the mirrors only deploy once the car is on the move above 5kph, which hardly sounds right, as you would probably prefer to check your mirrors' alignment before driving off.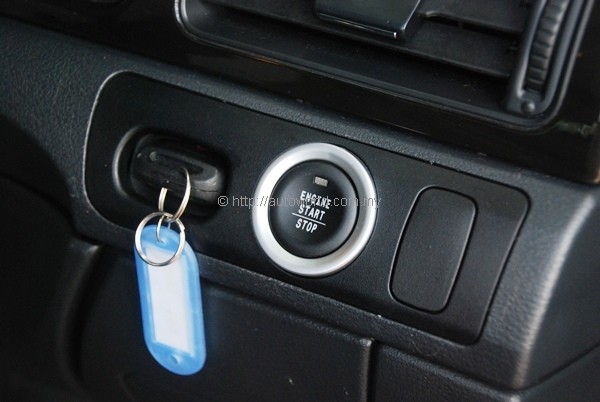 Push-start button is a little clumsy in operation.

Moving on to the juicy bits, the Prevé is offered with the option of two 1.6-litre engines of the Campro family, and powering our test car here is the turbocharged CFE version pushing out 138hp at 5,000rpm. Proton has yet to tackle direct injection, but the CFE comes further equipped with intake variable valve timing, and this helped to spread peak torque of 205Nm over a window spanning from 2,000 to 4,000rpm – sufficiently covering up the base Campro's notorious mid-range torque dip.
A manual transmission combined with this engine will probably be the theoretical sweet spot of the range, but if you wish to enjoy your Prevé with the joys of turbocharged power, your only means of sending that grunt to the front wheels will be the Punch CVT that Proton has earmarked to replace the aging Mitsubishi 4-speed auto that it has been using since the Waja.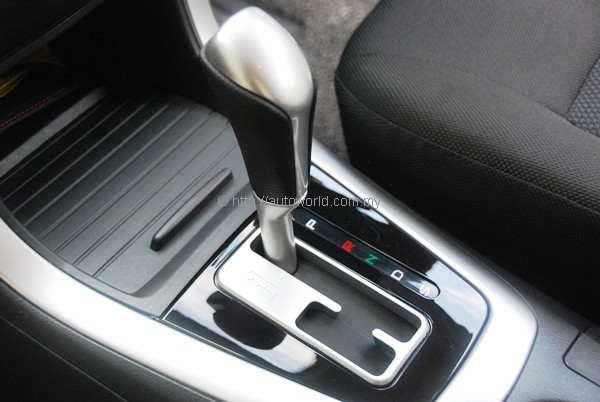 Proton still has a long way to go in refining its CVT.

On the move, we found this combo to deliver adequate if unspectacular performance. Despite promising outputs, it appears that Proton has opted to bless the Prevé with a throttle mapping that is best described as gentle. Take off from standstill is leisurely, and even if you decide to give it a bootful of throttle at the traffic lights, the Prevé does not exactly leap off the line. It's not underpowered to be sure, but progress is extremely measured and linear. This characteristic is perfect for drivers who value serene progress, but those expecting MINI Cooper S levels of acceleration will be disappointed.
One of the Prevé's greatest strengths is most definitely ride and handling, an area where Proton demonstrates remarkable maturity beyond its years. Spring and damper rates can only be described as spot on, as the suspension maintains a dream combination of firmness and pliancy. The result is superb body control and agility married with a firm yet supple ride. It is a balance that very few car makers manage, and if any members of the Prevé's R&D team earned their yearly bonus, the chassis engineers should most certainly be the first in line.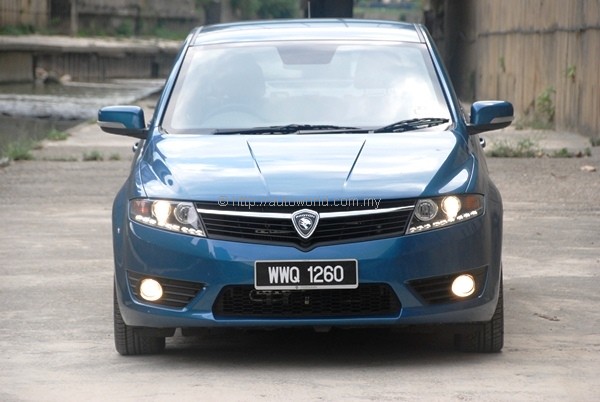 Row of LEDs are position lamps and not daytime running lights.

Also deserving of a generous appraisal would be the NVH engineers. If there is one area in which the Prevé is greatly improved over past generation Proton cars, it would be noise levels. Although the engine kicks up quite a fuss when revved, wind and road noises are kept well at bay, leaving a peaceful and serene cabin for occupants to enjoy at highway speeds. Overall, the Prevé serves up a rather positive driving experience, but some marks are lost thanks to its hesitant transmission that fails to properly exploit the engine's strong mid-range torque in spirited driving.
The Prevé represents a significant quantum leap for Proton in terms of its design and specifications, but further improvements are still possible for our national car maker. For one, cabin build quality is still not on par with the competition, and the operation of certain features like the engine start button and auto folding side mirrors remain clumsy. Furthermore, the CVT could also do with a more decisive programming to better exploit the superb balance of its chassis. These are flaws that can be rectified in product running changes, and Proton will certainly do well to address them.


Further Details: Proton Prevé official prices and specifications.
See also:
– Proton P3-21A – Soft launch and sneak peek in Power of 1 event at Bukit Jalil
– Proton P3-21A – More Info to Digest
– Making of the Proton P3-21A: More pieces fall in place
– Making of the Proton P3-21A: Day Four's progress