Perodua Eco-Challenge 2012 – PUO retains crown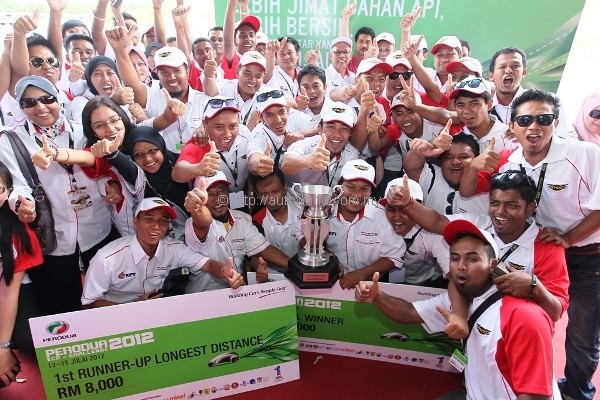 The Perodua Eco-Challenge 2012 came to its conclusion last weekend with Politeknik Ungku Omar retaining its supremacy by being crowned overall champion for the second year running. Competing against 13 other institutions, PUO accumulated the highest point tally after evaluations in four categories, namely Engineering & Design, Longest Distance, Marketing, and Time Attack.
As before, the goalposts of each year's Perodua Eco-Challenge are continuously shifted, and this year, participating teams were given RM10,000 each to improve on their respective vehicles used last year. A further RM5,000 were given to the teams as for the newly introduced Marketing challenge. This year's edition also adds a new dynamic aspect to the challenge with the introduction of a new Time Attack category.
"The Perodua Eco-Challenge is one of Perodua's biggest Corporate Responsibility programme which aims to bridge the gap between academia and real work life exposure to students of higher learning," Perodua Managing Director, Datuk Aminar Rashid Salleh said.
Universiti Selangor (UNISEL) won the Longest Distance category by clocking 21.88km on half a litre of Petronas RON 95 fuel. Next came PUO with a distance of 18.77km in second place followed by Universiti Sains Malaysia (USM) in third at 15.80km. PUO had won last year's Longest Distance category with a distance of 24.07km.
In other challenges, PUO was ranked highest in the Engineering & Design Category ahead of Universiti Teknologi Mara (UiTM) and Universiti Kebangsaan Malaysia (UKM) in second and third places respectively. Universiti Tenaga Nasional (UNITEN) won the Marketing category, with UiTM and UNISEL being first and second runners up respectively.
The Time Attack Challenge was won by Universiti Teknologi Malaysia (UTM) with second and third runners-up are UNISEL and Politeknik Port Dickson (POLIPD) respectively. Other participants of Perodua Eco-Challenge 2012 included Universiti Malaysia Pahang, Universiti Kuala Lumpur – Malaysia Spanish Institute, Politeknik Sultan Azlan Shah, Universiti Teknologi Petronas and Universiti Teknikal Malaysia Melaka.
With two new categories to compete in, total prize money for this year's race adds up to RM103,000. Champion of the overall category wins RM25,000 while winners of the Design & Engineering and Longest Categories take home RM10,000 each. First and second runners up of both categories take home RM8,000 and RM5,000 each respectively. Fourth and fifth placed teams of the Longest Distance category get RM1,000 each.
The Time Attack winner receives RM7,000, with second and third placed teams winning RM5,000 and RM3,000 respectively. Winner of the Marketing challenge category receives RM7,000, 1st runner up RM5,000 and 2nd runner up RM3,000.
Pictures: Official Perodua release.