First four Nissan Leaf Ambassadors hit the road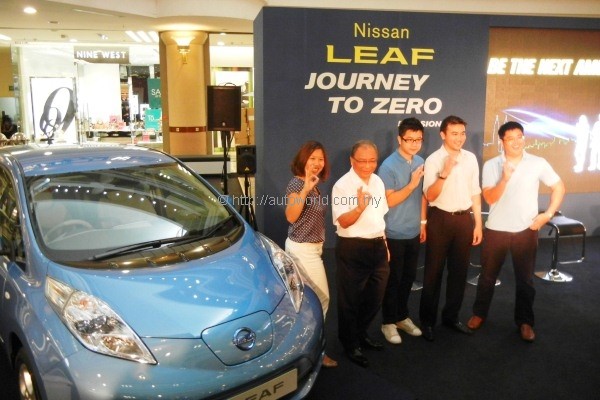 Edaran Tan Chong Motor Sdn Bhd (ETCM) has announced the identities of the first four Nissan Leaf Ambassadors today as part of its Journey to Zero Emission program. Over the next six weeks, the four ambassadors will have the opportunity to use the Nissan Leaf electric vehicle in their daily lives and share their experiences through social media and direct feedback to ETCM.
According to ETCM's Executive Director Dato' Dr Ang Bon Beng, the program has been extremely well-received by the public, with 800 applications received to date. Those who have applied and not yet selected still have a chance of being selected for subsequent rounds of the program, although they may have to contend with an increased number of applicants.
According to Dato' Ang, "We have received tremendous response for the Journey to Zero Emission program. Selecting the first four ambassadors proved to be a much more difficult task than we initially thought; simply because of the many high quality submissions that we have received!"
Applications for the program are still accepted, and earlier submissions remain in contention. Over the next few months, ETCM will be actively organizing roadshows for members of the public to inspect the Nissan up-close. The roadshow schedules are as follows:
– 11-16 Jul: 1 Utama Shopping Centre, Petaling Jaya, Selangor
– 26-29 Jul: Queensbay Mall, Penang
– 3-5 Aug: Mahkota Parade, Malacca
– 10-12 Aug: Sunway Pyramid, Petaling Jaya, Selangor
– 12-16 Sep: 1 Utama Shopping Centre, Petaling Jaya, Selangor
– 5-7 Oct: Alor Setar Mall, Alor Setar, Kedah
– 7-11 Nov: 1 Utama Shopping Centre, Petaling Jaya, Selangor.
– 23-25 Nov: East Coast Mall, Kuantan, Pahang
– 26 Dec – 1 Jan: 1 Utama Shopping Centre, Petaling Jaya, Selangor
Further Information: Nissan car prices and specifications in Malaysia