Inokom Launches Vendors Park in Kulim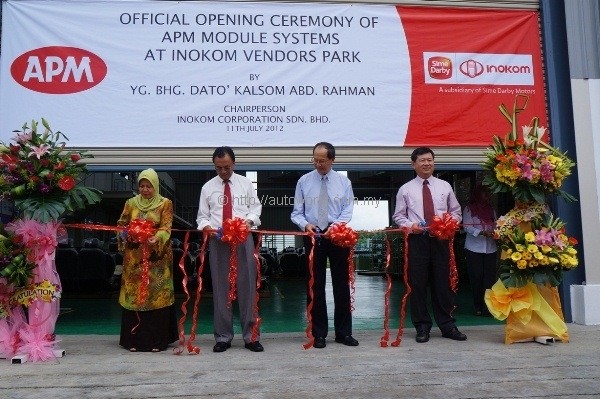 Inokom Corporation Sdn Bhd has officially launched the Inokom Vendors Park (IVP), 7-acre plot of land situated at Padang Serai, Kulim, to house Inokom's vendors next to its automotive plant.
The first plant launched in the IVP occupies 14,000 sq ft of built-up area belongs to APM Module Systemss, which consists of the Auto Part Manufacturers Co. Sdn. Bhd. (Seat Division), APM Plastics Sdn. Bhd. and APM Automotive Modules Sdn. Bhd.
This new undertaking is in line with Inokom's long term commitment to ensure best-product quality while facilitating the development of its local vendors. According to Tuan Syed Mudzhar Syed Ali, CEO of Inokom Corporation Sdn. Bhd, "The IVP will be a catalyst to the vendors by providing not only savings in reducing transportation cost but also supplier lead time for local parts whereby child parts or components that make up the main parts, are brought in directly via Penang Port. Coupled with Just In Time (JIT) practices, the IVP will also reduce the need for storage at the Inokom manufacturing plant."
"The first plant will also create additional new jobs for the local community. As more plants are built, we expect more job openings in the future. We believe IVP is a sustainable way of doing business for us and for our vendors," said Tuan Syed Mudzhar. Inokom is already in talks to develop the second plant with interested vendors.
Picture: Official Inokom release.