All-new Ford Focus makes ASEAN debut in Bangkok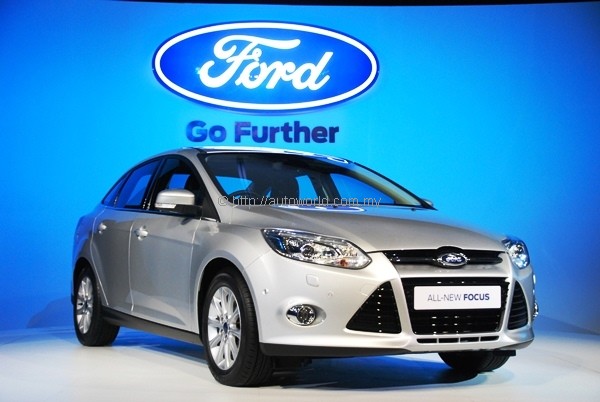 The all-new Ford Focus will make its first ASEAN appearance at the Bangkok Motor Show tomorrow, though members of the regional media have been given an exclusive preview of the new vehicle earlier today. Launched globally in 2010, the new third generation is a massive quantum leap in terms of design and features over its predecessor.
Stocks for our part of the world will roll out from an all-new US$450 million plant in Rayong, Thailand. It is not the same plant as the Mazda joint venture facility currently responsible for producing the Fiesta and Ranger T6. The Focus will be this plant's first project. It is currently in the pre-production phase, with first roll out scheduled in May.
Following from the Ranger T6, the all-new Focus is developed under the global One Ford strategy which will see our ASEAN-spec Focus share no less than 80% of its components with its counterparts sold in 120 markets worldwide. That 80% figure, however, does not include engines. Thai-built units of the Focus will not feature EcoBoost power as per Europe.
Instead, they will be powered by a pair of naturally aspirated four-cylinder engines displacing 1.6 and 2.0 litres. Malaysia-bound units will exclusively feature the 2.0-litre engine paired to the 6-speed Powershift dry dual clutch transmission. It is equipped with twin-independent variable cam timing technology as well as direct injection to produce a useful 168hp and 200Nm – not exactly EcoBoost figures, but more than a match for what most of the market has to offer.
The 1.6 engine, which may or may not make it to Malaysia at a later date, is the Duratec Ti-VCT currently found in the Fiesta, and for the Focus, it is tuned up to make 123hp and 159Nm. It can be matched to either the 6-speed Powershift or a 5-speed manual. Diesel engines will roll out eventually, but they won't reach our shores until we start selling fuel of actual quality.
Underpinning the Focus is Ford's new global C-car platform, which is essentially an extensive re-development of the second-gen model's C1 platform, and the resultant good news is that the Focus will continue to offer Ford's patented Control Blade multi-link rear suspension – one of the best setups in the business. The new platform, which is no longer shared with Mazda or Volvo, will underpin at least ten models in the Ford hierarchy, accounting for a projected annual volume of two million units.
For its first two model generations, the Focus has been well-noted by critics for its superlative class-leading dynamics. In this writer's opinion, the second generation model still has a very rightful claim to having the best driving dynamics in its price range, especially in its diesel-powered TDCi guise. Unfortunately, the good work of the chassis engineers was undone by a cabin and specs sheet that both lack significant wow factor.
That lesson has evidently been taken to heart, and this time round, Ford has packed an impressive array of goodies in the Focus to seriously worry its rivals. Class-leading features to look forward to in the new Focus include Active Park Assist, Active City Stop, Blind Spot Info System (BLIS), Torque Vectoring Control (standard!), keyless entry, and push-start button. You also get a ton of airbags – dual front, side front, and curtains for front and rear occupants.
It is tempting to consider that some of the Focus' safety kit have been pillaged from Volvo – even names used are identical – but Ford executives interviewed in Bangkok insist that's not the case. We can verify, however, that the Ford's version of BLIS works on different hardware – using proximity sensors rather than Volvo's visual camera approach.
Another actively promoted feature in the new Focus is the new generation Ford SYNC multimedia system developed in collaboration with Microsoft. It features Bluetooth and USB connectivity, and the latest software upgrades can be downloaded online from an official website specially set up by Ford. Notable functions of the system include voice command, conference call support, and voice readout of SMS texts. Our experience with the voice command feature in the Fiesta and Mondeo has thus far been unconvincing, so it will be interesting to see how far Ford has improved things in the Focus.
Ford has indicated that the Focus will probably reach Malaysia by September with only the 2.0-litre GDI engine on offer. There will two bodystyles – sedan and hatchback – and two trim levels. The car will be on display at the Bangkok Motor Show this week, though we can certainly expect to see a raft of marketing activity from local distributors Sime Darby Auto Connexion building up to its eventual launch.
Further Details:
– Ford vehicle prices and specifications in Malaysia
– List of Ford official dealer and branches