Volkswagen Sharan 2.0 TSI Test Drive Report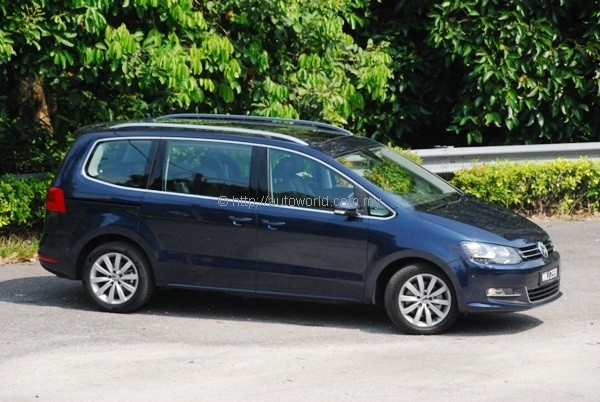 Launched just last month, the Volkswagen Sharan offers Malaysian families a premium European option in the full-sized MPV market segment. The first generation Sharan, which was co-developed with Ford, never made it here, but its successor arrives as another piece in VW's aggressive plans for our market.
Whilst the previous generation was a platform mate of the Ford Galaxy, Volkswagen has resolved to look inwards this time to its own massive parts bin to build the current generation Sharan. It is based on the Passat's PQ46 front-wheel drive platform, and as far as our market is concerned, power comes from a mildly detuned version of the Golf GTI's EA 888 engine.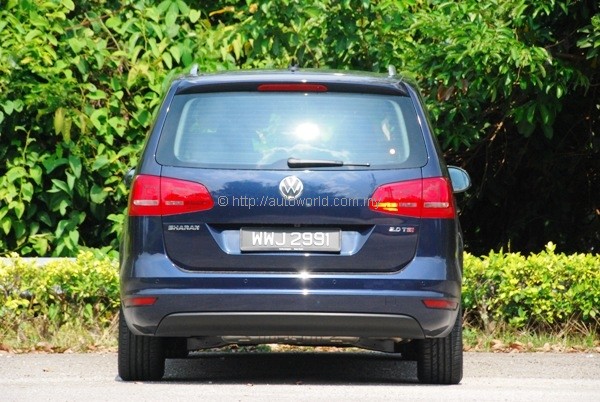 Internationally, this is the second generation Sharan. First-gen was co-developed with Ford.

Of course when we say detuned, it does not mean slow. Like taxing a rich man, detuning to 197hp and 280Nm still gives the driver plenty to work with on leisurely cruises and then some for gunning. Typical of modern European cars, throttle response is mild down low, but balanced by strong torque, this characteristic allows the Sharan to comfortably potter around at pedestrian speeds.
A heavier right foot summons brisk progress, and the chassis setup is sufficiently competent to take hard driving in its stride, although in terms of sheer satisfaction and ability, it's still second best to the Ford S-Max. This is not to say that the Sharan is an inferior product, but it is clear that Volkswagen did not build this MPV with a sporty tilt.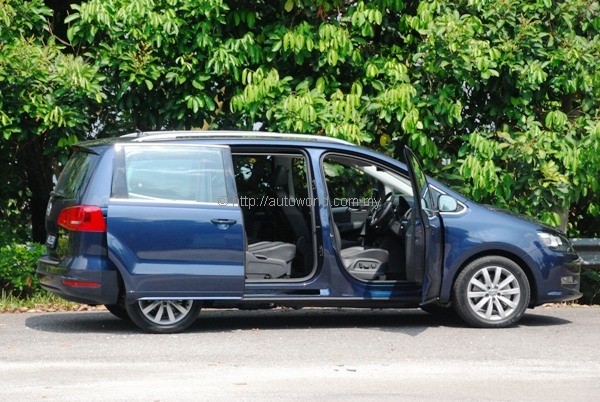 Powered rear sliding doors useful in tight spaces.

While Ford was able to bless the S-Max with almost hot-hatch levels of handling, VW aimed its competence at the other end of the spectrum and delivered an MPV that absolutely nailed it in the aspect of comfort. The stretch of back road that connects Putrajaya to KLIA via Dengkil has helped me expose more than one example of shoddy handiwork by suspension engineers, but the Sharan beautifully ironed out all undulations and patches of that notoriously uneven road with great effectiveness.
The Sharan's overall ride and handling balance is satisfying and appropriate for the application. At this stage, we should point out that our Tech Spec test car came fitted with the Dynamic Chassis Control (DCC) system not available with the Standard model. There are three settings to choose from – Comfort, Normal and Sport – and the good news is that the car felt well-behaved in 'Normal' mode, indicating a similarly satisfying setup for the base model.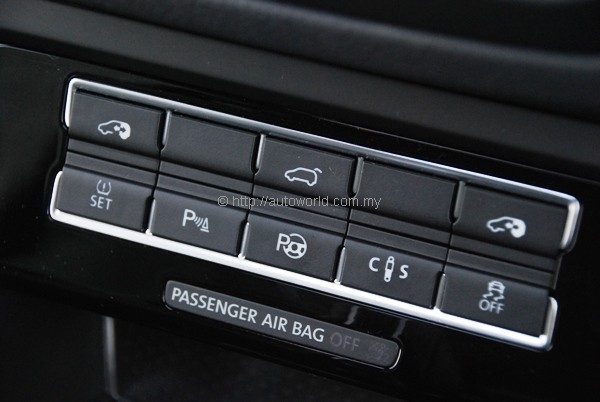 Additional items in our Tech Spec test car add RM24k to your purchase price.

The price gap between both variants of the Sharan is exactly RM24,000, and accounting for that difference are four items – the aforementioned DCC, premium Dynaudio sound system, keyless access, and Lane Assist. Being neither a sound buff nor a fan of excessive electronic nannying, the Dynaudio sound system and Lane Assist are two features that will not hold sway in my purchasing decision, and if the standard ride & handling setup is sufficiently competent, the DCC too becomes redundant. So, in my books, Standard spec is good enough.
And why wouldn't it be? You are still getting a proper built-in child seat, multimedia touchscreen system with sat nav, 'Park Assist' with reverse camera, Vienna leather upholstery, auto bi-xenon headlights, dual powered sliding doors, remote-operated electric tailgate, auto wipers, airbags all-round, and lots of three-lettered acronyms. A dash integrated GPS is expected in any car of this price range, but VW's unit here comes with a blank list of POIs. Searching for your favourite restaurant becomes a bit of a bummer if you don't know its address.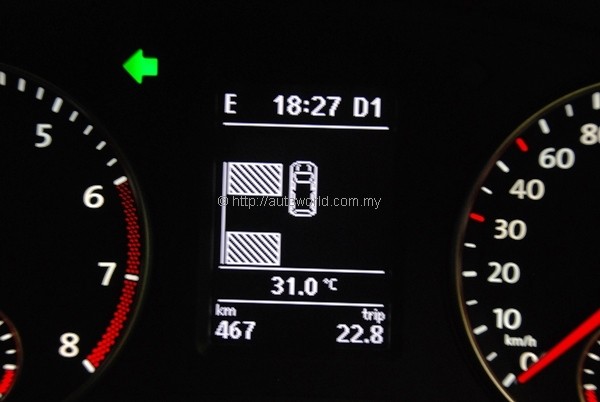 Park Assist 2.0 works for both parallel and perpendicular parking slots.

'Park Assist' is nothing new, but the Sharan gets the second generation system which now includes the ability to help you to reverse park into perpendicular slots. Repeated attempts at 'test parking' show that it is still more effective for parallel boxes. Passers-by who recently witnessed a Sharan repeatedly 'struggling' to reverse park at a multi-storey parking lot must have had a good laugh at my expense. Our suggestion is that if you're buying this car, you're better off learning to master its proportions and go park yourself.
The Sharan has a well-balanced set of abilities to make it a competent mode of family transport. The only inhibition to buying one is cost. Even the Standard variant's pre-insurance price tag of RM247k puts it out of reach for many middle-income owners, say nothing of our RM271k Tech Spec test car here. If you can't afford one, there are plenty of sufficiently capable alternatives to consider; but if you can, well, you're getting a solidly engineered product.

Further Details:
– Volkswagen car prices & specifications in Malaysia
– Volkswagen Sharan (Standard) price & specifications
– Volkswagen Sharan (Tech Spec) price & specifications