Captiva carnival selling pre-reg units, 16-18 Mar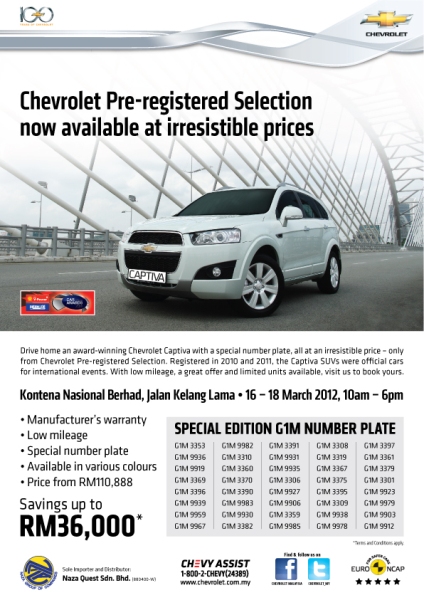 Naza Quest Sdn Bhd is organizing the Captiva Carnival this weekend at Kontena Nasional Bhd's premises along Old Klang Road. On sale will be pre-registered units of the Chevrolet Captiva that has been used as official car for several events supported by Naza Quest.
These cars bear special edition "G1M" number plates, and by virtue of them being used vehicles, some RM30,000 are slashed from their brand new price tags. The cars remain covered by the Chevrolet manufacturer's warranty.
Each of the pre-registered Captiva is thoroughly inspected via a 40-points check system to ensure that safety is not compromised.
The Captiva Carnival is located at the Kontena National Berhad, Batu 9 Jalan Klang Lama in Petaling Jaya 9 (next to GAB), from 16th to 18th March. Opening hours are from 10am to 6pm. For more information, please call 1-800-22-4389.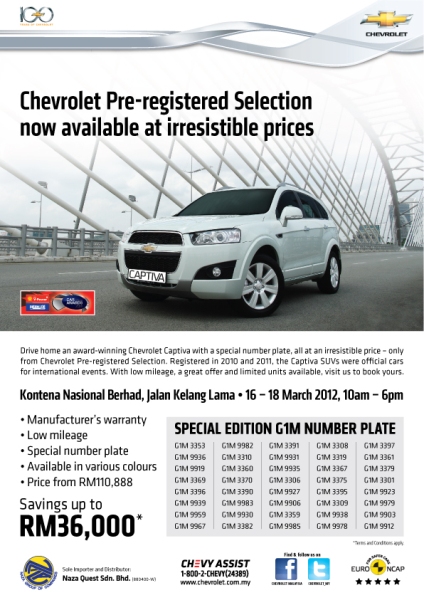 Further Details:
– Chevrolet vehicles prices & specifications in Malaysia
– Chevrolet Captiva 2.4 AWD price and specifications
– List of Chevrolet official dealers and branches in Malaysia