KL Girl Buys a Peugeot 207 and Wins a 308 Turbo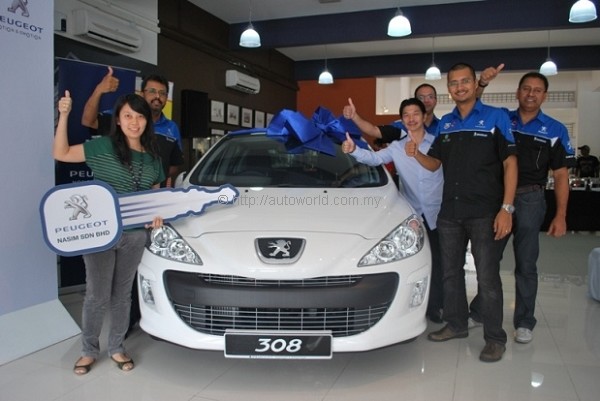 Nasim Sdn Bhd, the official distributor of the Peugeot brand in Malaysia, recently handed over a 308 Turbo to the winner of the Peugeot 207 Gimme More campaign.
Lim Hui Min of Kuala Lumpur received the 308 Turbo at a special handover ceremony at Peugeot Puchong on Jan 14 from Dato' Samson Anand George, COO of Nasim.
She was the lucky winner among 435 entrants who participated in the campaign which began in July last year and ended in December.
The Peugeot 207 Gimme More campaign was open to all customers who purchased either a 207 or a 207SV during the campaign period.
The participants were required to answer three questions and complete a slogan describing what they like the most about the 207. A total of 50 winners were selected from the entries.
The prize for the top entry was a 308 Turbo while the following 20 winners received an iPad2 each. The remaining 29 winners received exclusive Peugeot merchandise.
"The Peugeot 207 Gimme More campaign is a way to thank our customers who have purchased a 207 or 207SV. At the same time, this campaign gave us a chance to see just how creative our customers are in describing what they like the most of the 207.
"It wasn't easy picking the 50 winners and judging by the response we received, there are many proud 207 owners," said Dato' Samson.
Lim's winning entry was: "I love the Peugeot 207 because it brings back the joy of driving!"
The 33-year-old IT consultant, who purchased her 207 in Sept 30, 2011, said she came up with her slogan after driving her 207 during heavy traffic.
"I was stuck in a jam and the idea came to my mind. I like the stability and smoothness of the 207. I didn't think I would win and it was a pleasant surprise," she said.